How To Make Time For Meditation When You've Got Kids
I have found through my work with Dharma students who are children of parents or parents of children, that the parent-child relationship offers some of the most vital teachings of everyday life. Therefore, don't get discouraged that your dad and mom duties seem to fill up most of your hours.
You might not have all the time you'd like to visit that retreat center, attend workshops, bask in formal prayer, practice yoga, or meditate for hours on end, but that doesn't mean that your path is being obstructed.
Quite the opposite, in fact. Parents, children and genuine intimate relationships of all kinds draw out the best in us; they lovingly force us beyond ego and its limitations and defense mechanisms.
One night a couple of years back, I sat chatting in my cousin's home after dinner with a newish member of our family — my nephew's wife, Helen. She spoke of how much she longed for peace and stillness, and a modicum of quietude and centered­ness in her intensely busy mom-a-thon of a life. She lived with my nephew and their little kid, worked a full-time job in mar­keting, and helped care for her aged mother in an assisted living home nearby. I let her know that, as a matter of fact, I actually work in the "inner peace and stillness-finding" spiritual business.
The more we gabbed and joked around, the more we con­nected. How could she find extra alone time and space in her stressful, busy, chock-full-of-commitments day in order to meditate or pray, exercise, commune with nature, read, or do yoga? She asked me about my meditation practice, and if I had a meditation room or a regular group or institute.
I suggested that, rather than trying to imitate my routine — forty-five minutes or so every morning — she might just try an inter-meditation practice — a "Momitation" — where you meditate by sitting in your kids' room at night after they go to sleep. Let go of tension and to-do lists, should-haves and stress. Breathe slowly and mindfully, relaxing, and practice really feeling with the sleeping kids, breathing in the feelings and releasing them. Watch their chests rise and fall with each precious breath. Breathe with them, as them, and do your best to carry that moment into their waking lives.
Helen readily tried this practice and emailed me a few days later to thank me and tell me how well it worked. She said it changed her relationship to her children not just at night but during their waking hours, even during the less quiet and joyful times. She planned on doing that "Momitation" every evening for the rest of her life. "Even after they leave home and go to college, their room will still be there!"
And I thought, gratefully: how simple it is and can be, when we are.
There's some interesting science behind this Momitation and all of inter-meditation (meditating with someone or something else — sharing spirituality beyond the polarities and dichotomies of self and other).
Rollin McCraty and other researchers have demonstrated how people's heart rates and rhythms influence each other when they're in proximity. The heart sends out the strongest electro-magnetic field of any of our bodily organs, stronger even than our brains, and it can influence those near us. McCraty says that the heart actually gives more neurological information to the brain than the brain does to the heart. Who knew?
According to the Institute of HeartMath where McCraty is the director of research: "Using a technique called signal averaging, researchers were able to detect synchronization between a mother's brainwaves (EEG) and her baby's heartbeats (ECG). The pair were not in physical contact, but when the mother focused her attention on the baby, her brainwaves synchronized to the baby's heartbeats." We know this intuitively.
Think about a sobbing child. How do we hold him or her? On our hip? Facing outward? Rarely. We lift up the child and bring him or her toward us, chest to chest, heart to heart. It's the same when we comfort anyone; it's like instinctive heart-to-heart spiritual resuscitation.
You have to have skin in the game. You can't just want to inter-meditate with your parent or child or merely think about it — you have to actually do it and mean it. You have to manifest genuine intent. When you do, there are spiritually verifiable and even scientifically quantifiable results.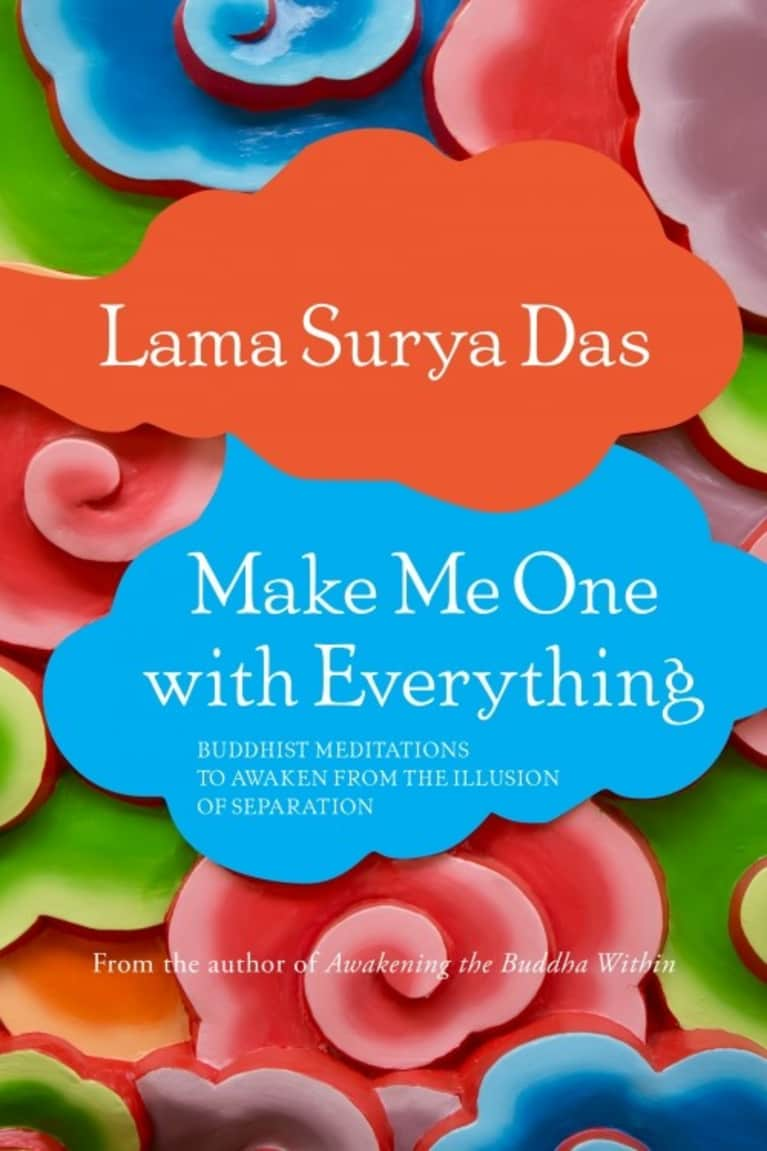 From diapers to bar mitzvahs, inter-meditation can help us become better parents. It's one thing to feel bliss and spiritual connection with a cooing baby, but what about with a sullen adolescent? When we inter-meditate we commit to being fully present with our child or those in our charge.
As opposed to dwelling on the spit-up in our hair or a return visit to the principal's office, we stop and breathe — inhaling and opening, exhaling and releasing. In doing so, we give our children a spacious pathway of pure presence and unobstructed clarity through which to connect with us as we connect with them to whatever extent may be possible in any given moment or situation. Whether they do it or not is mostly up to them.
Regardless, we provide the opportunity and back them no matter what, while getting out of their way because we love and cherish them.
Adapted from Make Me One with Everything: Buddhist Meditations to Awaken from the Illusion of Separation by Lama Surya Das. Copyright © 2015 by Lama Surya Das. Published by Sounds True.