Super Greens Soup With Crispy Chickpea Croutons
This super greens soup is packed with an array of vitamins and essential nutrients. For one, broccoli has a long list of benefits including having a strong combination of vitamin K and vitamin A.
Super Greens Soup With Crispy Chickpea Croutons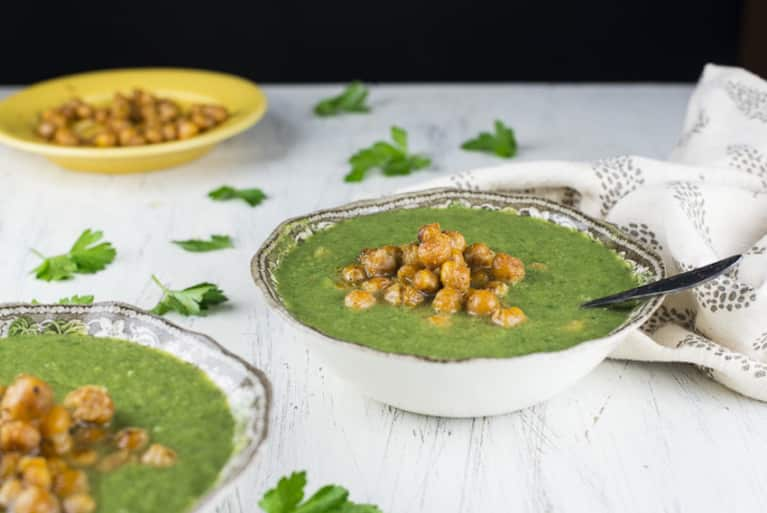 1 can BPA-free, organic chickpeas, drained + rinsed
2 tablespoons coconut oil, divided
salt + pepper
1 tablespoon garlic powder
½ teaspoon smoked paprika
1 medium sized leek
1 stalk broccoli
2 ribs of celery
2 cloves of garlic
1 teaspoon grated ginger
6 cups of vegetable broth
handful of spinach
¼ cup frozen organic peas
juice from half lemon
handful of parsley
Preparation
1. Preheat oven to 375ºF/190ºC.
2. Toss the chickpeas with 1 tablespoon coconut oil, salt, pepper, paprika and garlic powder. Spread evenly onto baking sheet and bake for 20-25 min or until slightly crispy.
3. In the meantime, chop leek finely (discard the rough dark green part) and saute in 2 teaspoons coconut oil for 5 min.
4. Chop the broccoli, celery, mince the garlic, and add to the pot along with the veggie broth and salt & pepper. Simmer for 7-10 min. Add peas, spinach and ginger and cook for another couple of minutes. Remove from heat and add parsley and lemon juice.
5. Blend the soup with an immersion blender or regular blender. Serve with chickpeas and enjoy!
Photo courtesy of the author