Mother's Day Yoga: 17 Photos That Will Warm Your Heart
Editor's note: Whether it's prenatal yoga, mommy-and-me classes, or offerings around many schools around the country, we're seeing a steady rise in kids' yoga, and in parents who support the practice. So in honor of Mother's Day and in the spirit of these budding little yogis, photographer Robert Sturman has curated a heartwarming collection of mothers performing various asana with their children, all around the world.
I believe one of the greatest things we can do as children is appreciate our parents.
As a tribute to mothers everywhere, I've put together 17 photos of yoga moms with their kids from multiple shoots I've conducted over recent years. From the Jersey Shore to somewhere off the coast of Vietnam, I was able to capture these beautiful moments of what it means to be a mother; what it means to be a yogi.
Happy Mother's Day to all generations of moms everywhere — from grandmothers to great-grandmothers, expectant mothers and stepmothers, to the matriarchal figures for those without mothers. You will always live through us, even long after you are gone.
Dancer's Pose, Handstand + A Peaceful Warrior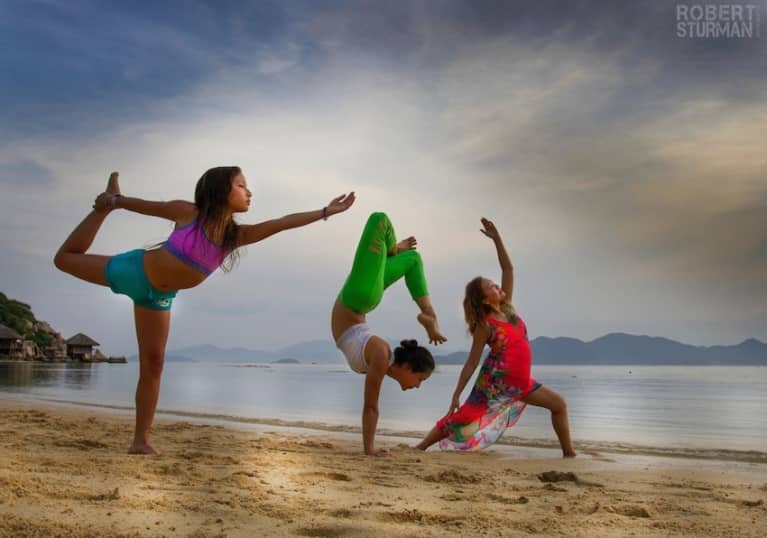 Three Generations of Yogis:
Briohny Smyth (center, in Adho Mukha Vrksasana variation) and her daughter Taylor (left, in Natarajasana) with grandmother Pam (far right, Viparita Virabhadrasana), somewhere off the coast of Vietnam.
Amy Armstrong (Urdhva Dhanurasana) and her daughter, Sophie (Dhanurasana) in Venice Beach, Calif.
AcroYoga With A Tiny Flier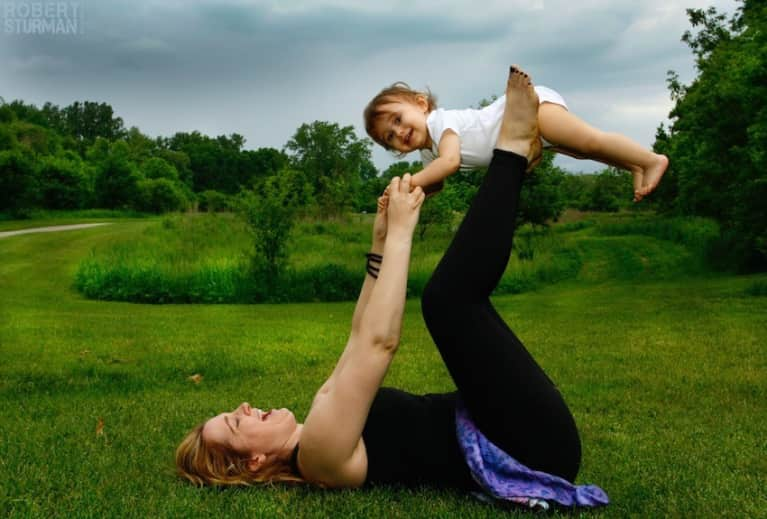 Lisa Shackelton and her daughter Zoë perform Airplane Pose, in London, Ontario, Canada.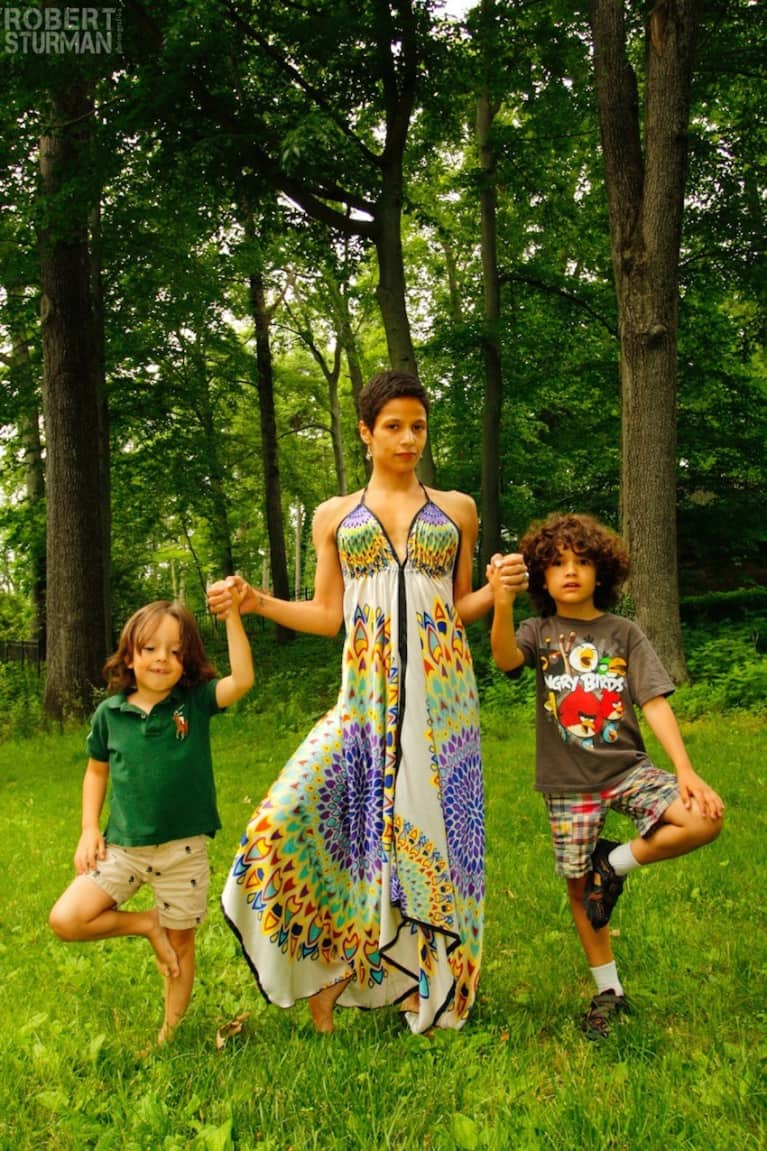 Yulady Saluti and her two sons Wyatt (left) and Holden (right), demonstrate Tree Pose (Vrksasana) in Chatham, New Jersey.
Wheel Pose With Tummy Time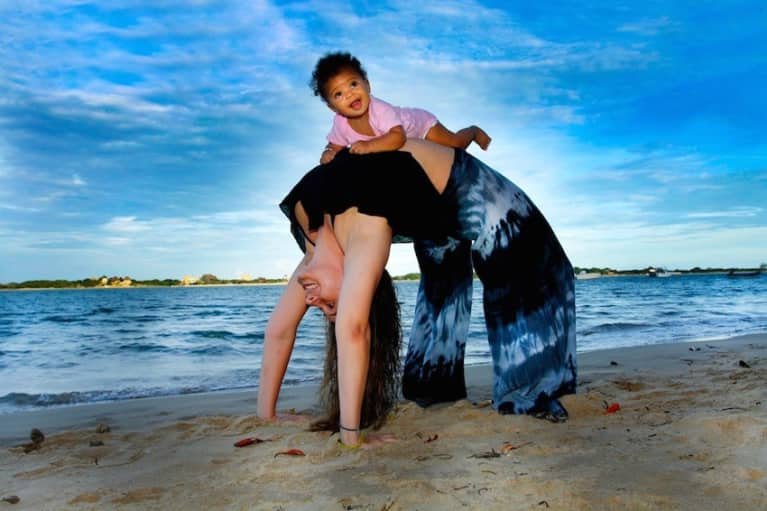 Paige Elenson, the founder of Africa Yoga Project explores Urdhva Dhanurasana with her daughter Penzi in Lamu Island, Kenya.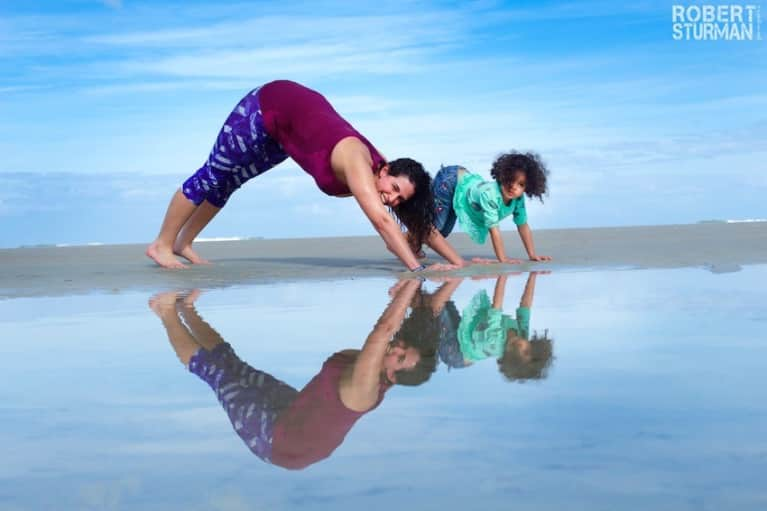 Ericka Garcia and her daughter Kara side-by-side in Adho Mukha Svanasana in New Smyrna Beach on the Central Florida Coast.
Peaceful Warrior With Two Wheels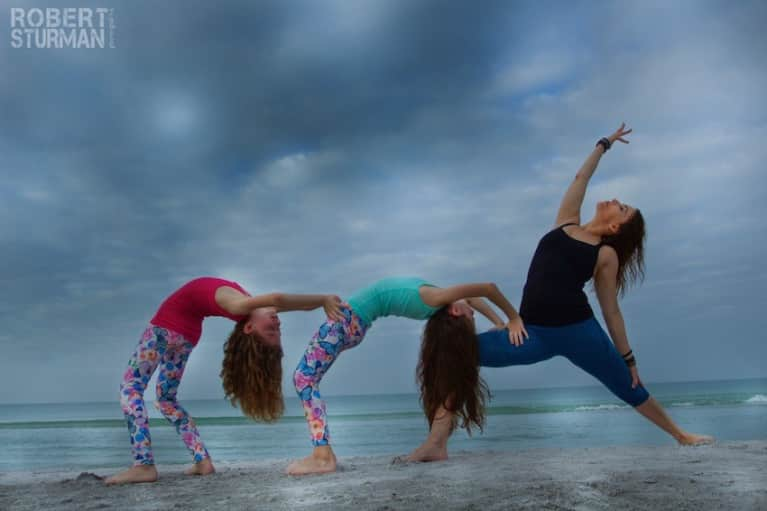 Beth Bentley and her twins, Holland (left) and Jolie create a backbend train with Urdhva Dhanurasana and Viparita Virabhadrasana in Saint Petersburg, Fl.
Handstand With A Happy Baby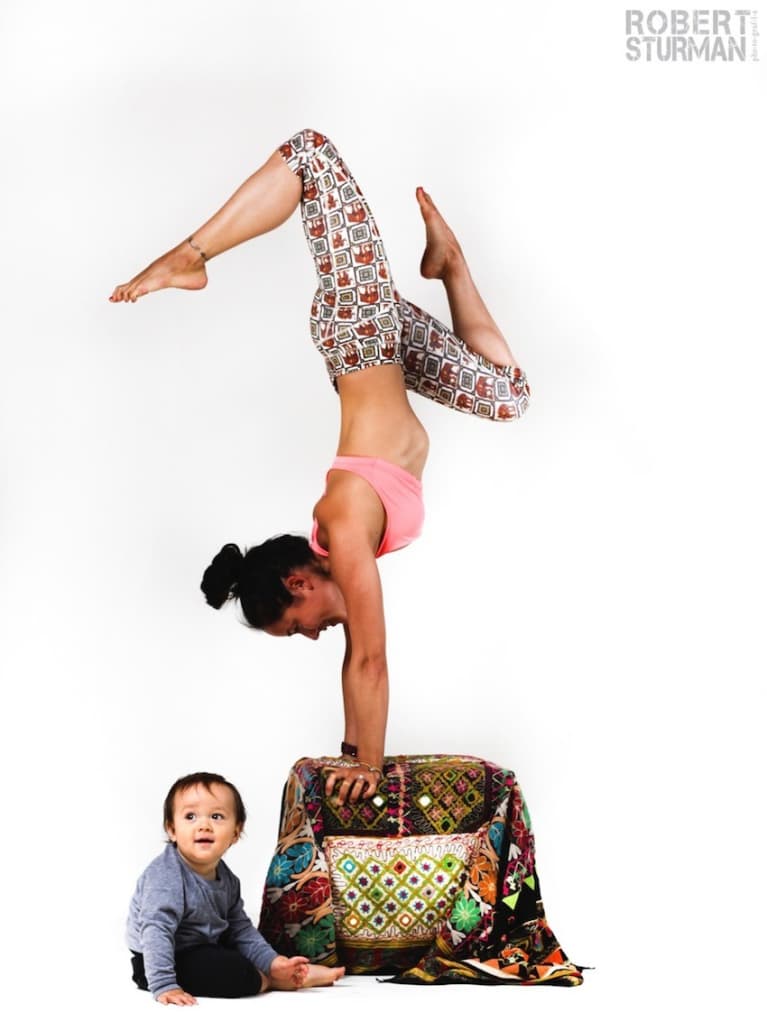 Briohny Smyth plays with Adho Mukha Vrksasana with her son Sid in Santa Monica, Calif.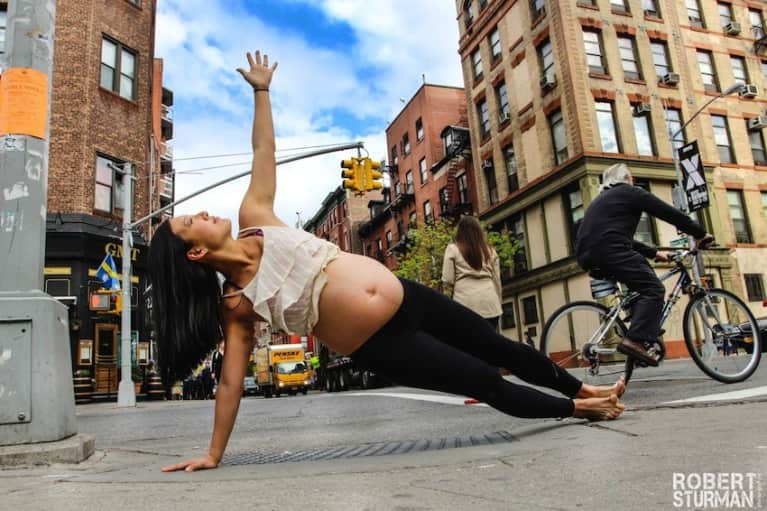 Mama-to-be Stephanie Tang in the West Village, New York City.
3 Generations Of Backbends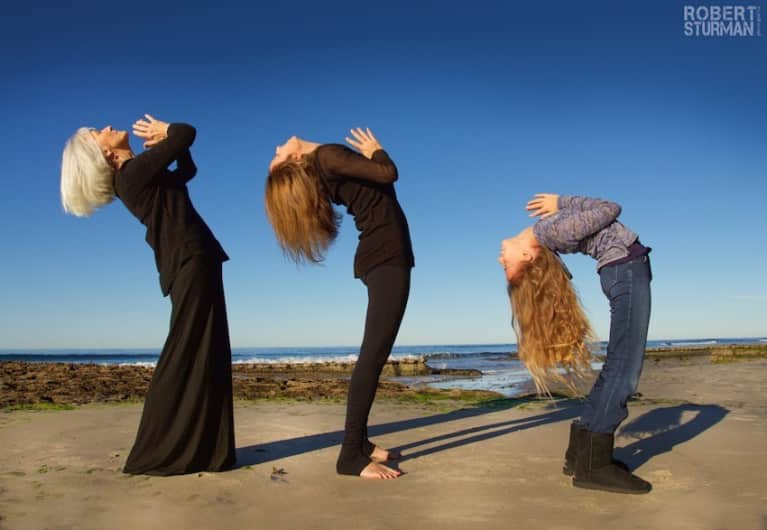 Three Generations of Anuvittasana:
Kira Karmazin (center), with her daughter Grace (right) and her mom, Carol (left) at Swamis Beach in Encinitas, Calif.
Lotus Headstand With A Little Buddha
Sophie Jaffe in Padmasana Sirsansana with her son, Kai sitting in Easy Pose (Sukhasana) in Venice Beach, Calif.
Two If By Sea, In Tree Pose
Lily Dulan in Vrksasana with her daughter, Marcelle at Matador Beach, Calif.
Crescent Lunge With Baby Backbend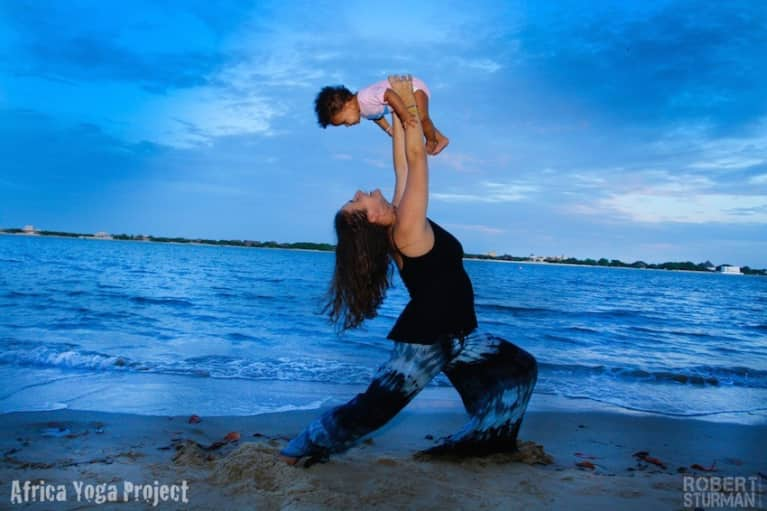 Paige Elenson in Anjaneyasana with her daughter, Penzie on Lamu Island in Kenya.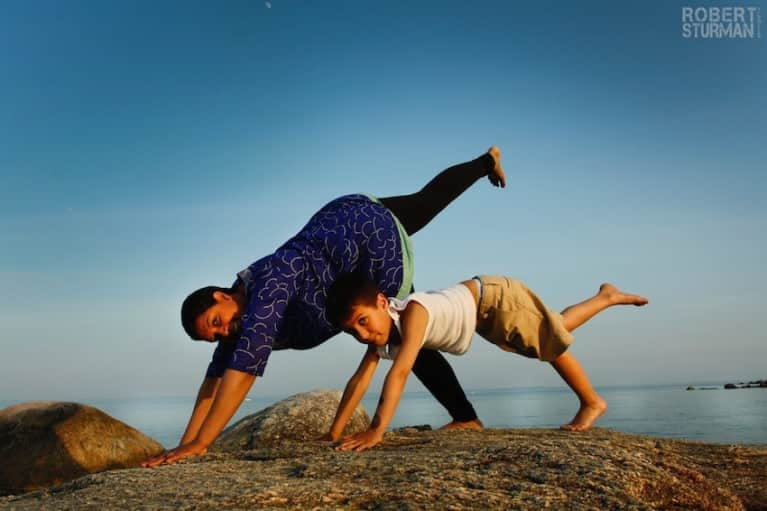 Saira Stamford and her son Aaron in Eka Pada Adho Mukha Svanasana in New Shippan, Connecticut.
Downward Dogs In The Sand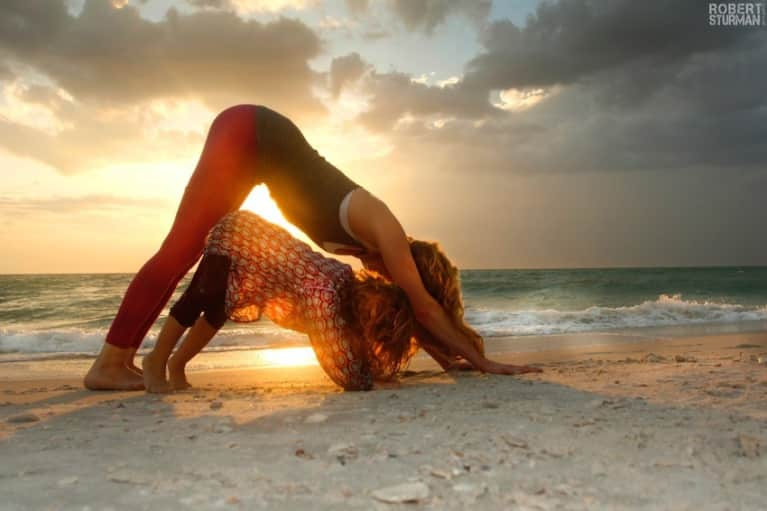 Kelly Bickle and her daughter, Indie in Adho Mukha Svanasana on the beach at sunset in Saint Petersburg, Fl.
Modified Squat With Eagle Arms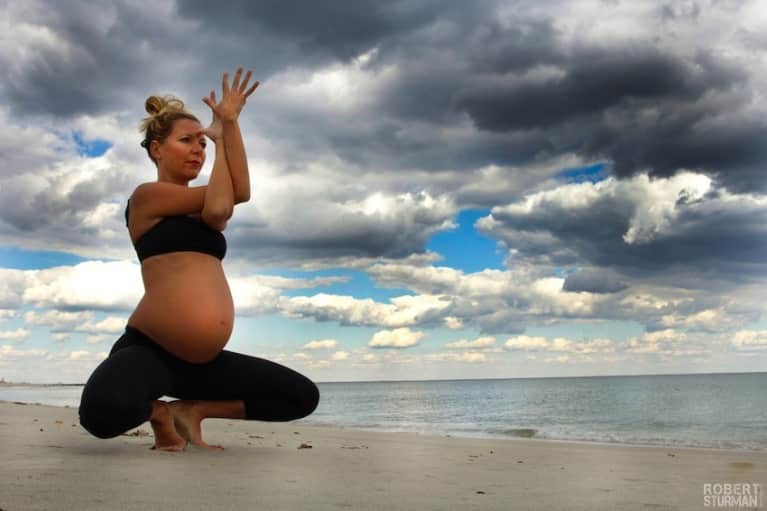 In anticipation of motherhood, Amy Pastore finds her Drishti gaze in a Malasana variation at Spring Lake, in the Jersey Shore.
One-Legged King Pigeon (With Curiosity)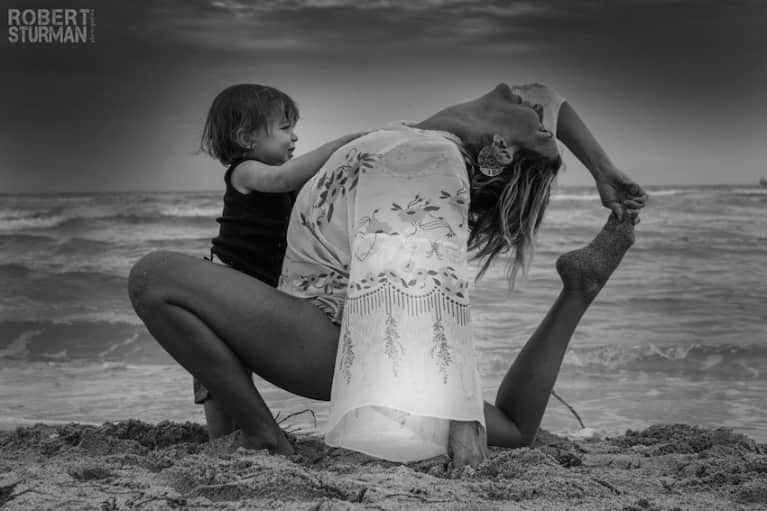 Amy Pastore in Eka Pada Rajakapotasana II with her son Bodhi, just over one year later, in South Beach, Miami, Fl.
Gallery courtesy of Robert Sturman Studio