Gluten-Free Nutella Granola With Homemade Cashew Milk
This granola is one of my favorite breakfasts to have on hand, with its perfect level of sweetness and delightful pops of crunch from the toasted quinoa. The real revelation in my opinion, though, is this cereal mylk: the cashews and coconut combine to create the perfect texture and flavor of cow's milk to go over cereal — not too watery (like so many almond milks) or too sweet and thick (like so many coconut milks). When you eat this granola, the milk turns chocolaty and tastes exactly like the Cocoa Puffed milk of yore — so delicious! You have to try.
Gluten-Free Nutella Granola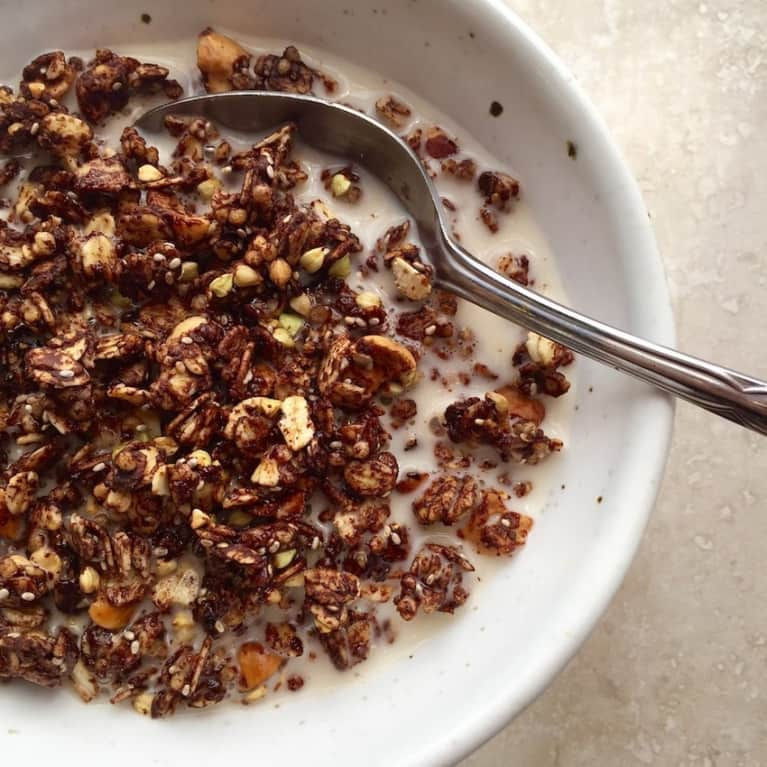 3 cups raw oats
1 cup raw buckwheat
1 cup hazelnuts, rough chopped
1 cup toasted or puffed quinoa
1/3 cup chia seeds
1/2 teaspoon sea salt
1/4 cup coconut sugar
1/3 cup maple syrup
1/3 cup coconut oil
2 teaspoon vanilla
1/2 cup cocoa powder
Preparation
1. Combine oats, buckwheat, hazelnuts, quinoa, chia and coconut sugar and mix well.
2. In a small saucepan, add coconut oil, maple syrup, vanilla salt and cocoa powder; stirring constantly until coconut oil is melted and mixture is smooth.
3. Pour over dry ingredients and stir well, then spread in an even layer on parchment lined baking sheets.
4. Bake at 350 degrees Fahrenheit for 20 minutes, then remove from oven and store in jars at room temp for 2 to 3 weeks.
Cashew Milk
Ingredients
1 cup cashews, soaked for 2-3 hours, then drained
1 cup shredded dried coconut, soaked in hot water for 10 minutes, then drained
4-5 cups water, based on desired thickness (4 cups makes more of a whole milk feel, and 5 is closer to skim)
Pinch of sea salt
Preparation
Blend all ingredients on high for 2 to 3 minutes, or until very well combined, then strain out solids using a dish towel or nut milk bag, squeezing well to get all liquid out.
Milk keeps for 4 to 5 days in the fridge.
Photo courtesy of the author