5 Ways To Get Calcium Without Drinking Milk
Many Americans are confused about how to get enough calcium, believing that we need three servings a day of dairy in order to meet our recommended daily allowance of this mineral. First of all, that's not true. And secondly, who wants to drink that much milk?
I get my calcium by loading my plate with calcium-rich foods that don't include cow's milk and everything that goes with it.
If you're looking for an extra punch of calcium, here's a shortlist of five nutrient-packed foods. Each rivals milk as a stellar source of calcium:
3 ounces tinned, drained sardines with bones — 321 mg calcium
1 ounce whole roasted sesame seeds — 277 mg calcium
½ cup soybean sprouts — 230 mg calcium
3 ounces canned, drained salmon with bones — 212 mg calcium
½ cup firm tofu cubed — 253 mg calcium
And if you'd like to up your calcium intake even more, consider adding any of the above foods to my Big Kale Salad, featured below.
Think of this as the Margarita Pizza of salads. You can have it as is, or customize it to your mood or time of day. Built on kale (which contains 300 mg of calcium in three cups and has a calcium absorption rate of 50% as compared to milk's 32%), and chia seeds, which boast about 175 mg of calcium per ounce or two tablespoons, it will start you off on firm ground. (Not sure how to use chia seeds? Start here.)
But don't be shy to experiment. Today, have it for dinner with some fish for a hit of protein, vitamin D, and umami. Tomorrow, enjoy it for lunch with sprouts for extra bursts of crunch.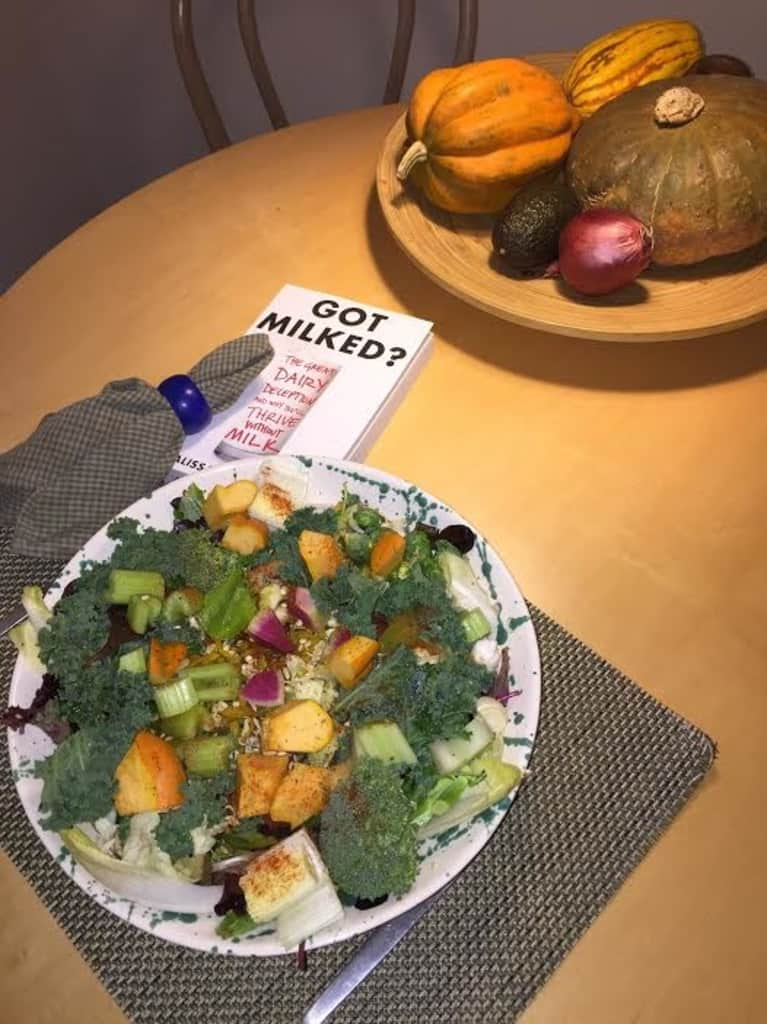 1 medium-size roasted beet (3½ ounces raw), cut into wedges
3 cups raw chopped kale
¼ teaspoon sea salt
1 tablespoon dried ground basil
1 teaspoon dried ground oregano
1 small carrot (2 ounces), washed, scrubbed, and grated on the large holes of a box grater
½ small zucchini (2 ounces), washed and grated on the large holes of a box grater
¼ cup fresh parsley, dill, or a mixture of the two
1 cup chopped fresh tomato
2 tablespoons chia seeds
2 tablespoons raw or roasted pumpkin seeds (optional)
2 tablespoons tahini lemon dressing (p. 214) or herb vinaigrette (p. 215)
Preparation
1. Wash the kale; cut off the stems and set them aside.
2. Cut the raw kale leaves into half-inch strips and transfer to a medium-to-large serving bowl.
3. Add the sea salt, dried basil, and oregano, and rub into the kale until the kale begins to break down. It will turn from pale green to darker green and begin to release some of its water.
4. Cut the kale stems into thin slices and add to the serving bowl. Add all the remaining ingredients except the chia seeds and toss.
5. Sprinkle the chia seeds on top.
Serve with dressing of choice (see recipes for tahini lemon dressing and herb vinaigrette that follow), a handful of raw or toasted pumpkin seeds, and a scoop of white bean hummus.
Nutrition
Each undressed salad with roasted beets contains 675 mg of calcium, 20 grams of protein, and 306 calories.
Tahini Lemon Dressing
Makes 1½ cups plus 3 tablespoons (27 tablespoons total)
1 clove garlic, peeled and finely chopped
¾ cup water
¾ cup tahini
2 tablespoons lemon juice scant ½ teaspoon sea salt
1 tablespoon toasted sesame seeds
Preparation
Combine all ingredients in a large bowl. Using a hand blender, blend on a low setting until smooth. Alternatively, place all ingredients in a food processor and blend until smooth.
Nutrition
Each 2-tablespoon serving contains 53 mg of calcium, 2 grams of protein, and 69 calories.