Sexist "Beach Body" Ads Have Been Removed From London's Public Transit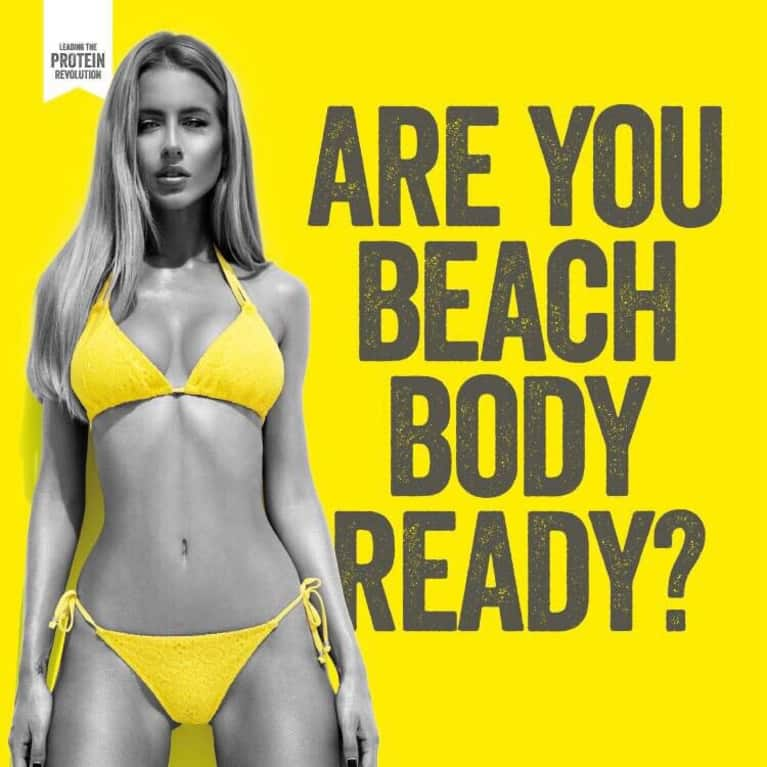 With the body positive movement going full force in the advertising world, anyone who pushes against it is bound to be taken down.
At the end of last year, Victoria's Secret was forced to replace the text "A Perfect Body" in one of its ads with "A Body For Everybody" after facing an onslaught of backlash, particularly on social media.
And now, the dietary supplement company Protein World has created quite the commotion for its "Beach Body" advertisement displayed in London's tube cars and stations.
The infamous ad in question features model in a barely-there bikini. She is accompanied by the text "Are you beach body ready?" suggesting that, in order for your body to be "beach ready," it has to look like hers.
Outraged, underground passengers vandalized the ads, altering the message to make it more inclusive so that it reads, for example, "Your body is not a commodity." A Change.org petition was created, and a mass protest was in the works.
Two feminists even decided to stage a protest by posing in their bikinis next to the advertisement:
So, after being inundated by complaints, the Advertising Standards Authority has now launched an inquiry into whether or not it's is offensive. And they've concluded that it can't return to the tube "in its current form," due to "concerns about a range of health and weight loss claims made in the ad." But the ads were set to be removed anyway as they were at the "end of their advertising cycle."
"We will now carefully and objectively explore the complaints that have prompted concerns around body confidence and promptly publish our findings," a spokesperson for the ASA said.
We look forward to that. In the meantime, Feminism: 1, Sexism: 0.