3 Decadent French Desserts You Won't Believe Are Vegan
Is chocolate one of your major food groups? You're not alone. When I lived in France, I used to order fondant au chocolate and chocolate mousse as often as possible. The problem with most desserts is how the excessive amount of sugar and fat outweigh any health boost from cocoa.
But with a bit of kitchen magic, you can indulge in even the most decadent French chocolate desserts. These recipes take out most of the sugar and replace butter and eggs with vegan alternatives. You won't believe how decadent they taste.
After trying these recipes, you'll never feel the need to deprive yourself of chocolate again.
Raw Sugar-Free Chocolate Mousse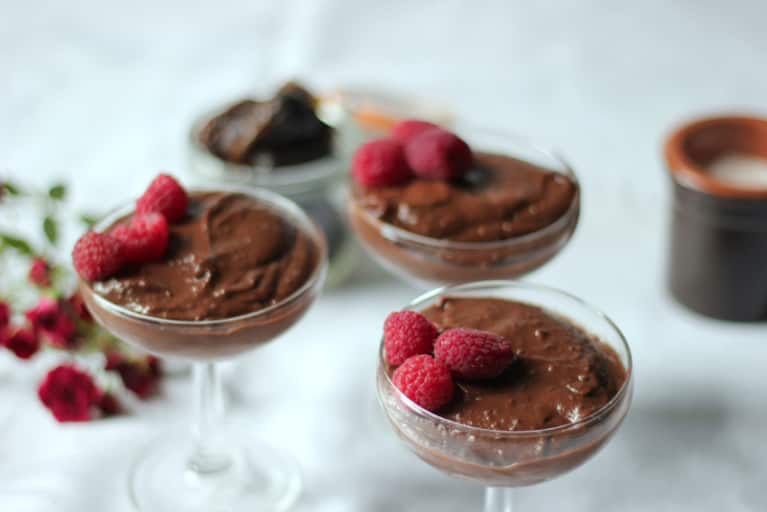 Warning — this recipe is deliciously addictive. And it's healthy enough to eat for breakfast — thankfully, because you'll want to.
Makes 6 1/2 cup servings.
Ingredients
1 tablespoon of chia seeds, ground into a powder
10 ounces of dates, pitted (around 2 cups)
2 cups almond or soy milk
8 tablespoons cocoa powder
1/4 cup almond butter or peanut butter
1/4 teaspoon finely ground sea salt
1 teaspoon of hazelnut or almond extract (optional)
Optional fruits for topping: raspberries, blueberries, or bananas
Preparation
1. Soak dates with the nut milk for a few hours.
2. Grind the dates and almond milk in a food processor or high-speed blender until creamy.
3. Add the salt, chia seeds, and four spoons of the cocoa powder, and grind.
4. Add the remaining cocoa powder and the peanut butter. Continue to puree until smooth.
5. Add the extract and pulse once more.
6. Pour 1/2 cup of mousse into ramekins or glasses, and refrigerate 30 minutes to set.
7. Top with berries to add color and a delicious contrast to the chocolate.
Double Chocolate Truffles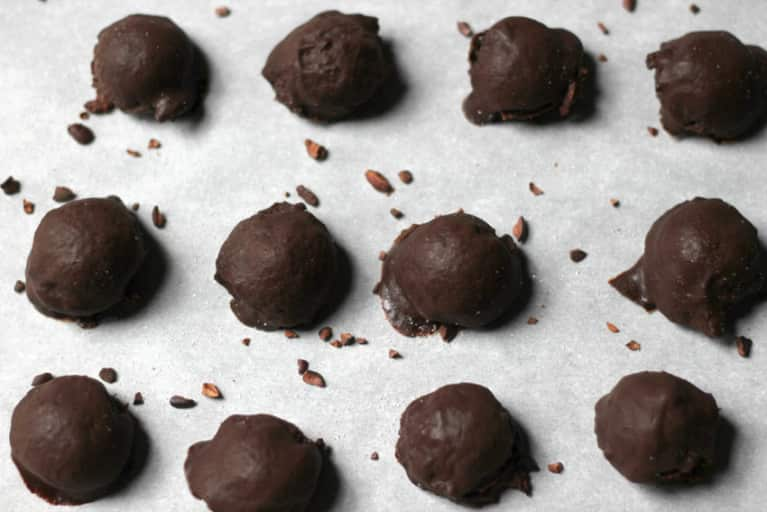 These bites contain a secret ingredient that allows you to forego added oil. Be sure not to give away the secret before your friends tell you how amazing they taste. And the chocolate ganache adds a double dose of chocolate that puts them over the top.
Makes 24-30 brownie bites
Ingredients
1 1/2 cups cooked black beans, (1 can of black beans, rinsed well)
2 tablespoons ground flax
1/4 cup + 2 tablespoons agave nectar (maple syrup or honey would work fine)
8 plump Medjool dates, if small use 10
1/4 cup peanut butter (or any nut butter)
1 cup oats ground into a flour
1/2 cup + 2 tablespoons Dutch process cocoa powder
4 tablespoons almond or soy milk
Optional: 1/4 cup raw coco nibs, 1/2 cup chopped hazelnuts
Preparation
1. Preheat oven to 350 degrees Fahrenheit.
2. Line two baking sheets with parchment paper. Place the beans, dates, flax, peanut butter and agave into a food processor and blend well until the mixture is fairly uniform.
3. Add the oat flour and soy milk; blend again to combine. If using optional hazelnuts or cacao nibs, add and pulse to combine. The mixture should be sticky. Mold into balls using around one tablespoon of batter for each. (Wet fingers if dough is sticky) Bake for 12 minutes, remove and let cool five minutes in pans, then transfer to a cooling rack until completely cooled.
Ganache Frosting
Ingredients
1/4 cup coconut oil
1/3 cup agave nectar
3/4 cup high quality cocoa powder
1 teaspoon cinnamon
1/2 teaspoon vanilla extract
1/4 teaspoon sea salt + additional for topping
Preparation
Melt the coconut oil on a low fire. When completely melted, gradually add the cocoa powder, a couple tablespoons at a time. Whisk to combine. If the mixture starts to lump, gently reheat the coconut oil on a low flame. Add the cinnamon, vanilla extract, and salt.
To assemble: Roll each brownie bite in the frosting, then return to parchment paper. Pop into the freezer for 30 minutes to solidify the frosting. Lightly sprinkle with sea salt if you want to get fancy. Remove and prepare to be wowed!
Molten Chocolate Cake With Raspberries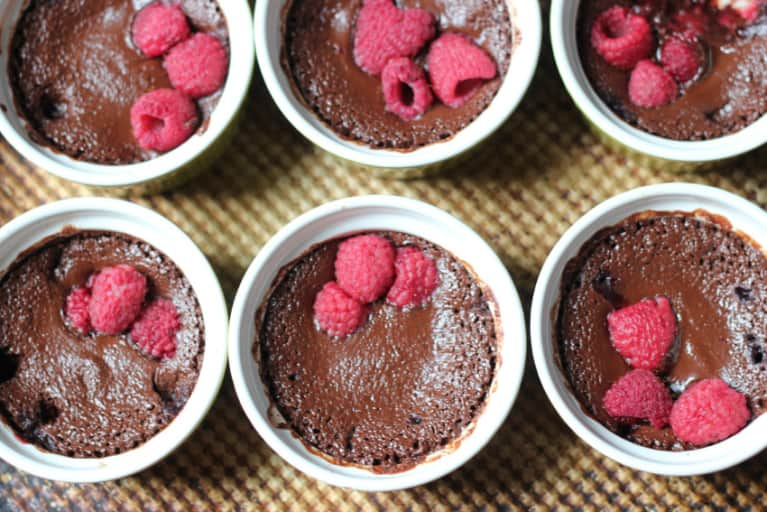 This recipe is chocolate lovers' heaven. Thanks to the small amount of flour, it is amazingly warm and gooey. And it is mostly made of coconut oil, dark chocolate and soy yogurt.
Makes six 1/2 cup ramekin servings
Ingredients
300g dark chocolate, (I used 70% baking chocolate, two 5.3-ounce bars)
1/4 cup coconut oil
1/4 cup brown sugar
3/4 cup soy, coconut or almond milk yogurt, drain any liquid off the top
3/4 cup whole wheat pastry flour or unbleached flour
1 cup raspberries
Preparation
1. Melt chocolate slowly on low flame in a small saucepan, continually stirring as the chocolate melts.
2. Mix in the coconut oil and yogurt.
3. Add the brown sugar and flour. Mix well.
4. Line the bottoms of six ramekins with raspberries. Top with chocolate mixture. Top with remaining raspberries.
5. Bake at 350 Fahrenheit for 15-20 minutes. Serve warm, and try not to devour in one bite!
Recipe note: If you use unsweetened baking chocolate, increase the sugar to 3/4 cup.
Photo courtesy of the author