Grain-Free Cinnamon-Raisin Bread
It's really easy to whip up your own raisin bread, so say goodbye to the store-bought version, which is usually full of preservatives and refined sugars! Even better, this recipe has no grains, gluten, dairy or refined sugar.
Make this up for your next breakfast or brunch, grill and serve with your favorite nut butter!
Grain-Free Paleo Cinnamon-Raisin Bread
Serves 8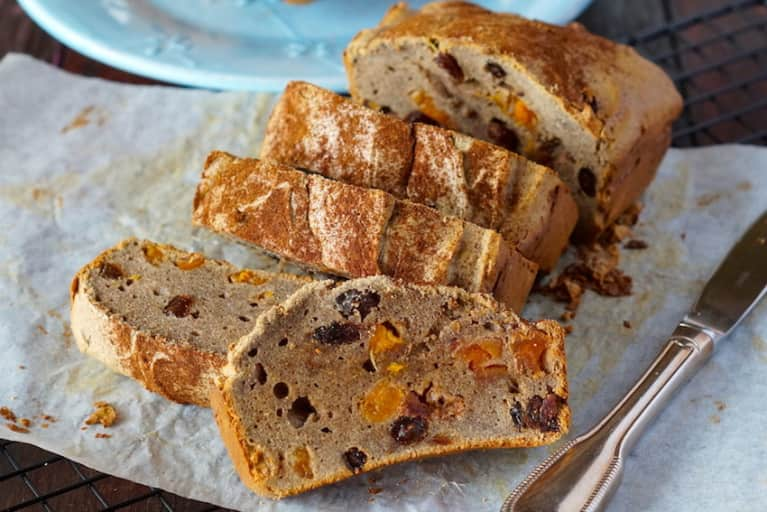 2 cups almond meal
½ cup unsweetened dried peaches or apricots
½ cup unsweetened raisins
¼ cup coconut oil or butter melted
¼ cup chia seeds
¼ cup coconut flour
¼ cup honey
5 eggs
1 tablespoon apple cider vinegar
1 tablespoon cinnamon
1 teaspoon nutmeg
1/4 teaspoon baking powder
pinch of salt
Preparation
1. Preheat oven to 180°C or 350°F and line a 20cm x 10cm (8 inch x 4 inch) loaf tin with baking paper.
2. Place almond meal, chia seeds, coconut flour, cinnamon, nutmeg, salt and baking powder in a food processor (we use our Vitamix).
3. Blend until combined.
4. Add the coconut oil, honey, eggs and vinegar and blend until smooth (about 2 minutes).
5. Transfer this in to a bowl and add the raisins and peaches, mix well.
6. Transfer the mixture in to the prepared tin and smooth out the top.
7. Sprinkle with a little extra cinnamon.
8. Place in the oven for 50 minutes or until it springs back when you lightly touch the top.
9. Allow to cool, then turn out and slice.
Tip
This is extra delish served with lemon coconut butter. Just blend 2 cups of shredded coconut with the juice and zest of a lemon and a teaspoon of cinnamon on high speed until super smooth.
Photo courtesy of the author