Zucchini Noodle Pho With Pulled Pork
This is a delicious, vegetable-packed, super-flavorful, gluten-free and paleo-friendly version of pho, made with zucchini noodles. Gluten-challenged or not, you'll love this soup that's even better than takeout.
Pulled Pork Pho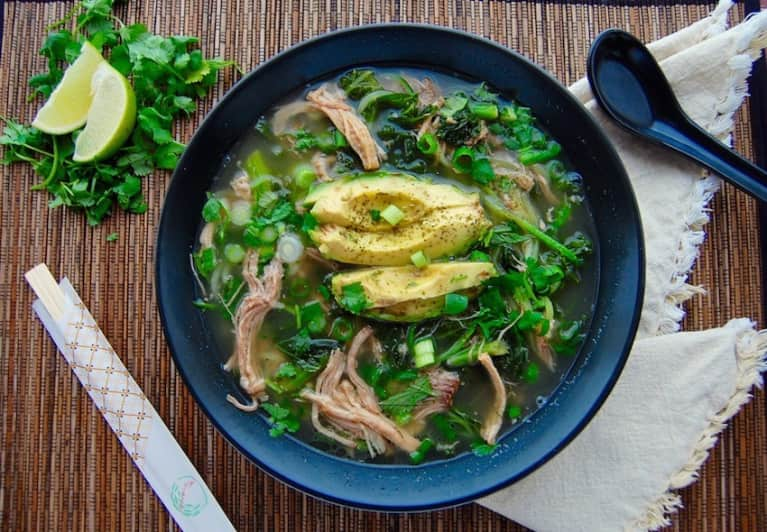 4 cups chicken broth
1 medium zucchini, cut into noodles with a spiralizer
4 heaping cups kale (about 2 large handfuls)
1 ½ - 2 cups pulled pork*, chopped into bite-sized pieces
¼ cup coconut aminos (or gluten-free soy sauce)
2 teaspoons gluten-free fish sauce
1 teaspoon fresh minced ginger
1 teaspoon fresh minced garlic
1/2 cup cilantro, chopped
2 large scallions, chopped
1 avocado sliced, for serving
2 lime wedges, for garnish
optional: a dash of sriracha, for serving
Preparation
1. In a medium saucepan, heat your broth in a over medium-low heat until simmering, about 10 minutes. Stir in the ginger, garlic coconut aminos, fish sauce, kale. Simmer for 5 minutes. Add the zucchini noodles and pork to the pot, and stir. Cook for an additional 3 minutes, or until the noodles are slightly softened and the meat is warmed through.
2. Ladle the soup into two large bowls. Top each bowl with chopped scallions, cilantro, sriracha, and garnish with a wedge of lime, to be squeezed over the soup before eating.
*Any leftover meat is good in this soup, like leftover chicken, steak, or even shrimp!
Photo courtesy of the author