A 2-Time Marathon Winner On How He Achieves His Goals
Our editors have independently chosen the products listed on this page. If you purchase something mentioned in this article, we may
earn a small commission
.
The best goals have certain elements that make your success more likely. Here's what I think good goals have in common.
1. A good goal has personal meaning.
Nobody ever told me, "You have to win the 2014 Boston Marathon" or "You have to make the 2012 Olympic team." Those were goals I set for myself. When I told myself, "I want to win Boston," it just felt right. I knew that chasing that goal would motivate me to do what was necessary to achieve it and that doing so would require me to do my best.
Your goals should have that same pull on you. They should be things you want to achieve for yourself, not to meet someone else's expectations. Training to reach a goal requires a lot of hard work. When you hit a tough stretch, either physically or mentally, if the goal you're working toward has deep significance for you, you'll find a way to persevere. But if someone else thrust the goal upon you, when you hit tough stretches, you're going to think, "Wait, why am I doing this?"
2. A good goal is specific.
Notice how specific the goals I set for myself were: I wanted to win the 2014 Boston Marathon. I wanted to make the 2012 Olympic team. There's no ambiguity there. I knew exactly what I wanted to do, and that helped me decide how I should go about doing it.
Here's a time example. At the beginning of 2001, one of my goals for the year was to break the American record for 10,000 meters. The time I needed to beat was 27:20.56. It doesn't get much more specific than knowing to the 100th of a second what I needed to run to meet my goal. That specificity told me exactly what pace I needed to run in the race and what times to hit in workouts. Thanks to the guidance provided by my specific goal, I was able to run 27:13.98 that year, an American record that stood until 2010.
Now consider if I had stated my goals more generally: I want to run well at Boston. I want to run faster in the 10,000 meters. "Run well" is so much more subjective than "win." How would I know during and after the race if I'd run well? And how would I know what to do in training to meet that goal?
So include an element of specificity: "I want to run 30 seconds faster for 5-K" instead of "I want to run faster," or "I want to run five days a week" instead of "I want to run more."
3. A good goal is challenging but realistic.
Your goals should require you to reach outside your comfort zone while remaining within the realm of possibility. If you've run a 2:05 half-marathon, then making your next goal to run a 2:05 half-marathon won't be all that compelling. You've already done it, so how motivating will it be to do it again?
Making a Boston victory my goal was realistic. In my case, I had finished third and fifth in previous Boston marathons, so winning the race wasn't outside the realm of possibility. Trying to win certainly required reaching, given that the race was held 2 weeks before my 39th birthday and I had the 15th-fastest personal best in the field.
Part of realistic goal setting is using your knowledge of yourself to define the range of possible results. Before my first Olympic final, the 10,000-meter race at the 2000 Sydney Olympics, my father told me, "You're going to win tonight." I said, "Wait a minute! Dad, I'm not going to win." He said, "You cannot think negatively. Don't say that. You're going to win tonight."
I explained to him that I hadn't yet broken 28:00, while the two top contenders, Haile Gebrselassie and Paul Tergat, had run faster than 26:30. I said, "Dad, I can't beat them tonight. But I hope to beat them someday." My father was disappointed, but I was being realistic. And in the next Olympics, I won the silver medal in the Olympic Marathon while Tergat, then the world-record holder, finished 10th.
4. A good goal has a time element.
It's human nature to be motivated by a deadline. Having a date by which you want to reach your goal helps you plan how to reach it and provides urgency.
There's a sweet spot for how far away your goal should be. If you say, "I want to run this year's New York City Marathon," and the race is in two weeks and you've been running twice a week, well, good luck. But if you say, "I want to run the 2025 New York City Marathon," that's so distant that it's unlikely to motivate you to work toward it.
To work toward a goal, set shorter-term goals. Decide where you should be at the end of each month leading up to your goal, and then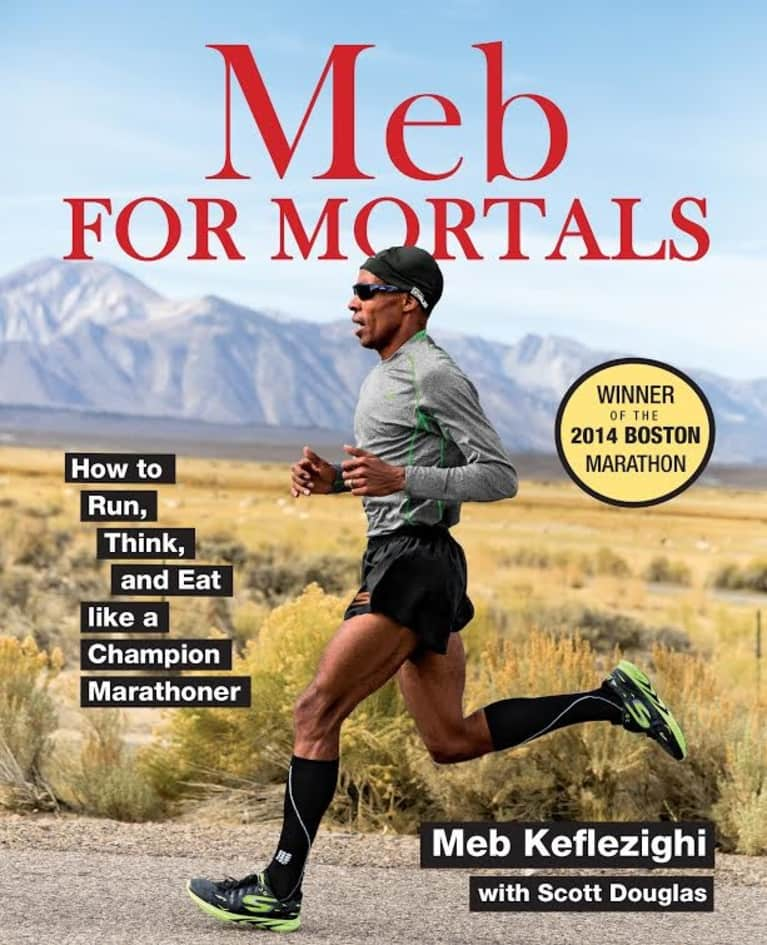 break those months into week-by-week progress toward that month-end goal. Every week, evaluate your progress. Are you making the necessary headway toward your goal? Or did you get stuck? If you haven't progressed enough, then you probably need to postpone your goal. Look at this as a learning experience rather than failure. Ask yourself, "I said I would do this, but it hasn't been happening, so what do I need to do differently?"
Reprinted from Meb for Mortals by Meb Keflezighi and Scott Douglas. © 2015 by Mebrahtom Keflezighi. By permission of Rodale Books. Available wherever books are sold.
Photo by Alex Aristei