How My Wife And I Overcame Miscarriage & Infertility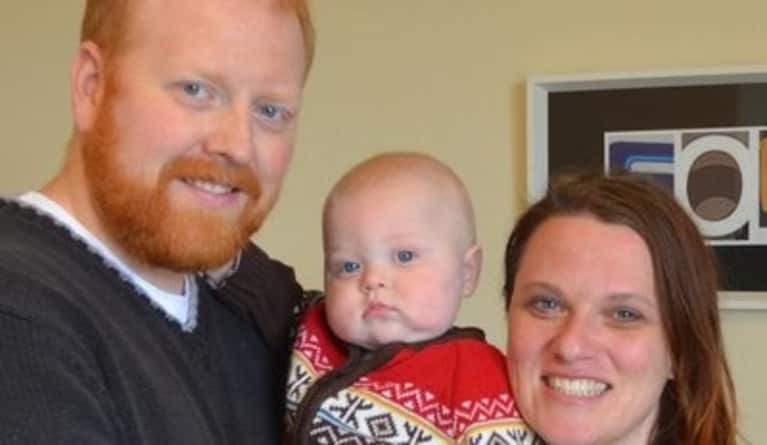 I met my wife the first day of high school standing in line for school pictures. Fast forward 13 years: we were newlyweds excited to start a family. I remember the day my wife told me she was pregnant shortly after we got married; it was the happiest day of both of our lives.
Weeks later we went in for an ultrasound with the hope of hearing the baby's heartbeat. But as the ultrasound technician was measuring the baby, I could tell something wasn't quite right by the look on her face. She couldn't find the heartbeat, and the baby measured half the size that it was supposed to for that week of pregnancy. So she called our doctor immediately.
Suddenly, they moved us to another room and told us to wait for a call from the doctor. It wasn't good news: when the phone rang and my wife picked up, she immediately started crying. I didn't know exactly what she and the doctor were discussing, but I knew that our baby was gone.
Over the following six years we would experience three more miscarriages, an ectopic pregnancy and a chemical pregnancy. We also went a year during that time without getting pregnant at all. We were confronted with numerous tests and consultations, but no baby.
Throughout the experience, we were repeatedly told that we were healthy and that we should "try again." While it's comforting to have a doctor tell you that you're healthy under most circumstances, our situation was different. We still couldn't have a child. Our medical team was stumped.
With each loss, my wife and I were increasingly devastated. The doctors emphasized how common miscarriages are, and did their best to make sure we didn't feel like the losses were our fault. Yet from my (a man's) point of view, the emotional pain of miscarriage is incredibly acute. You have the pain of the loss, but you also experience helplessness. You know that your partner is going through both acute emotional pain and physical pain, and that there is nothing you can do.
We just wanted a direction to follow, something that would give us a sense of control, and glimmer of hope that we could overcome this.
One day, our reproductive endocrinologist mentioned in passing that there was one more test we could take. The test was called a Sperm Chromatin Integrity Test (SCIT). The goal of the test is to measure the amount of DNA fragmentation in the sperm sample. To keep things simple: DNA fragmentation essentially means damaged DNA, which can lead to infertility/pregnancy loss.
My test came back with 25% damage in the sample. On the surface, 25% damage may not seem like a big deal. (After all, that meant that 75% of the sample was OK.) Unfortunately, my doctor explained that levels above 20% are thought to put you at risk for infertility.
Still, I wasn't immediately convinced that this was a serious issue. I had learned from my own research that men replace all of their sperm every 74 to 90 days. So if 75% of the sample was OK, and a man can replace all of his sperm every three months shouldn't one be able to overcome a DNA fragmentation issue?
But apparently my logic was wrong. When we got my results, our reproductive endocrinologist immediately suggested we start thinking about a sperm donor. I was crushed.
In hindsight, I wonder how much our fertility specialist really knew about our issue. The morning after our meeting, I woke up determined that we could overcome this problem. So I went online in search of something that might at least give me hope. While I found articles and studies, the best resources I encountered were chat rooms with people that were going through my same problem. And more importantly, I e-met people overcoming the very problem I was experiencing.
Later that day, I emailed our general practitioner who specializes in holistic medicine to get a second opinion. He and his team had been working with us for a while and I was impressed by his willingness to dig deep into the problem to help us. It just so happened that he was at a conference on environmental toxicity when I reached out to him, and what he was learning at the conference spoke perfectly to the results of our SCIT.
The next time we saw him, our holistic physician suggested both my wife and I take a test to measure levels of popular toxins in our bodies. We did, and we learned that my wife and I had mostly low levels of most of the toxins that the test measured. However, I had very high levels of three out of the four particular kinds of phthalates that were being tested
Phthalates are endocrine disrupters known to inhibit our reproductive capabilities, as they can cause DNA fragmentation. Turns out, phthalates are everywhere: they can be in our food, our water, our beer, and our wine. They are also commonly found in plastics, household cleaners, cosmetics, soaps, shampoos, deodorants and lotions. We finally had determined the cause of my sperm's DNA fragmentation.
So then what did we do?
1. We consciously reduced our exposure to phthalates.
We immediately switched out all of our cleaners and personal care products to nontoxic versions in order to reduce our exposure to phthalate suspects. We avoided plastic as much as possible and switched to a fully organic diet.
2. We researched supplements and, with the help of our holistic physician, started a regimen
My wife and I both read a study that 1,000 mg of vitamin C and 1,000 mg of vitamin E were shown to reduce DNA fragmentation in men. So we both decided to add them to our daily routines.
3. We ate foods that supported our body's detox systems.
I had already read numerous testimonials about the wonders of a plant-based diet. With that knowledge, I revamped my diet with the goal of boosting fertility in mind. I focused my nutritional needs around an organic, plant-based detoxification plan. The goal was to eat clean food that supported my body and mind, helped to remove existing toxins and didn't add to the toxic load. A plant-based diet is low in harmful additives and preservatives, but high in vitamins, minerals, fiber — the list goes on. Eating a plant-based diet is a great way to limit the consumption of potentially toxic ingredients, while simultaneously aiding our body's natural detox systems with proper nutrients.
Two months after making our changes, my wife was pregnant. And nine months later, we welcomed our son into this world. Now, our son is healthy and just over a year old. While our story of overcoming infertility is specific to our bodies, there are deeper lessons here:
You are responsible for your own health. Don't always take your doctor's word for health issues you're experiencing. Yes, there is a lot of misinformation on the Internet, but there is a huge value in taking advantage of the resources available to you, and in learning methods your doctor may not even know about.
What if we would have quit trying? What if we didn't do our own research? What if we just took our specialists word for it? We could have easily quit, sure. But by not giving up, we now have the greatest joy we could imagine.
Photo courtesy of the author