Beyond Avocado: 3 New Healthy Toasts To Try
The classic avocado toast is much lauded for good reason. Delicious and versatile, avocados have fantastic health benefits and deserve all the praise they get. But if you are waiting for your avocados to ripen or are looking to expand your kitchen horizons, here are three toast toppers that may become your new go-tos.
Edamame Basil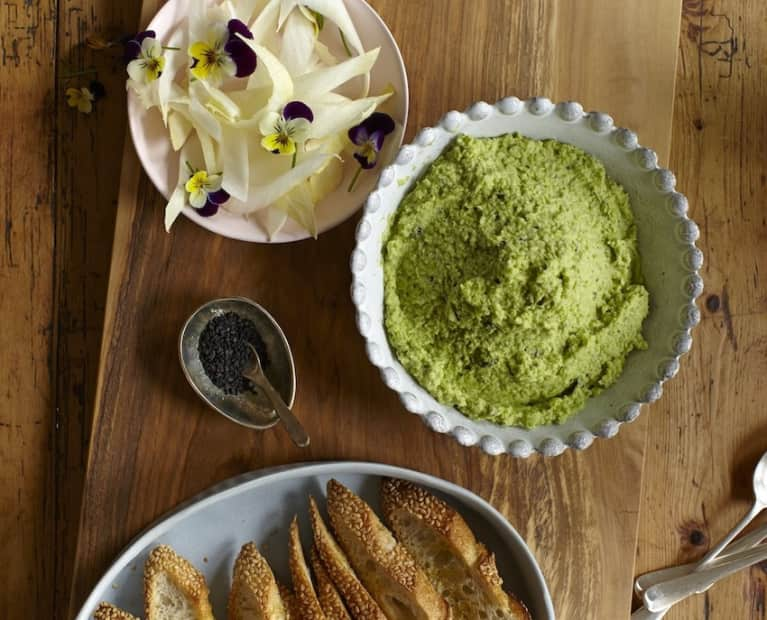 The vibrant green hue may give the illusion of avocado, but this toast is all about a smooth puree texture, bite from a hint of vinegar, and basil earthiness.
Makes 20 appetizer size toasts
Ingredients
1 12-ounce bag frozen preshelled edamame, thawed (2 1⁄3 cups)
6 large basil leaves
1/2 cup olive oil
2 tablespoons rice vinegar
1 tablespoon freshly squeezed lemon juice
1 teaspoon salt
1/2 teaspoon freshly ground black pepper
1 sesame baguette, cut into 1/4-inch- thick slices on the bias and oven-toasted with oil (see page 8)
1 endive, sliced 1/4 inch thick (optional)
edible flowers (optional)
1 tablespoon black sesame seeds (optional)
Preparation
1. In a blender or food processor, puree the edamame, basil, oil, vinegar, lemon juice, salt, and pepper until supersmooth.
2. Spread 2 tablespoons of puree on each toast. Top with any combination of endive, edible flowers, or sesame seeds (if using).
Spicy Red Lentil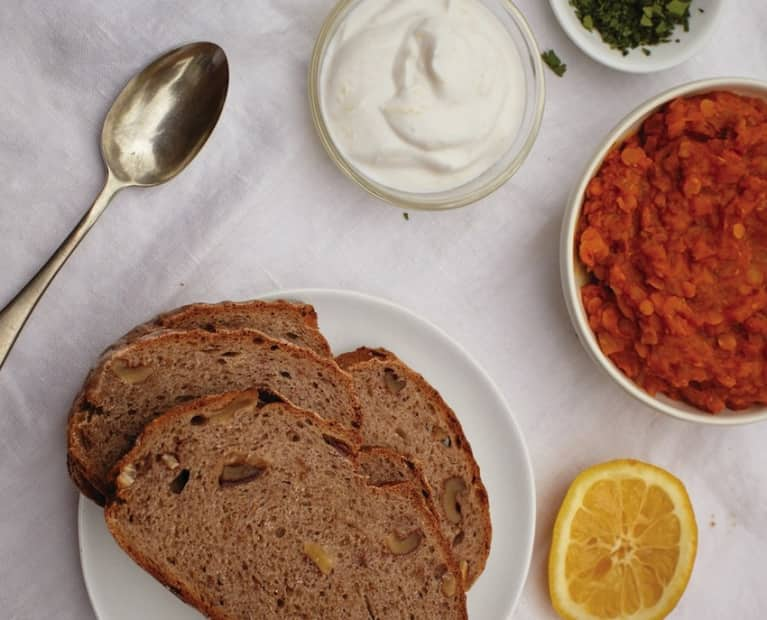 Like avocados, lentils pack powerful health benefits and this recipe draws inspiration from India.
Makes 6 toasts
Ingredients
½ cup red lentils
1 yellow onion, diced (about 1 cup)
1 teaspoon ground cumin
2 teaspoons ground turmeric
½ teaspoon garlic powder
2 tablespoons olive oil
3 tablespoons coarse cornmeal
1⁄3 cup tomato sauce
1 to 2 tablespoons sriracha (heat to your taste)
1 teaspoon red chili pepper flakes
½ teaspoon salt
½ teaspoon freshly ground black pepper
4 teaspoons freshly squeezed lemon juice
1 teaspoon lemon zest
¼ cup plain Greek yogurt
6 ¼-inch-thick slices walnut wheat bread, pan-toasted with oil (see page 6)
2 tablespoons chopped cilantro and/or mint
Preparation
1. In a small saucepan over medium heat, cook the lentils in 1 cup water, covered, until the water is absorbed and the lentils are soft, about 20 minutes.
2. In a medium saucepan over medium heat, sauté the onion, cumin, turmeric, and garlic powder in the oil until softened, about 5 minutes. Add the lentils and cornmeal and cook, stirring, until thickened, about 2 minutes. Add the tomato sauce, sriracha, and chili flakes and cook for 3 to 4 minutes, or until thickened. Mix in the salt, pepper, and 2 teaspoons of the lemon juice.
3. In a small bowl, combine the remaining 2 teaspoons lemon juice, the lemon zest, and the yogurt.
4. Top the bread with red lentil mash, a dollop of citrus yogurt, and the chopped herbs.
Carrot Ribbons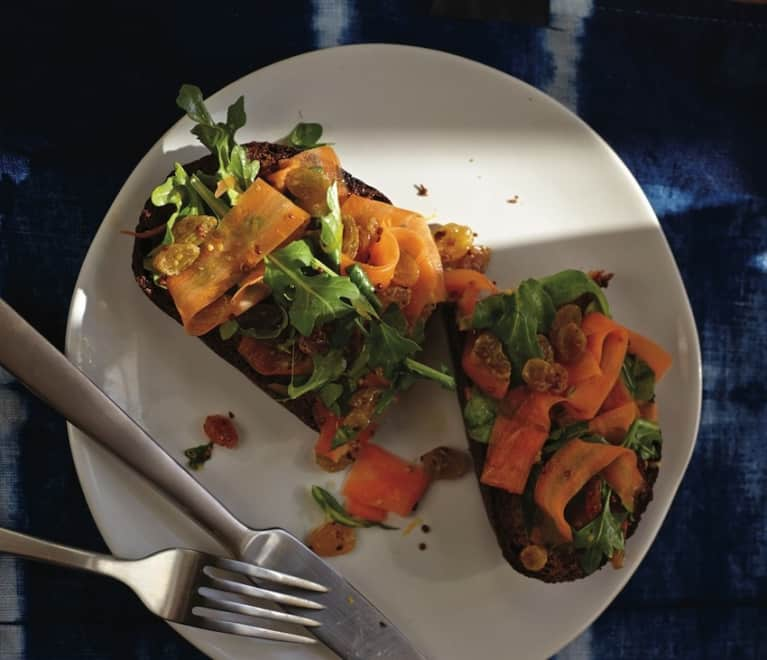 A topping that can be made in minutes, left to marinate, and won't turn brown overnight? Carrots just got a little sweeter.
Makes 6 Toasts
Ingredients
1½ teaspoons grainy mustard
2 teaspoons apple cider vinegar
1 teaspoon agave nectar
2 teaspoons freshly squeezed lemon juice
1⁄3 cup golden raisins
4 teaspoons olive oil
2 large carrots, shaved lengthwise using a peeler
1 cup baby arugula
1 teaspoon lemon zest
6 ¼-inch-thick slices ciabatta, rye, or semolina raisin bread, pan-toasted in oil using the heavy-soaking technique
Preparation
1. In a medium bowl, whisk together the mustard, vinegar, agave nectar, lemon juice, and raisins. Let sit for 10 minutes. Whisk in the oil.
2. Toss the carrots, arugula, and lemon zest with the marinade and raisins.
3. Top each toast with the carrot salad.
From Better on Toast by Jill Donenfeld. Copyright © 2015 by Jill A. Donenfeld. Reprinted by permission of William Morrow, an imprint of HarperCollins Publishers. Photos by John Von Pamer.