Black Beluga Lentils With Greek Yogurt + Herbs
This dish is the perfect example of how beautiful and elegant whole foods can be. Lent to us by our friend Karen Mordechai over at Sunday Suppers in Williamsburg, Brooklyn, these simply dressed black lentils with yogurt make a perfect healthy lunch with a handful of greens or an impressive side dish for entertaining.
Black Beluga Lentils With Greek Yogurt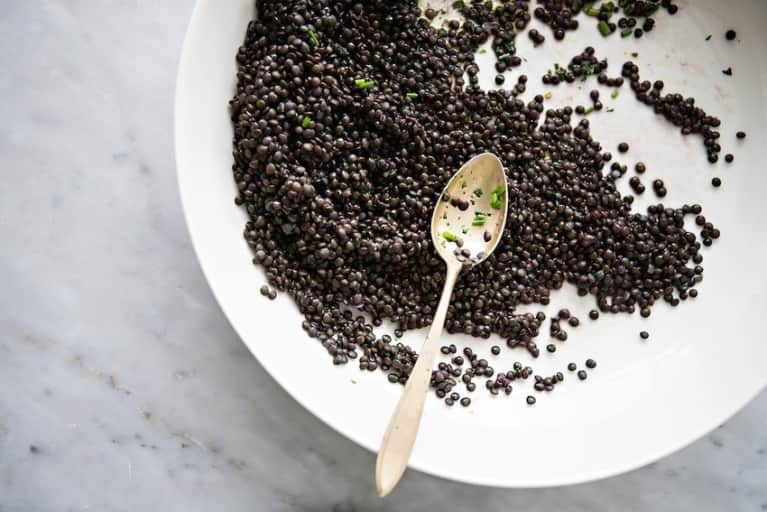 1 cup black beluga lentils
2.5 cups water
3 tablespoons extra virgin olive oil
1.5 tablespoons red wine vinegar
1/2 cup of chopped herbs (we used chives, parsley + mint) Flaky sea salt
whole Greek yogurt (to your liking)
Prosciutto la Quercia, 4-6 slices (optional)
Preparation
1. In a medium saucepan, bring the lentils and the water to a boil. Reduce the heat and let simmer for 15 minutes. Once cooked, but still al dente, drain lentils and place in a bowl to cool.
2. Using a sharp knife and a cutting board, give your assorted herbs a good rough chop. Add herbs to lentils and toss with the red wine vinegar and olive oil and salt to taste.
3. Serve on a platter with a generous dollop of yogurt and some roughly torn prosciutto slices if desired. Sprinkle with flaky sea salt and additional herbs to taste.
Photo courtesy of Karen Mordechai