Kick Up Your At-Home Workout With These 6 Simple Interval Moves
I want you to forget what every trainer has told you about exercising specifically to target belly fat. You'll learn why the old equation of calories in versus calories out — creating a deficit in calories to lose weight — simply doesn't take enough into account.
Often when we think of a workout, we envision a gym or personal trainers or running mindlessly on the road. While all of these have their place, what I am about to share with you is scientifically the fastest way to burn off belly fat. Exercising in short bursts of activity — known as high-intensity interval training(HIIT) — actually allows you to exercise less while burning more fat than regular workouts!
How to Exercise
So here's what your HIIT routine will look like: you'll be alternating between two moves for 20 minutes, three days a week. After a three-minute warm-up of your choice, you'll do a high-intensity move for eight seconds, then an active-recovery move for 12 seconds, repeating for a full 20 minutes with no break. Follow this with a three-minute cool down, and that's it — you're done! Your body will be burning fat for hours and hours to come.
Your eight-second intervals are high-intensity, full-body moves designed to get your heart pumping. These are explosive movements that you'll be able to sustain for only a short time before moving on to the 12-second active-recovery exercise. In active recovery, you'll be focusing on strength and endurance as opposed to cardio. Your heart rate should drop a bit so you can catch your breath, but you should still be working hard rather than resting. It will be tough, but this is your chance to spur your body to open up the fat-burning floodgates!
Here are six options for your 8- and 12-second intervals you can combine to create a simple, at-home routine.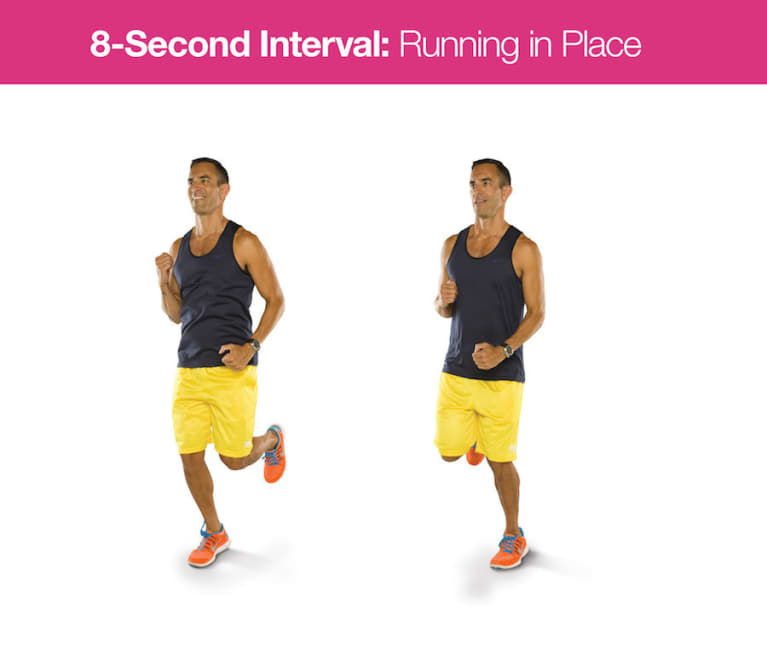 Start jogging in place, and go as fast as you can. To increase intensity, you can bring each knee up as you run — your thighs can go as high as being parallel to the ground. Engage your arms by moving them back and forth; this is an effective way to boost your heart rate even more.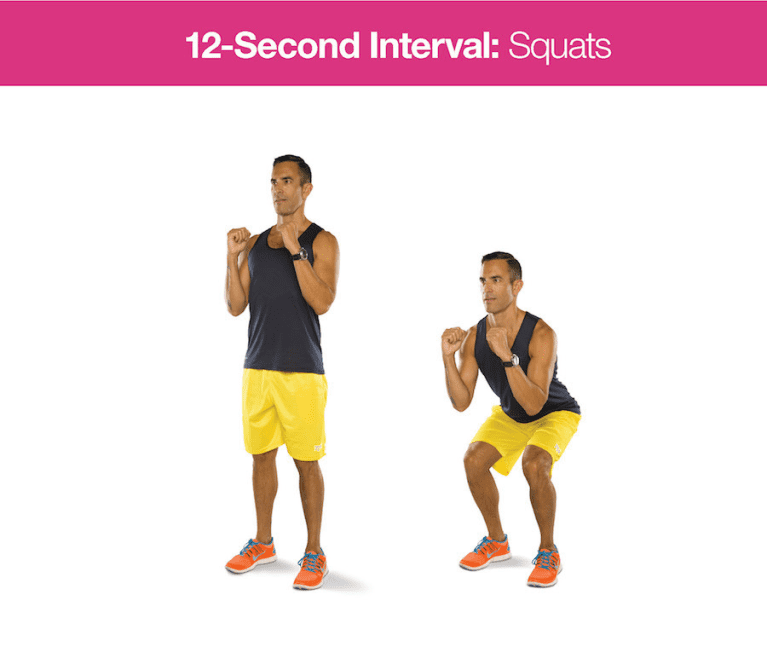 Keep your feet shoulder-width apart and place your arms up in front of you, shoulder height and parallel to the floor. Sit back, lowering yourself until your hips are at or below your knees. Pause for a second, then stand back up to starting position. Repeat for 12 seconds.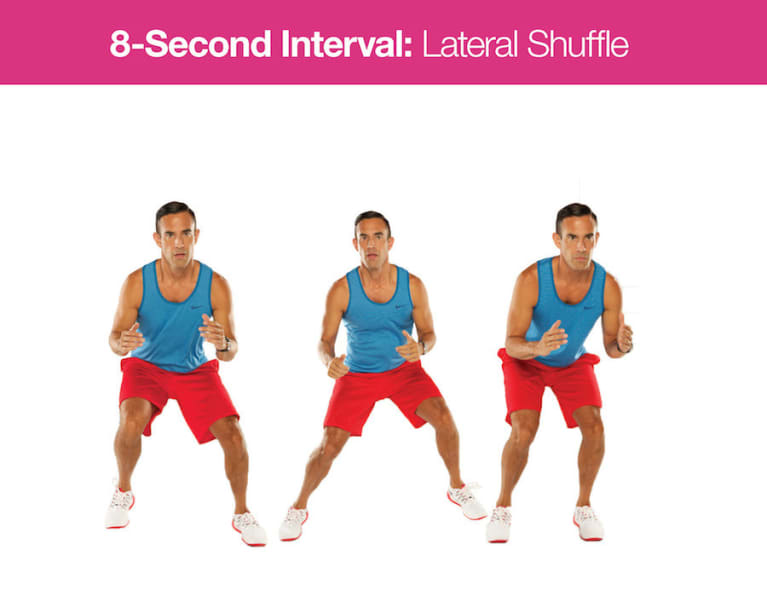 Begin with your hips square, and shuffle four steps sideways to the right. Keep your weight on your toes, moving as if there were a ladder to your side and you needed to step with both feet in each square.
As you do so, mimic a running motion with your arms, moving your elbows back and forth. Try to keep your head straight and facing forward; avoid looking down as much as possible and try not to bend to either side. After taking four steps to the right, switch directions and shuffle to the left for 4 steps. Continue shuffling back and forth for the full eight seconds.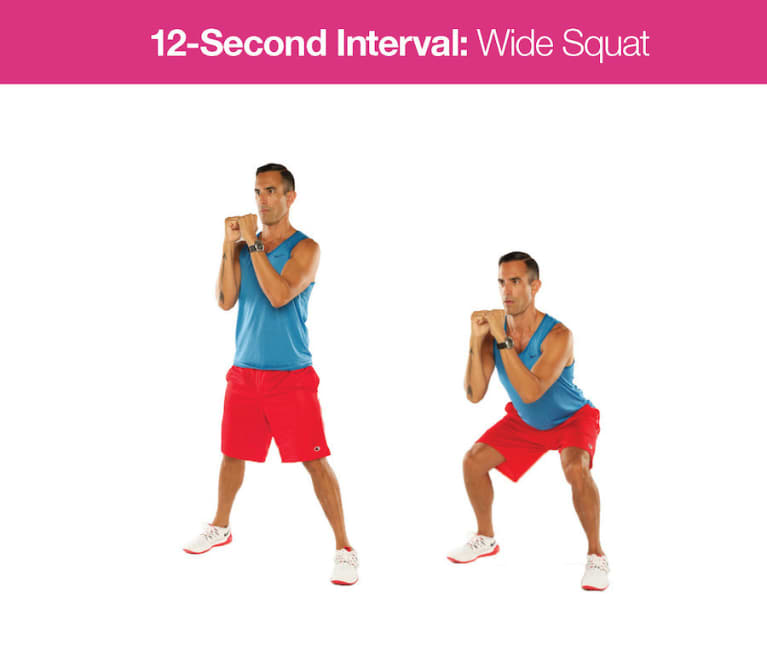 Stand with your feet slightly wider than shoulder width and toes slightly pointed out. Your hands should be resting on your hips. Sit down, pushing your buttocks back and keeping your chest up, until your thighs are parallel to the floor. Pause for a second, then stand up quickly. Repeat for 12 seconds, trying to get lower with each squat.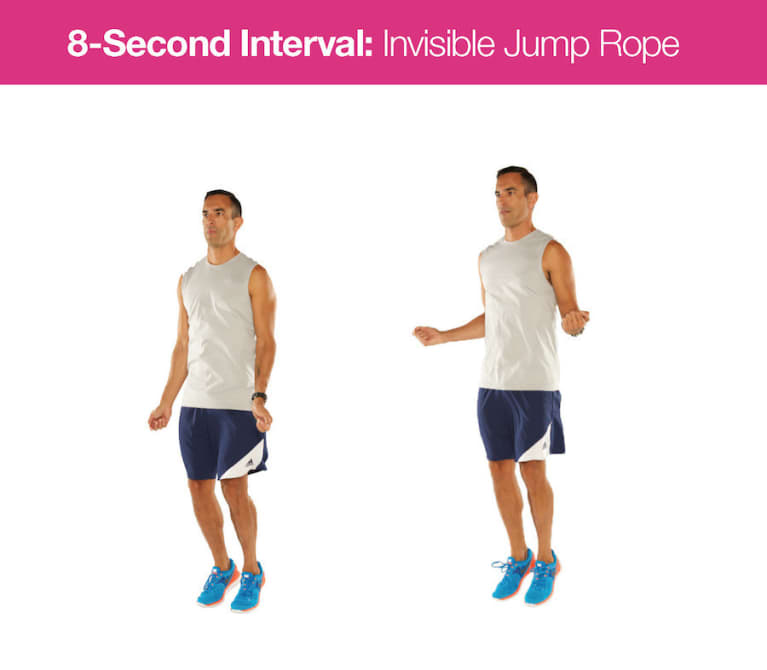 Stand up straight with a slight bend in your knees, hands by your sides. Quickly jump up and down on your toes and make small circular movements with your hands, as if you were using a real jump rope.
Stand with your feet shoulder-width apart. Make fists in front of your face, elbows at a 90-degree angle. Raise your arms up above your head, then lower your arms back to 90 degrees. Repeat for 12 seconds.
Photos courtesy of author

Excerpted from Stubborn Fat Gone!, published by Hay House, April 2015.