3-Ingredient Raw Chocolate Easter Eggs
Making your own raw chocolate is a surprisingly quick, easy and delicious process and, in this case, only requires three ingredients.
Unlike the cocoa used in most chocolate, which has been heated to high temperatures, raw cacao butter and powder are the result of cold pressing the cacao bean. Cold pressing preserves all of the high quality antioxidants in the cacao.
Natural sweeteners like brown rice syrup, maple syrup, and honey are a fun way to play with flavor. The brown rice syrup used in this recipe gives the chocolate a hint of caramel flavor and texture. I'm feeling good about filling my family's Easter baskets with these Easter eggs!
3-Ingredient Raw Chocolate Easter Eggs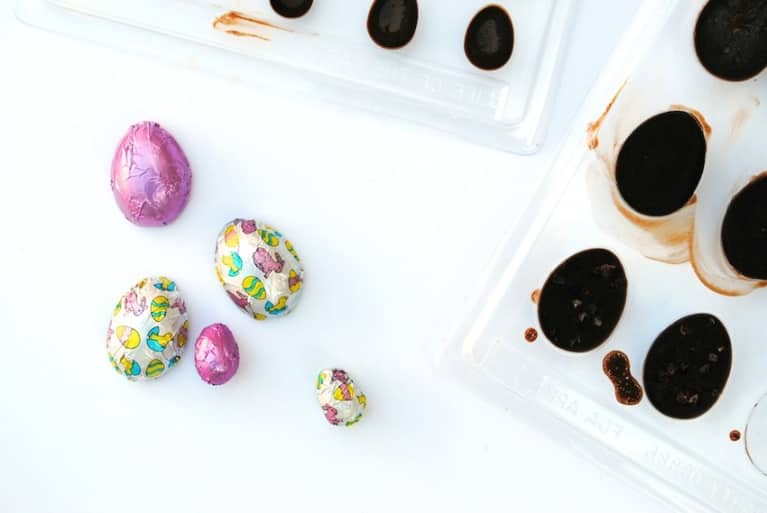 ½ cup melted raw cacao butter
4 tablespoons brown rice syrup (try maple syrup or honey as well)
½ cup raw cacao powder
optional add-ins: pinch of sea salt, cacao nibs, brown rice crisps
Preparation
1. Melt the cacao butter in a bowl set in a warm water bath. If you shave the cacao from the block with a knife, the shavings will melt easily. Once melted, remove the bowl containing the cacao butter from the water bath.
2. Add the brown rice syrup to the melted cacao butter and stir to incorporate. The brown rice syrup is thick and it is easiest to blend it with the melted cacao butter before adding the cacao powder.
3. Add the cacao powder and stir until smooth.
4. Pour the liquid chocolate into your mold of choice. A simple plastic egg mold can be purchased online. Alternately, pour into a lined baking dish or silicone molds. If you like, sprinkle in any of the optional add-ins at this time.
5. Place into refrigerator or freezer to harden. They should be ready to enjoy in less than 30 minutes!
Photo courtesy of the author