How To Cook Your Best Passover Seder Ever (And Actually Enjoy It)
We all want Passover to feel meaningful and special. It is easy to make the mistake that "special" equals overdoing it in the food department. I'd guess that almost all of us do this. We believe that a holiday isn't "successful" unless each dish is a complex masterpiece, and every guest filled-to-overflowing.
What I know:
The Passover food experience sparks emotions and memories while connecting us to our bodies. If there was ever a holiday devoted to connecting our minds and bodies, this is it.
Passover has the potential to create a healthy experience for our body. During Passover, we're abstaining from certain foods and re-focusing our attention on other foods.
During Passover we give our bodies a break from food made with wheat, oats, rye, barley, and spelt (and other foods, too). We can take a temporary reprieve from foods made with flour — like pasta and cake — and beer.
What I believe:
1. The Passover Seder can be a positive experience for my body
2. The Passover food framework is an invitation for me to prepare simple and healthy food for 7 days.
The good news is that, while the symbolic food of the seder plate is an essential requirement of the Passover experience, the rest of the food choices are up to you. You are free to choose what you serve at your table. This is the case, of course, throughout the year, but what better time to exercise this freedom, than on the very holiday celebrating our deliverance from the bondage of ancient Egypt?
You can honor Passover by serving simple, light and delicious food. Food that people will enjoy and feel good about eating.
Once we make this shift towards simplicity, it becomes a lot easier to cook the Seder in ½ a day.
We can say YES to:
1. Making a reasonable amount of food (instead of way too much).
If you're hosting a dinner, you probably don't prepare three side dishes, two salads, and two desserts. There's really no reason for you to do that on Passover, either. Of course, it's a special day and it feels nice to prepare special dishes, but you don't need to make a week's worth of food for one meal. When you're planning your meal, consider how many dishes you really need on your table to feel proud and comfortable. Rest assured, no one will starve at your table.
2. Choosing recipes that are healthy, easy to make and delicious.
It's tempting to think that rich, impressive and involved dishes are a holiday requirement, but they're not. You can make special food simple, and simple food special. You'll save time and stress when you do. It's totally possible to organize holiday meals around simple. fresh and delicious food.
3. Making space at your table for fruits, vegetables and starches
Say yes to what we can eat and enjoy during Passover: delicious, in-season fruit, vegetables and starches. Including lots of minimally-processed produce on your table (think cut up fruits, salads and the twice-baked tzimmes sweet potato recipe from this plant based menu) adds freshness and color to the whole meal. And since produce preparation is fairly easy, you can certainly elicit help from the kids, or even make it a "communal effort" by sharing the task with others coming to the seder.
4. Choosing wisely and less is probably more.
Today, there are endless kosher-for-Passover options when it comes to processed foods — cakes, cookies, pastas, etc. The label kosher-for-Passover does not necessarily equal good for you body, your mood or the environment. Less is more when it comes to processed foods, no matter the holiday.
Passover is about freedom. By saying "yes" to the simplicity of the Passover food framework and making space on your table for healthy food, you can free yourself to be present (and awake) at the seder.
Twice Baked Sweet Potato Tzimmes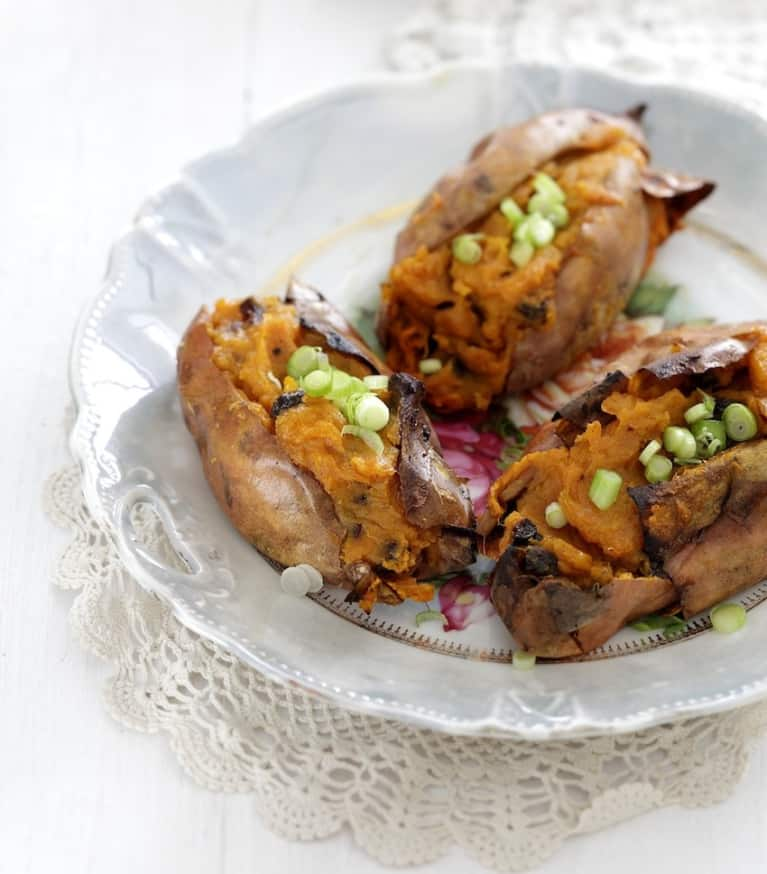 A new twist on classic Tzimmes: a twice baked version! The whole family will enjoy this sweet dish.
Serves 4-6
Ingredients
4 large sweet potatoes (or yams)
juice of 2 oranges
2 teaspoons cinnamon
1/4 teaspoon sea salt, or to taste
1⁄4 cup raw sugar or maple syrup
1 cup prunes, coarsely chopped
2 green onions, to garnish
Preparation
1. Preheat the oven to 375ºF. Place sweet potatoes on a baking sheet and bake for 1 hour, or until completely baked.
2. Remove from the oven and set aside to cool
3. When cool enough to handle: Slice them in half lengthwise. Use a spoon to scoop out the orange flesh and place it in a large bowl. Reserve the sweet potato skins.
4. In a large bowl, mash the sweet potato flesh, adding the orange juice, cinnamon, sea salt and raw sugar. Stir in the chopped prunes. Fill the empty sweet potato skins with this mixture and place them on a baking sheet. Bake for 15 minutes, until they are golden on top. Garnish with thinly sliced green onion before serving, if desired.
Photo courtesy of the author