The Survival Handbook To Moving Back In With Your Parents
Trekking it back to mom and dad's, are ya? Welcome to the club.
If you're like me, there's a solitary tear traveling down your cheek as you imagine a life completely devoid of privacy, personal space and independence.
Don't get me wrong, I love the nest. But I was kinda diggin' my own. Moving back in with your parents after college, or anytime during young adulthood, can be startling — especially given all of the personal growth, independence and maturity you have been cultivating during your 20s.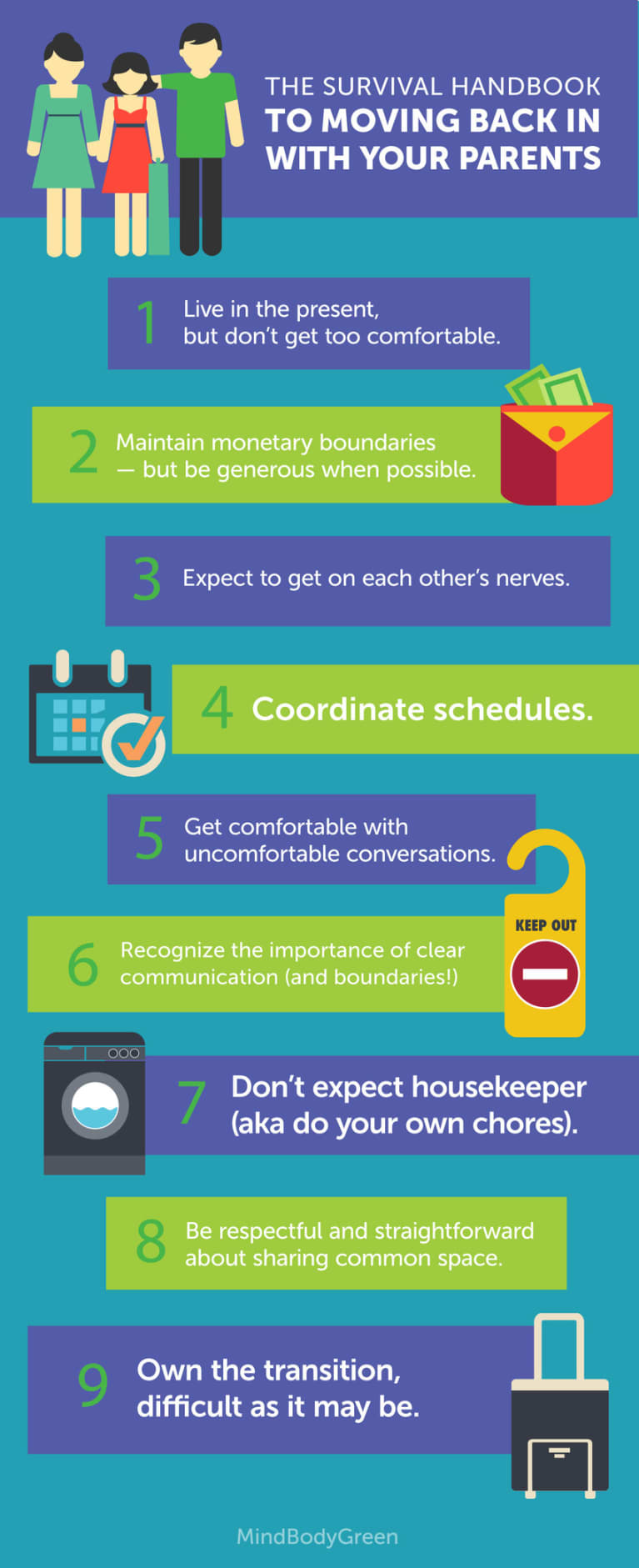 And the difficulty isn't due simply to general annoyance with your parents. Moving back home can be an incredibly frustrating transition even if your parents are your favorite people in the world. If I'm being honest, which is the purpose of this article, there's definitely been some tension as our household of four (plus the pup) tosses and turns to find a mutually comfortable dynamic.
Drawing from my experience as a transplanted 27-year-old, I've compiled a guide to surviving the sequel to "eat your veggies or go to bed without supper." Here are ten tips to keep in mind as you negotiate the often-tricky transition of moving back into your parent's place.
1. Expect to get on each other's nerves.
Whether it's your parents or your dorm room buddy, human beings cohabitating almost inevitably leads to nerve damage, at least sometimes. It takes time to acclimate to daily interaction with each other's habits and personalities. There will definitely be times when you'll want to kill each other, but that feeling (as uncomfortable as it may be) is not the end of the world and it doesn't mean you don't love each other.
Allowing yourself to feel negative feelings toward your parents, and accepting that your reactions are not only appropriate but healthy, will help you settle into your living situation with less judgment. Expectations can make or break a situation, so be patient and understanding with yourself.
2. Get comfortable with uncomfortable conversations.
Cohabitation requires some tough conversations. Topics like money contribution, sharing common areas, and entertaining are important to discuss, no matter who your roommates are. A family meeting is a great way for everyone to voice his or her expectations and needs. Look at the bright side: you are probably more comfortable saying what's on your mind to your parents, as opposed to a Craigslist roomie, so take advantage of the familiarity and cultivate the practice of clear communication.
3. Recognize the importance of clear communication (and boundaries!).
On the note of communication: it's basically the most important thing for all relationships. The same holds true for family dynamics, especially in somewhat prickly situations like moving back in with your folks.
The feeling of guilt or shame about moving back home might cause you to feel insecure or like you don't deserve to ask for anything. And of course, it's important to be appreciative and as accommodating as possible to mom and pop. However, remember that you're an adult, too, and you are in a place of being more in touch with, and better about communicating, your needs and wants. So be honest, and always respectful.
5. Coordinate schedules.
Mornings can be a source of friction when your routine doesn't get you into the bathroom quick enough, forcing you to wait until Sis is finished putting on her face before you can even brush your teeth.
Jot down your schedule and swipe it with your bathroom mate. Sketch out a combined weekly schedule to see who will shower at night or in the morning or set a timer to help you both to be mindful of the time you spend using the bathroom for hair and makeup.
6. Be respectful and straightforward about sharing common space.
It's important to establish an open dialogue about sharing common space — such as the living room, bathrooms and even parking space.
Coordinating schedules, as mentioned, is a generally good protocol for household space — so you can respect one another and maintain an ongoing dialogue that keeps everyone happy.
Parking, however, can be tricky. First come, first serve parking is the absolutely WORST nightmare for households with multiple cars. When it comes to negotiating shared spaces, assumptions never work. So talk with your housemates about sharing the reserved spaces. A good suggestion might be that those who arrive home earlier should snag a close unmarked space and save the reserved parking for the latecomers.
7. Own the transition, difficult as it may be.
Counting down the days until you can unplug from your less than ideal situation is going to make your stay miserable. Instead of trying to escape, try and get present. I know, it's hard. But take a deep breath, remind yourself it's not a permanent situation, and be grateful you have a place to settle into while you get back on your feet. Focus on creating good memories and don't be afraid to slip on a pair of rose-colored lenses every now and then.
8. Maintain monetary boundaries — but be generous when possible.
Try to contribute when you can. If you eat from the fridge or pantry, pick up some items from the market when you notice they're running low. Or maybe offer to pay the electric bill or a portion of the rent. A little bit of help goes a long way to relieve the inflation in water and electricity usage.
9. Don't expect a housekeeper (aka do your own chores).
Working through a financial setback while living at mom and dad's might have you feeling more Sesame Street than Friends, but that doesn't mean you have to regress. Make your own bed (or don't!), do your own laundry, clean your own bathroom. A great way to make up for the independence you feel you've lost is to exercise control over the things you can.
10. Live in the present, but don't get too comfortable.
Become comfortable enough that you're enjoying your stay, but not so comfortable that you forget there's a lease agreement out there with your name on it. Reevaluate your financial goal every month and monitor your progress. Also, be open with your parents about your plans and the progress you're making so that they know you're not just looking to take advantage for as long as you can get away with it.
These ten tips help me stay sane on days when I feel the exact opposite. I hope they do the same for you!
Graphics by MBG Creative