Banana Vanilla Soft Serve With Dark Chocolate Drizzle
It's finally here: soft serve season, and for those of us who feel better without refined sugars and dairy, this raw, vegan, whole food version does the job.
Banana Vanilla Soft Serve With Dark Chocolate Drizzle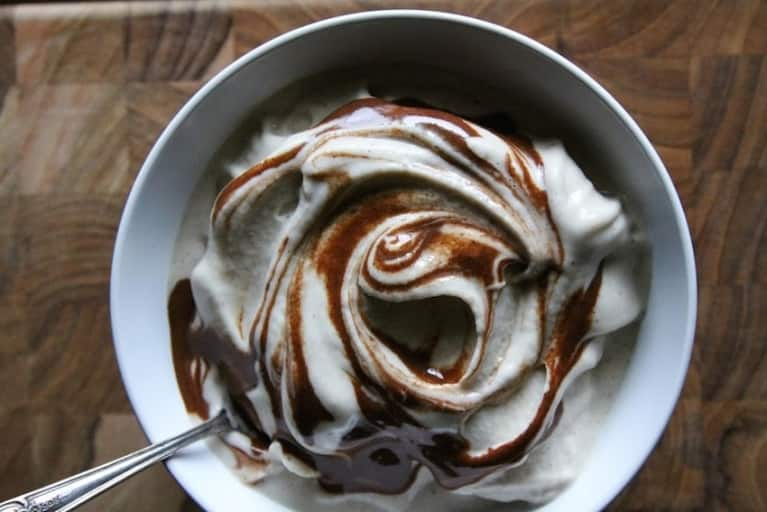 4 peeled, frozen bananas
1 teaspoon vanilla powder
1 cup almond milk (or water)
For the chocolate drizzle
1 tablespoon maple syrup
1 teaspoon cacao powder
1 teaspoon water
Preparation
1. To make the ice cream: cut the frozen bananas into 1-inch/2.5cm chunks. Put in a high-speed blender with the vanilla and almond milk (or water). Blend until it becomes the consistency of soft serve ice cream. It may not seem like it will get to this stage, but it happens quickly and then all of a sudden your blender is full of a creamy, thick, white ice cream! Scoop this into a bowl.
2. To make the drizzle: stir the ingredients together until smooth, it will take a second for the cacao to combine with the liquid. Drizzle on your ice cream and enjoy! Add whatever else you like: berries, almond butter, cinnamon, cacao nibs, chia seeds, hemp seeds, coconut...
ADAPTATIONS: you can use cocoa or carob powder instead of cacao. You can use whatever non-dairy milk you want. You can use coconut nectar or date paste instead of maple syrup. You can use vanilla extract instead of vanilla powder.
For more healthy, delicious recipes check out the new monthly magazine, The Healthy Mama. You can head to their website for a free 7-day trial to get a taste of what you are in for.
Photo courtesy of the author