2011 New Year's Eve Yoga in Los Angeles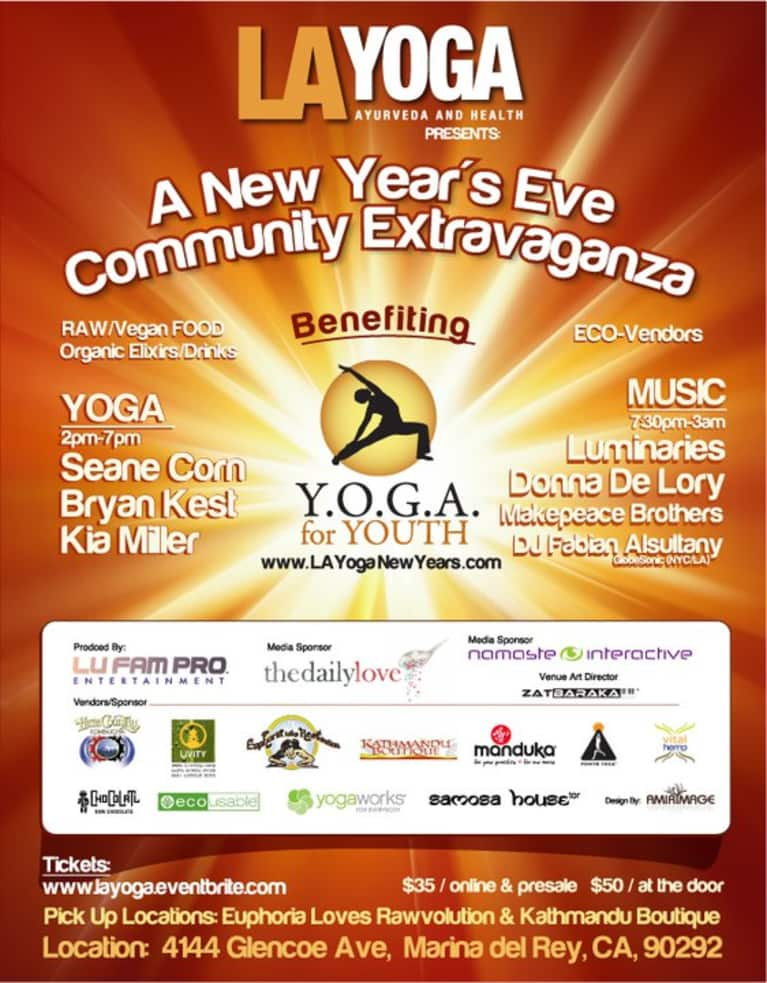 While NYC has a number of special New Year's yoga classes and events, it seems there are two in Los Angeles which are getting the most attention.
The first event, hosted by LA YOGA Magazine, is in Marina del Rey and is billed as an "extravaganza."
It's a benefit event, raising capital & consciousness for the YOGA For Youth Foundation.
The doors open at 2pm and rolls into live music from 7:30pm all the way till 3 in the morning! Get your tickets for $45 online or $50 at the door.
YOGA
3:00–4:00 pm Bryan Kest
4:30–5:30 pm Kia Miller
6:00– 7:00 pm Seane Corn
MUSIC
7:30–8:15 pm DJ Fabian Alsultany
8:15–9:15 pm Makepeace Brothers
9:30–10:30 pm Donna De Lory
10:45–11:45 pm Luminaries
11:49 pm–12:00 am 11 Minute Meditation
12:15–1:15 am Rocky Dawuni
1:15–3 am DJ Fabian Alsultany
The other big yoga party is in Santa Monica over at Yogis Anonymous and starts at 8pm.

The festivities begin with a 2-hour flow class with our friends Ally Hamilton, Charlie Samos, and Kourtney Kaas (above), followed by a party.
9–11 pm "Sweaty tag-team" yoga with Ally, Charlie, and Kourtney
11pm –? Party with a live DJ, food and drink, and a champagne (or sparkling cider) toast at midnight.($20) You can preregister here.