Arugula + Quinoa Salad With Cilantro Lime Dressing
Just in time for spring, here's a simple vegan salad that's packed with plant-based protein and detoxifying cilantro and arugula.
The fresh cilantro, raw garlic and peppery arugula provide great detox benefits while the hemp hearts and sunflower seeds lend a dose of protein to fuel your day. Plus, it's gluten, dairy, soy and sugar-free. Serve this as an easy afternoon lunch on a sunny spring day with gluten-free whole grain crackers or as a side dish to accompany dinner.
Arugula + Quinoa Salad With Cilantro Lime Dressin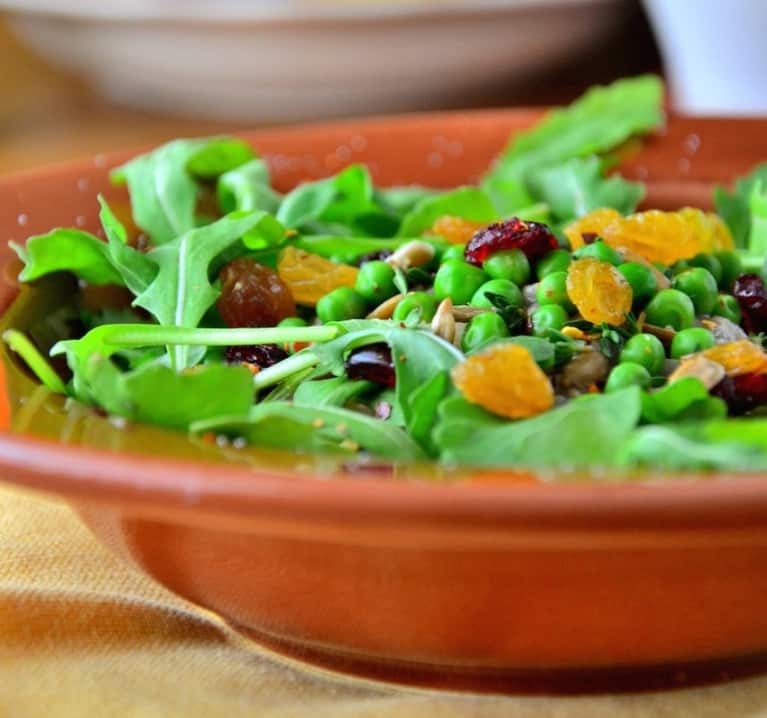 Serves 2-4
Ingredients
½ cup quinoa 3 cups arugula ½ cup frozen peas, defrosted 1 tablespoon dried cranberries 1 tablespoon golden raisins 1 tablespoon sunflower seeds 2 tablespoons hemp hearts 4 tablespoons finely chopped fresh cilantro juice of 2 large limes 1 garlic clove 1 tablespoon honey pinch cayenne pepper 4 tablespoons extra-virgin olive oil sea salt + pepper, to taste
Preparation
1. Cook quinoa according to package directions.
2. In a large bowl, toss quinoa, arugula, peas, cranberries, raisins, sunflower seeds and hemp hearts.
3. Puree cilantro, lime juice, garlic, honey, cayenne pepper, olive oil, sea salt and pepper in a blender until smooth. Drizzle over quinoa mixture; toss to coat and serve.
Photo courtesy of the author