Want To Quit Your Job To Go To Cooking School? Here's What It's Like
Ever wonder what it's like to be a culinary student? Haley Urquhart, a chef-in-training at the Natural Gourmet Institute gives us the rundown of what a typical day in her life is like.
7:30 AM
My alarm blares. I try to snooze but my dog starts to cry, she is ready for the day to begin…I could use a few extra minutes! I get dressed and start the kettle in preparation for my first cup of joe, then take the pup downstairs for her morning walk.
8:00 AM
Sit down to a cup of coffee, oatmeal and an apple. My morning routine… the quiet before the storm.
8:40 AM
Grab my knife bag and head out the door.
8:45 AM
Pick up a coffee at my favorite deli on the way to school (yes another cup), I need as much caffeine as I can get before the day begins!
8:50 AM
Arrive at school; say my hellos and head to the locker room to get suited up.
8:55 AM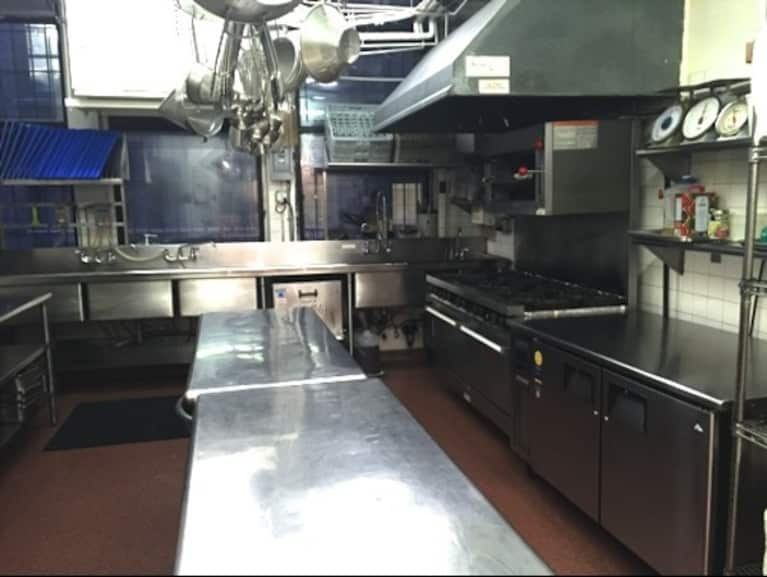 Grab my coffee, water, notebook and knife bag, then make my way to the kitchen.
9:00 AM
Pick up the rec box and make sure we were given all the ingredients we need for the day. Unload the box- place fruits, vegetables and dry ingredients on the rec table and temperature sensitive items in the refrigerator.
9:13 AM
Grab a chair and take a seat in preparation for the lecture to begin. Today we will be continuing an improv series; a sequence of three classes, the final class ending with an exam. Each student in the class is partnered with one other person and expected to make a balanced entrée with the ingredients delivered in the rec box that day. The finished entree must be a balanced plate with a protein, grain, green, sauce and garnish. Imagine an episode of chopped and you will have a pretty accurate understanding of what the class resembles.
9:15 AM
The chef takes attendance and spends some time discussing the procedure and rules for improve while we madly take notes. We are then partnered and given time to brainstorm what we will make for presentation at 3PM.
10:45 AM
Everyone puts up their chair, raises and sanitizes the tables and begin to set up their station.
11:00 AM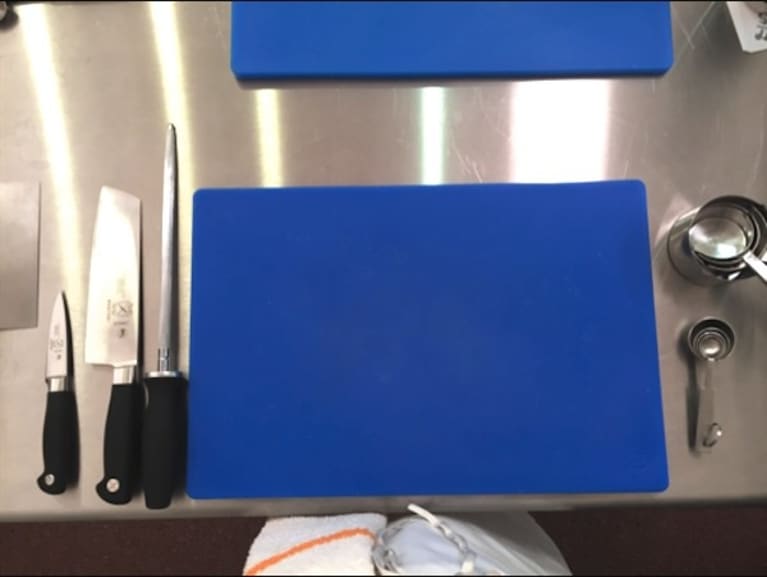 I sharpen my knives and get to work. Four hours may seem like a long time but when you have to share one kitchen with 14 other people, it's not as much time as you may think!
1:00 PM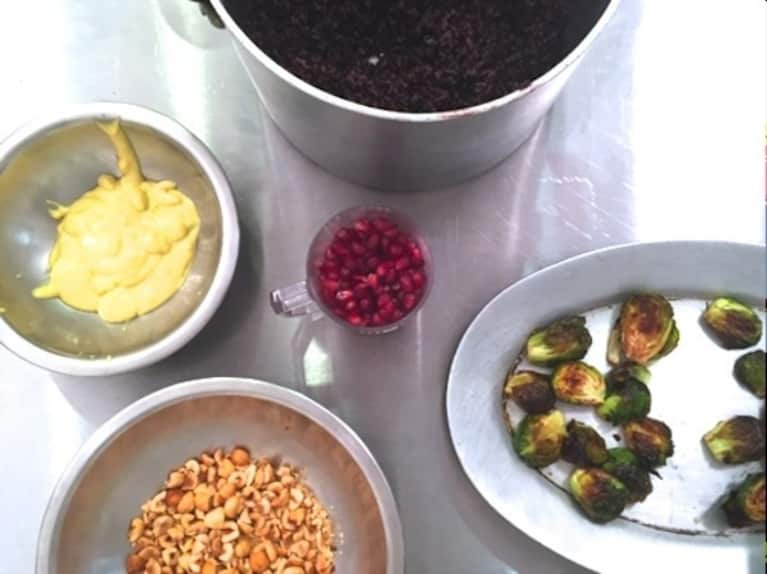 I take a quick break to refuel for the second half of the day (no, not with another cup of coffee). I packed a quinoa salad with black beans, red bell pepper and avocado, knowing that today was going to be a long one and some energy boosting protein and carbohydrates would be necessary.
1:30 PM
Back to the kitchen to put the final touches on the dish. Only about an hour left to prep, it is good to leave 30 minutes for plating and cleaning up before presentation.
2:30 PM
We grab a plate and start brainstorming about how we will plate the dish. Then execute and clean up our station.
2:55 PM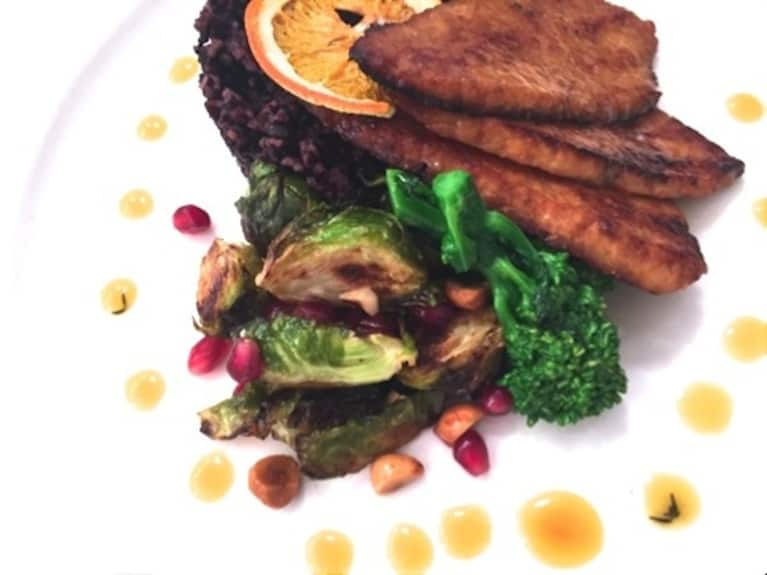 Finished! My partner and I prepared Orange Glazed Tempeh with Black Rice, Broccolini and a Brussels Sprout Salad, drizzled with an Orange Thyme Sauce and garnished with a Dehydrated Orange.
3:00 PM
Place our dish on the presentation table with the other groups and start the chef directed critiquing and tasting portion of the class. The individual components of our entrée tasted great but we have some work to do with the cohesiveness of the dish for our final improv exam. But hey, that's why you practice… right?
3:50 PM
The day is done but we still have to take out the trash, sweep, dry dishes, sanitize the tables and return the rec box with everything we didn't use.
4:15 PM
Clean up is complete and I head back to the locker room; ready to head home and rest from a long, productive day and gear up for the next one!