3 Weeknight Dinner Recipes Using Yogurt
Our editors have independently chosen the products listed on this page. If you purchase something mentioned in this article, we may
earn a small commission
.
We came across Janet Fletcher's new book, Yogurt, and were struck by the many ways this probiotic-rich condiment could be used, and not just in breakfast foods. Here are three of our favorite savory recipes from the book where yogurt makes the dish.
Warm Chickpeas with Toasted Pita, Pine Nuts & Yogurt Sauce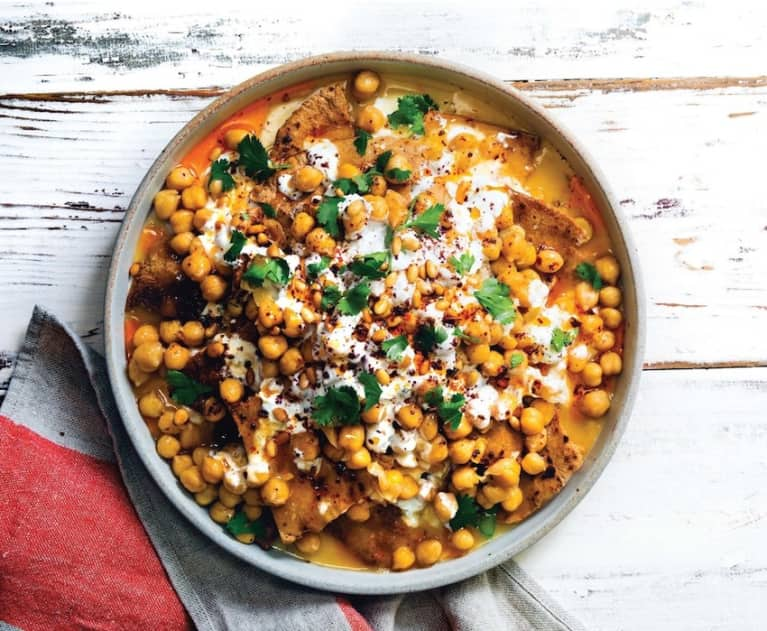 Stale bread has inspired some of the world's tastiest dishes, including this one from the Arab kitchen. In Lebanon, Syria, and Egypt, frugal cooks layer their tired flatbread with moist ingredients, like boiled chickpeas or chicken, and big dollops of garlicky yogurt. The dry bread softens quickly in the juicy layers, becoming like pasta in a creamy lasagna. I use toasted whole wheat pita, and I like to cook my own chickpeas so I have a flavorful broth for moistening. On top of the snow white yogurt: a flourish of fried pine nuts, chiles, sumac, and cilantro. For a more robust dish, add a couple layers of shredded poached chicken or browned ground lamb.
Serves 4
1 ⁄ 4 cup pine nuts
2 whole-grain pita bread rounds
2 cups plain yogurt (not nonfat)
1 to 2 cloves garlic, grated or finely minced (see note, page 88)
1 teaspoon finely minced fresh mint
Kosher or sea salt and freshly ground black pepper
3 cups Boiled Chickpeas or 3 cups canned chickpeas, drained and rinsed
1 cup broth from Boiled Chickpeas or canned chicken or vegetable broth
1 tablespoon unsalted butter
1 ⁄ 2 teaspoon medium-hot coarsely ground red pepper such as Aleppo or Maras¸ pepper (see note, page 82), or hot paprika
2 tablespoons chopped cilantro
Ground sumac, for garnish
Preparation
1. Preheat an oven to 325°F. Toast the pine nuts in a pie tin or on a baking sheet until they are evenly golden brown, about 5 minutes, shaking them to redistribute partway through. Let cool.
2. Using your hands, carefully tear each pita in half along the "equator" to yield half-moons, each with a pocket. Gently open the half-moons and separate the pockets at the rounded edge so that you have eight half-moon pieces. Under a preheated broiler or in a toaster oven, toast the pita on both sides until crisp; watch carefully to avoid scorching. Let cool, and then break into pieces about the size of tortilla chips.
3. In a bowl, whisk together the yogurt, garlic, mint, and salt and pepper to taste.
4. Put the chickpeas and broth in a saucepan and bring to a simmer over medium heat. Cover and adjust the heat to maintain a gentle simmer.
5. Put half of the toasted pita in a serving dish. Moisten with about 1 ⁄ 3 cup of the hot broth. Add half of the chickpeas, lifting them out with a slotted spoon and scattering them over the pita.
6. Spoon half of the yogurt over the chickpeas. Repeat the layering: toasted pita, hot broth, chickpeas, and yogurt.
7. In a small saucepan, melt the butter over medium heat. Add the red pepper and sauté until its fragrance rises, less than 1 minute. Add the pine nuts and stir to coat with butter. When the butter sizzles and foams, spoon the pine nuts and all the butter over the yogurt. Garnish with the cilantro and a shower of sumac and serve immediately.
Spinach with Brown Butter, Yogurt & Dukka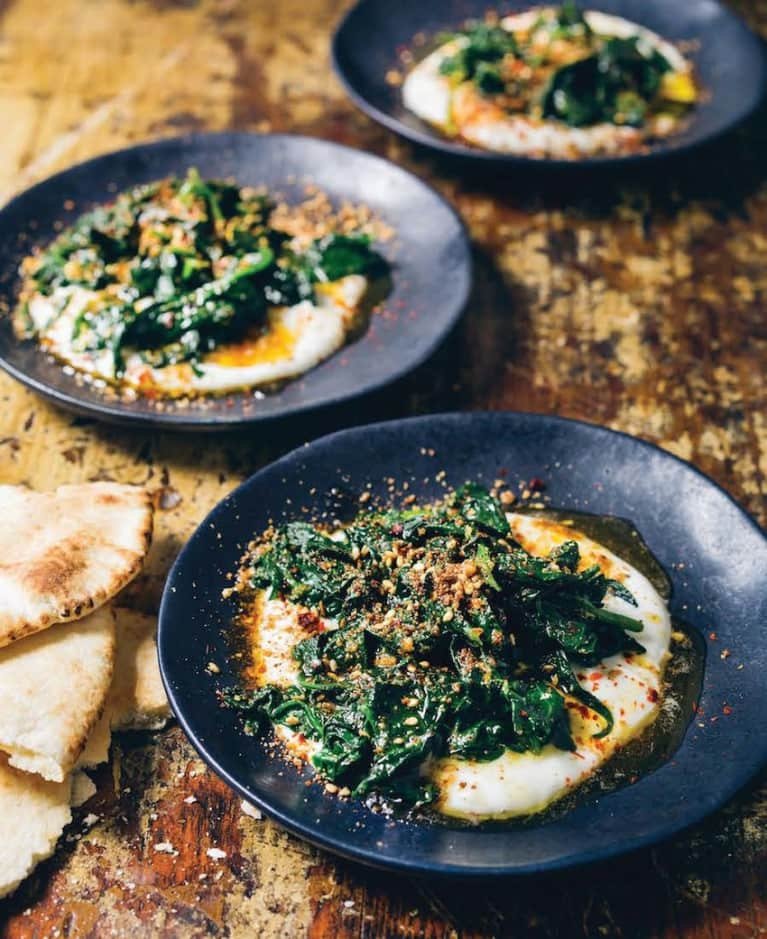 If you have never tasted dukka, you have a treat in store. Made from finely ground nuts (usually almonds or hazelnuts), sesame seeds, cumin, and coriander—all toasted separately and then combined—dukka is used in Egypt, its home base, mostly as a condiment. Diners dip chunks of bread in olive oil, and then in the dukka—a snack for the gods. For a quick lunch, sprinkle dukka on yogurt with olive oil and accompany with cucumbers and pita chips for dipping. In this recipe, I shower it over buttery spinach and yogurt—a warm first course to scoop up with flatbread or a side dish for grilled lamb. Look for dukka in well-stocked spice shops.
Serves 4 as a first course' 6 as a side dish
Ingredients
1 1 ⁄ 2 cups plain drained yogurt (page 22)
1 to 2 cloves garlic, grated or finely minced (see note, page 88)
Kosher or sea salt
3 large bunches fresh spinach, enough to yield 1 1 ⁄ 2 pounds (4 packed quarts) of stemmed leaves
3 tablespoons unsalted butter
3 tablespoons dukka (see recipe introduction)
Medium-hot coarsely ground red pepper such as Aleppo or Maras¸ pepper (see note, page 82), or hot paprika, for garnish
Skillet Flatbread (see recipe below) or warm pita
Preparation
1. Whisk together the yogurt, garlic, and salt to taste. Cover and let stand at room temperature for 1 hour.
2. Remove thick spinach stems; if they are slim and tender, you can leave them attached. Wash the leaves well—they can be sandy—and drain. Put the leaves in a large pot with just the wash water clinging to them. Cover and cook over medium heat, tossing with tongs once or twice, until the leaves wilt, about 2 minutes. Drain in a sieve or colander and chill with cold running water. Drain again and squeeze dry.
3. Melt the butter in a large skillet over medium heat. When the butter begins to brown and smell nutty, add the spinach. Season to taste with salt and toss well with tongs to coat the spinach with the butter. Keep hot.
4. Divide the yogurt mixture among 4 to 6 plates, spreading it into a pool. Using tongs, divide the spinach among the plates, placing it on top of the yogurt. Scatter 1 ⁄ 2 tablespoon dukka over each portion, and then garnish with a sprinkle of red pepper. Serve with flatbread or pita.
Making Drained Yogurt
I often drain yogurt, especially homemade yogurt, even if only for an hour. Draining dramatically improves the texture, making any yogurt thicker, creamier, and more mellow by removing whey. Draining also extends the yogurt's life by removing water and lactose. Reducing the yogurt's lactose deprives bacteria of their food source. And if you are lactose-sensitive, you should find drained yogurt more digestible.
To drain homemade yogurt:
1. Chill it thoroughly first until it is firm. You can drain it as soon as it is cold. Store-bought yogurt has already been chilled, so you can drain it immediately after opening.
2. Line a large sieve or colander with a triple thickness of dampened cheesecloth or—my preference—with Plyban, a reusable cheesecloth made from a food-grade resin (see Resources, page 135). Plyban's weave is tighter than cheesecloth, so you don't need multiple layers, although with very thin yogurt I might use a double thickness.
3. Set the sieve or colander over a bowl to collect the whey. Gently pour the yogurt into the lined sieve or colander. Cover with a plate or cloth—you're just protecting the yogurt, not pressing it—and refrigerate. Drain the yogurt until it has the consistency you like. After an hour, it will be noticeably thicker, and I usually stop at that point.
4. Scrape the drained yogurt into a clean container, cover, and refrigerate.
5. Wash the cheesecloth or Plyban well in hot, soapy water; rinse well and air-dry. You can usually get two or three uses out of cheesecloth before it frays. Plyban is much longer-lasting and easier to clean.
6. If you drain the yogurt more than you intended, no problem. Simply whisk some of the whey back in until you have a texture you like. To keep the whey, pour it into a glass jar and refrigerate. It has many potential uses.
Skillet Flatbread
I learned this method of pan-frying flatbread from chef Erik Cosselmon of Kokkari, a Greek restaurant in San Francisco.
Makes 6 flatbreads
For the sponge
1 cup warm water (105°F to 110°F)
11 ⁄ 2 teaspoons active dry yeast
1 cup unbleached all-purpose flour
21 ⁄ 2 cups unbleached all-purpose flour, plus more for dusting
1 ⁄ 2 cup whole wheat flour
21 ⁄ 2 teaspoons kosher or sea salt
1 ⁄ 3 cup plain whole-milk yogurt
1 ⁄ 4 cup extra-virgin olive oil, plus more for frying
1 ⁄ 2 cup water
Preparation
1. To make the sponge: Put the warm water in a bowl and sprinkle the yeast over it. Let the yeast soften for about 2 minutes, and then whisk to dissolve. Let stand until bubbly, about 5 minutes. Using a wooden spoon, stir in the flour and mix until smooth. Cover the bowl and let the sponge ferment in a cool place for at least 4 hours and up to 1 day.
2. To make the dough: In a bowl, whisk together the all-purpose flour, whole wheat flour, and salt. Put the sponge in the bowl of a stand mixer fitted with the paddle attachment. Add the yogurt, 1 ⁄ 4 cup olive oil, and water. Blend on low speed. Add the flour mixture gradually, beating on low speed. When blended, raise the speed to medium and knead for 5 minutes. The dough will be moist. Scrape down the sides of the bowl and the paddle, cover the bowl with plastic wrap, and let the dough rise at room temperature for 11 ⁄ 2 hours.
3. Turn the dough out onto a floured work surface; the dough will be sticky. Divide into 6 equal pieces (a scale is helpful here), dusting each piece lightly with flour to keep it from sticking to the board or your hands. Shape each piece into a ball and set on a large sheet of parchment paper, leaving enough room between the balls for them to double in size. Dust the tops lightly with flour and cover with a clean dish towel. Let rise for 11 ⁄ 2 hours.
Harissa-Roasted Chicken with Sweet Peppers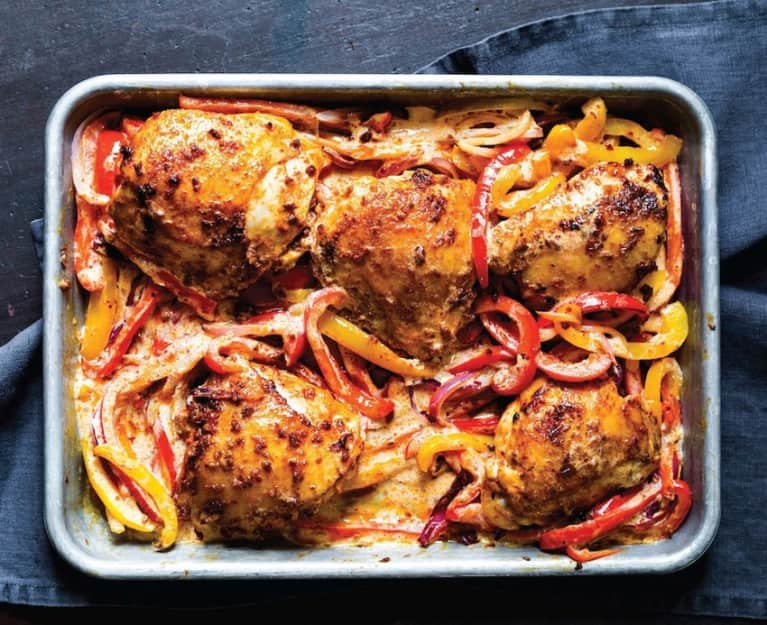 The yogurt marinade makes this chicken especially tender and juicy, while the harissa stains it brick-red and adds tongue-tingling spice. Depending on how fiery your harissa is, you may want to increase or reduce the amount you use. Taste and adjust the marinade before adding the raw chicken.
I've adapted this recipe from one given to me by Ed Blonz, a clinical nutritionist and syndicated columnist, who makes it when his book club comes for dinner. Ed roasts the chicken on a bed of chickpeas and onions. I like it with sweet peppers underneath. The vegetables absorb the spicy drippings from the chicken and need no further seasoning.
If your menu includes several other dishes, figure one chicken thigh per person. Otherwise, you may want to allow two thighs per person. The roasted chicken benefits from a brief rest to allow the juices to settle.
Serves 6
Ingredients
1 ⁄ 2 cup plain drained yogurt (see recipe above) or Greek-style yogurt (not nonfat)
1 ⁄ 2 cup coarse harissa paste (see note below)
1 tablespoon freshly squeezed lemon juice
Kosher or sea salt and freshly ground black pepper
6 bone-in, skin-on chicken thighs, trimmed of excess skin
2 large red bell peppers, halved, seeded, and thinly sliced
2 large gold or yellow bell peppers, halved, seeded, and thinly sliced
1 large red onion, halved and thinly sliced
Preparation
1. In a large bowl, whisk together the yogurt, harissa, lemon juice, 1 teaspoon salt, and several grinds of black pepper. Add the chicken and use a rubber spatula to coat the chicken all over with the marinade. Cover and refrigerate for 4 to 8 hours. Remove from the refrigerator 30 minutes before baking.
2. Position a rack in the upper third of an oven and preheat the oven to 425°F.
3. Toss the sliced peppers and onions together. Season with salt and make a bed of the vegetables in the bottom of a roasting pan large enough to hold the chicken in a single layer. Using a rubber spatula, redistribute the marinade so that it evenly covers both sides of the chicken, and then place the chicken on top of the vegetables. Bake until the chicken is well browned on top and the vegetables are tender, about 40 minutes. Remove from the oven and let rest for 10 minutes.
4. Transfer the chicken to a serving platter. Using tongs, toss the vegetables to coat them evenly with the drippings from the chicken, and then place them on the platter with the chicken. Serve immediately.
Harissa Paste
Harissa paste comes in tubes' like toothpaste' but my favorite brand is a jarred one' Les Moulins Mahjoub Organic Traditional Harissa Spread. The recipe includes hot red pepper' sun-dried tomato' olive oil' caraway' and garlic. If you can't find harissa paste' purchase dried harissa powder from a spice shop and add enough extra-virgin olive oil to make a paste. Ask the merchant about the ingredients in the powder. If the blend doesn't contain ground caraway' add a good pinch. Look for Les Moulins Mahjoub harissa in specialty foods stores that sell Mediterranean products. It is also available from several online sources' including Zabar's' iGourmet' Market Hall Foods' and Bklyn Larder.
Reprinted with permission from Yogurt, by Janet Fletcher, copyright © 2015, published by Ten Speed Press, an imprint of Penguin Random House LLC.
Photographs copyright © 2015 by Eva Kolenko