A Tasty 5-Minute Vegan "Spaghetti Bolognese"
Below is the tastiest, quickest and simplest vegan version of spaghetti bolognese (using zucchini noodles), made in under 5 minutes with all natural and real food ingredients – no bottled sauce required.
Vegan Veggie Noodle Bolognese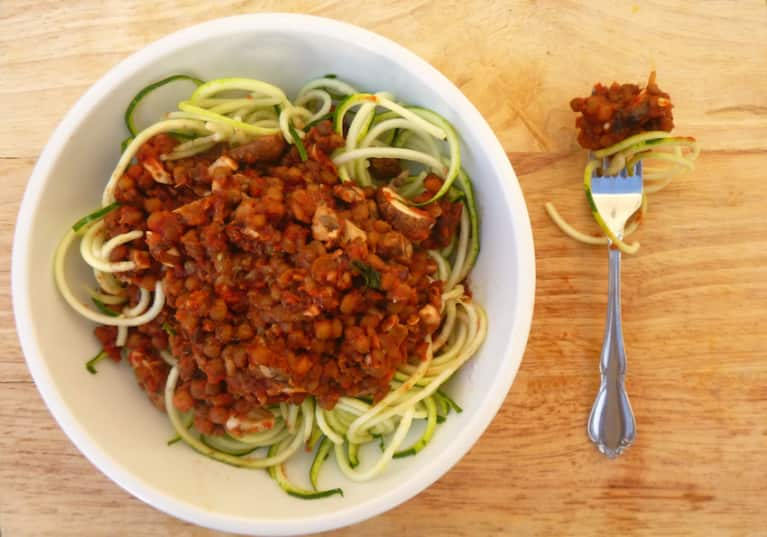 1 zucchini
1 clove of garlic, minced
2 tablespoons apple cider vinegar
1 tablespoon water
1/2 cup organic lentils (approx. 1/3 of a can drained + rinsed)
1/2 cup (approx. 3-4) button mushrooms, diced
1 ½ tablespoons organic tomato paste
1/2 teaspoon of dried mixed herbs
1/2 teaspoon chilli flakes
1 teaspoon olive oil + a pinch of sea salt (to top)
Preparation
1. Prepare your zucchini by using a spirallizer to make spaghetti pasta – if you don't have a spirallizer use a peeler to create long pasta like strips – add this to your bowl raw.
2. In a fry pan on medium-high heat cook the garlic in the ACV for 1 minute, then add the water, lentils, mushrooms, tomato paste, and spices and cook for 2 minutes.
3. Remove from the pan and place on top of the zucchini and serve with the olive oil and sea salt. Enjoy.
Photo courtesy of the author