What's In Your Fridge? 11 Comfort Foods A Famous Foodie Keeps On Hand
Today we take a sneak peek into the fridge of famous foodie James Oseland, former Editor-in-Chief at Saveur and Top Chef Masters judge, who's currently working on a new magazine and website, Rodale's Organic Life.
Though April might be known as the cruelest month, March can also be pretty damn erratic: throw-off-your-sweater warm one day, and burrow-in-the-bedsheets cold the next. It's a time of year when we're just starting to break out of the house and appreciate the great outdoors again, but it's also a time where we want nothing more than to curl up under a blanket and binge watch House of Cards.
All that's to say that this is a time of year when I need my comfort food, so I make sure to stock my fridge with the things that nourish and sustain me — and just plain make me feel good.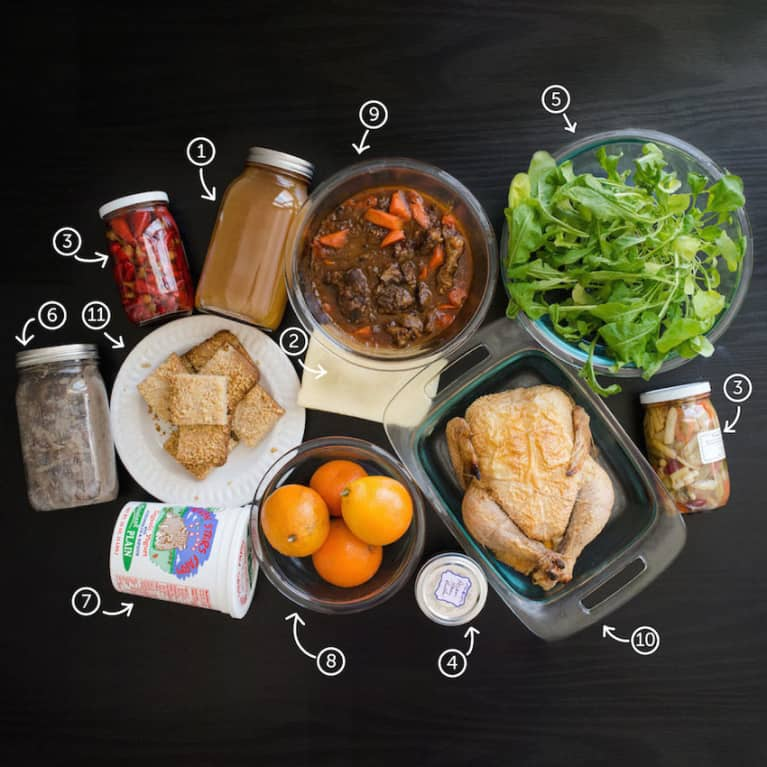 1. Apple cider
I grew up in California, where apple cider isn't the same as it is in places where apple farming is a big deal like it is out where I now live part time, in Pennsylvania's Lehigh Valley. A glass of complex, sweet cider always brings a smile to my face, whatever the season.
2. S. Clyde Weaver Cheddar cheese
In my book, there's nothing more soul-satisfying than a really good cheddar. This one, from a farm in Lancaster County, is perfect for any meal: I eat it in omelets for breakfast, on toast with a side of pickles for lunch, and — especially on chilly evenings — melted into a potato gratin for dinner. It's sublime.
3. Pickled hot peppers and chow-chow
Pickles of any variety are a great shoulder season food. They capture the essence of the long-ago harvest, but also promise the vegetables that will soon start growing in our gardens and appearing in our farmers' markets. The pickles and chow-chow that I get from Annie's Kitchen in Ronks, PA aren't just a Pennsylvania Dutch classic — they're damn good eating.
4. Pecan-honey butter
Ellen Carucci, the publisher of Rodale's Organic Life, made a batch of this delicious organic pecan honey butter for my birthday a couple of weeks back. One March Sunday when I was feeling run down, I popped it open and ate it right out of the jar. Boy, did that bring me back to life!
5. Olivia's Organics Spring Mix
No food makes me anticipate the joy and freshness of spring more than greens. Nowadays, organic lettuces and baby greens are available in late winter and early spring at virtually every supermarket, which is incredible — just ten years ago you could only get plastic-wrapped iceberg or a beaten-up bunch of green lettuce.
6. Pork and beans
Old-fashioned, rib-sticking pork and beans is the perfect antidote to cold, damp nights this time of year. Thanks to our assistant editor, I had organic local black beans from Kneehigh Farm in Emmaus, PA (run by her roommate) and organic heritage pork from Taproot Farm, WV (run by her family) on hand to make this dish, which bumped this classic comfort food up to an entirely new level.
7. Plain whole organic yogurt
I'm a maniac for creamy, full-fat yogurt, especially at this time of year, when I still feel the primal need to bulk up and crave luxurious foods. This tub of whole, plain, organic yogurt from Seven Stars Farm in Phoenixville, PA is one of the richest and best I've ever had. No lie.
8. Organic pomelos
Though citrus season is about to come to an end, I managed to get my hands on some really delicious, North American-grown organic pomelos. Eating one is a jolt of spring sunshine.
9. Vietnamese bo kho
My dear buddy Andrea Nguyen supplied our office with the recipe for this fabulous Vietnamese beef stew, based on a traditional French daube. Andrea's version is shot through with zippy lemongrass, with these deep notes from fish sauce. I like to make it with grass-fed beef and local root veggies. It warms my soul.
10. Roast chicken
I buy beautiful, organically raised chickens from the Rodale Institute, an organic farming research non-profit not far from where I live. I like to roast them simply, with little more than lemon juice, olive oil, salt, and pepper. The leftovers are perfect for nights when I come home late and don't have the energy to cook.
11. Nut milk shortbreads
Recently, we made nut milks from scratch and had a whole bunch of leftover ground nuts on hand. What do you do when life gives you nutmeats? Turns out, they make a killer shortbread. Those buttery bars held a place of honor in my refrigerator for about three days, until I polished off the entire plate. Hey, we all deserve something sweet this time of year.
Photo courtesy of the author