A Kale + Quinoa Spin On A Greek Classic
Our editors have independently chosen the products listed on this page. If you purchase something mentioned in this article, we may
earn a small commission
.
Kale is the ancient member of the cabbage family and was widely consumed in ancient Greece. It was and still is used for medicinal purposes. To the Greeks, kale has always been considered a superfood and it grows wild in the countryside alongside other adored wild greens.
In ancient Greece, Disocorides, ancient Greek physician, pharmacologist and botanist informs us that kale "that is sown or set is good for the bowels. It is eaten slightly boiled, for when throughly boiled it is therapeutic for the intestines...With the meal of fenugreek and vinegar it helps those with gout in their feet and joints, and applied it is good for foul or old ulcers... "
According to the National Cancer Institute, kale is anti-inflammatory and rich in vitamins C, E, and K; folate; minerals and fiber. It's a great antioxidant and a protector from disease in the body.
This dish is my modern twist on the quintessentially Greek dish; dolmades. Instead of vine leaves I have used another ancient Greek ingredient; kale.
The ancient Greeks loved to stuff items of food and one of their favorites was to mash foods into a paste and to wrap it in leaves or breads. I believe that kale was one of these ingredients. I have also used quinoa instead of rice or bulgur as is the tradition. You could use cooked brown white or brown rice instead of quinoa
Kale + Quinoa Dolmades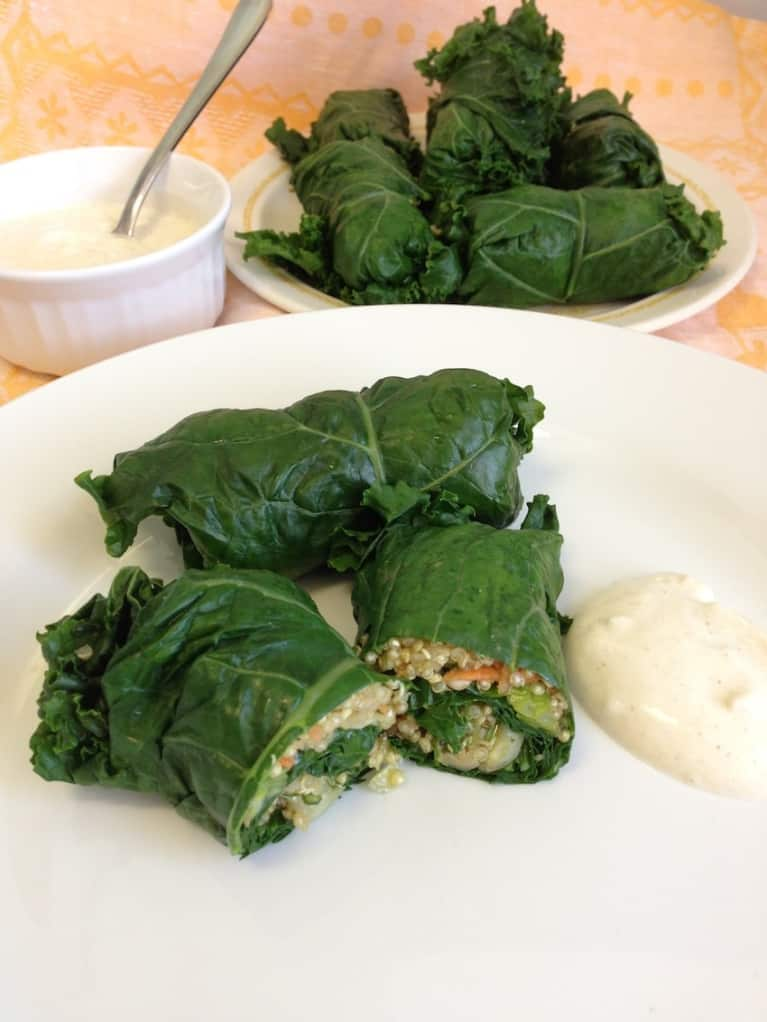 Makes 10 large dolmades
For Dolmades mixture
10 large curly kale leaves, stems removed and washed well
¼ cup, spring onions (scallions), finely chopped
½ cup uncooked quinoa
½ cup fresh zucchini, grated
½ cup carrot, grated
¼ cup fresh parsley, chopped
2 tablespoons fresh dill, chopped
2 tablespoons sunflower seeds
sea salt + cracked pepper, to taste
¼ cup extra virgin olive oil
1 clove garlic, minced
1 teaspoon, ground cumin
1 cup Greek yogurt
1 teaspoon ground cumin
juice of ½ lemon
1 clove of garlic, minced
Preparation
1. Cook the quinoa according to the packet instructions. Set aside and let it cool down. Transfer to a bowl. Place the kale leaves in a steamer and steam them for 5 minutes until they soften. Transfer them to a plate and allow them to cool down to room temperature. Add the remaining ingredients for the dolmades mixture to the quinoa and mix well.
2. Place all the ingredients for the dressing in a small bowl and whisk. Add the dressing to the quinoa mixture and mix well.
3. Lay each kale leaf on a flat surface and spoon a generous amount of the mixture on the end where the stem begins. Fold the sides of the vine leaf over the filling. Then roll the leaf all the way up, starting at the stem end, to form a neat parcel.
4. When you have finished making all the dolmades arrange them on a serving platter. Place all the ingredients for the yogurt dipping sauce in a bowl and mix well. Place the dipping sauce on the side of the platter and serve.
Recipe excerpted from "Cooking and Eating Wisdom for Better Health" by Maria Benardis