Vegan Kale Caesar With Salt + Vinegar Chickpea Croutons
This lightened up twist on the classic Caesar salad is big on flavor and satisfaction while still being swimsuit-friendly for the warmer days ahead. Packed with plant-based protein and nourishing greens, this recipe will become a fast favorite. And be sure to make a double batch of the Salt + Vinegar Croutons to snack on when those cravings for chips hit.
Vegan Kale Caesar With Salt + Vinegar Chickpea Croutons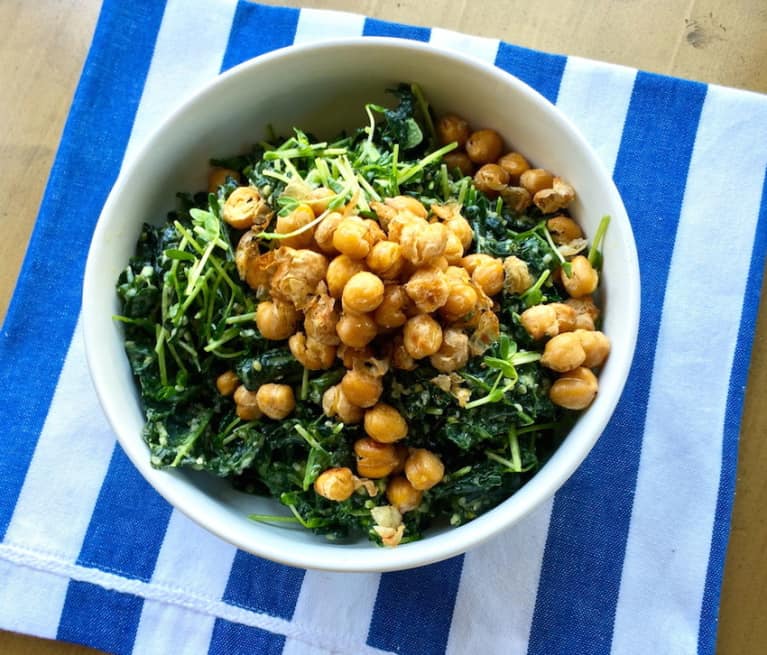 1 small (15 oz.) can cooked chickpeas, drained + rinsed
1 ½ cups white vinegar
1 tablespoon olive oil
1 tablespoon Vegenaise (optional)
1 tablespoon extra virgin olive oil
1 tablespoon fresh lemon juice
1 tablespoon nutritional yeast flakes (more to taste)
1 tablespoon ground vegan Parmesan cheese (more to taste)
4 cups chopped raw kale
1 small handful pea shoots, chopped
2 tablespoons hemp hearts (more to taste)
salt + pepper to taste
Preparation
1. Preheat your oven to 400ºF degrees. In a pot, add the chickpeas and vinegar, and bring up to a boil. Turn off the heat, and let the chickpeas steep in the vinegar for 20 minutes. Drain the chickpeas, and arrange on a baking sheet. Drizzle with the olive oil, and a pinch of salt and pepper, and roast for 20 minutes. Toss, and roast for 5-10 more minutes, until crispy. Remove from the oven and set aside.
2. In a large bowl, whisk together the Vegenaise, olive oil, lemon juice, yeast flakes, Parmesan, and a pinch of salt and pepper until smooth. Add the kale, and massage into the dressing for a minute until the kale becomes tender. Add the pea shoots and hemp hearts, and toss to combine. Season to taste with salt, pepper, and more cheese if desired.
3. To serve, divide the salad into two bowls, and garnish with the chickpea croutons. Enjoy!
Note: This salad is hearty, and keeps well in the fridge for lunch the next day. Reheat any leftover chickpeas in the oven at 400ºF degrees for a few minutes until crispy.
Credits: Salt + Vinegar Croutons inspired by the Oh She Glows cookbook.
Photo courtesy of the author