The 8 Greatest April Fools' Pranks Of All Time
We all know happiness is a key component of good health, and what better way to be happy than to laugh a little? So with that in mind, we thought we'd provide a little laughter today, courtesy of eight awesome April Fool's pranks through history (in no particular order).
Bold claim, we know, but we're sure at least one of these antics is funny enough to illicit a little smile. Disagree? Let us know what your favorite April Fool's prank is (famous or not!).
1. Swiss Spaghetti Trees
What, you didn't know pasta grew on trees?
In 1957, British news show Panorama broadcast a story about an abundant "spaghetti harvest" in Switerzland, due to a warm winter and the "virtual disappearance of the spaghetti weevil." They even produced a short video of a family pulling strands of spaghetti off trees and laying them in the sun to dry.
As far as successful pranks go, this is one for the record books: hundreds of people phoned the BBC show asking how they could grow their own spaghetti trees, to which the station replied, "Place a sprig of spaghetti in a tin of tomato sauce and hope for the best."
2. Sidd Finch
In 1985, Sports Illustrated published a profile on Sidd Finch, a baseball player who was actually too good to be true.
When Mark Mulvoy, the managing editor of the magazine, realized that the issue's cover date would fall on April 1, he asked writer George Plimpton to commemorate it with a sports-based April Fool's joke. What resulted was a profile of Hayden Siddhartha "Sidd" Finch, a rookie pitcher with the New York Mets who only wore one shoe on the mound (a hiking boot), threw a fastball at 168 mph with pinpoint accuracy (the previous record was 103 mph), had never played baseball before and was trying to decide whether to pursue a career in baseball or one playing the French horn.
It was also reported that Finch grew up in an English orphanage, briefly attended Harvard and then went to Tibet to learn "yogic mastery of mind-body" under "the great poet-saint Lama Milaraspa," which he credited as the source of his pitching skills.
At a press conference a week later, "Finch" announced his retirement and on the 15th, Sports Illustrated revealed the whole thing had been a hoax, much to the chagrin of hopeful Mets fans.
3. Gmail Motion
One in a long string of Google pranks, 2011's Gmail motion promised users they could "control Gmail with your body." Be honest: how many of you started waving at your computer and making sad faces you hoped would translate into an email?
4. The 26-Day Marathon
Good thing this one was only a story and never actually happened, because a monthlong race is downright cruel. In 1981, The Daily Mail ran a story about Kimo Nakajimi, a (fictional) Japanese long-distance runner, who, due to an unfortunate translation snafu, was running a 26-day race instead of one race for 26 miles.
This may sound like a scene straight out of Forrest Gump, but in 2013, distance running enthusiast Jayson Black actually undertook a real-life version of this race, running 26 marathons in 26 to raise awareness and money for a Las Vegas food bank. Definitely not "funny," but certainly heartwarming!
5. Smell-O-Vision
The second BBC-sponsored prank on this list, the 1965 Smell-O-Vision hoax proved to be more an experiment in perception and suggestion than a joke. The network aired an "interview" with a professor from London University who claimed to have invented a new technology — Smellovision — that would allow viewers to smell aromas produced in a television studio.
The professor placed chopped onions and a pot of coffee into the machine and then asked views to call him when they could smell both. After a few hours, people called in to report they were definitely smelling both. Some even said the onions made their eyes water.
Interestingly, a real-life version of Smell-O-Vision already existed at the time of the prank, having been successfully used in three theaters for the 1960s film Scent Of Mystery. But thinking of a bunch of Brits with their noses pressed up against a TV screen is a pretty great image, no?
6. "Why doesn't America read anymore?"
The clear winner of 2014's April Fool's pranks was NPR, who posted a headline to their Facebook page that read, "Why doesn't America read anymore?" What followed was a deluge of commenters claiming they read every single day and how dare NPR generalize in that way. Unfortunately, they didn't actually read the piece.
If they had, they would've discovered this text: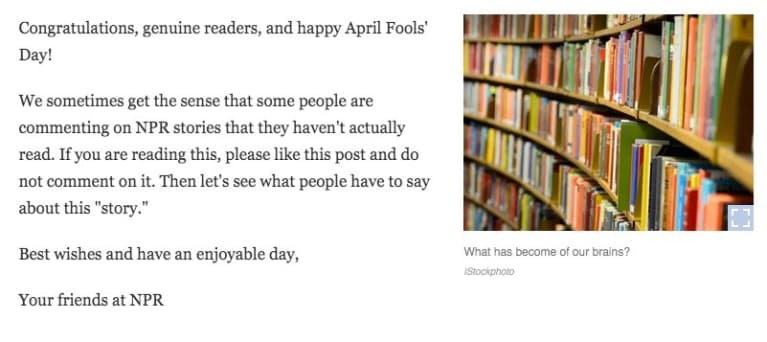 Touché, NPR. Touché.
7. Big Ben Goes Digital
Yet another faux report from the BBC, this one from 1980 reporting the London landmark Big Ben would be given a digital face-lift to keep up with times. The report even went so far as the say the clock's hands would be given away to the first four people to call in. According to a BBC spokesperson, "Surprisingly, few people thought it was funny," as the station was inundated with listeners who were shocked and angered by the change.
8. Left-Handed Whopper
Showing some southpaw love, Burger King announced it was introducing a "left-handed Whopper" to its menu on April 1, 1998. The new burger would be the same as the traditional, but its ingredients would be rotated 180 degrees for optimal left-handed enjoyment. It took chain a day to announce it had all been a prank, but not before stores reported thousands of customers had attempted to order not only a left-handed Whopper, but also the right-handed version.