What The "Perfect" Man Looks Like, According To Both Men & Women
Who says body image is only a women's issue?
Well, apparently, most men have the wrong idea about what heterosexual women are attracted to. According to a study organized by Jacamo, a British menswear label, 62% of men hypothesized that women would prefer Justin Bieber's hair, Gerard Butler's face, Hugh Jackman's arms, David Gandy's torso, and Cristiano Ronaldo's legs (image on the left).
In other words, men think women want tall, dark, and handsome hulks — when, in actuality, 72% of women in the UK actually prefer men with the "boy next door" look.
The study found that most heterosexual ladies prefer Prince Harry's hair, James Corden's face, Paddy McGuinness' arms, Ben Cohen's torso, and Jonathan Ross' legs (image on the right).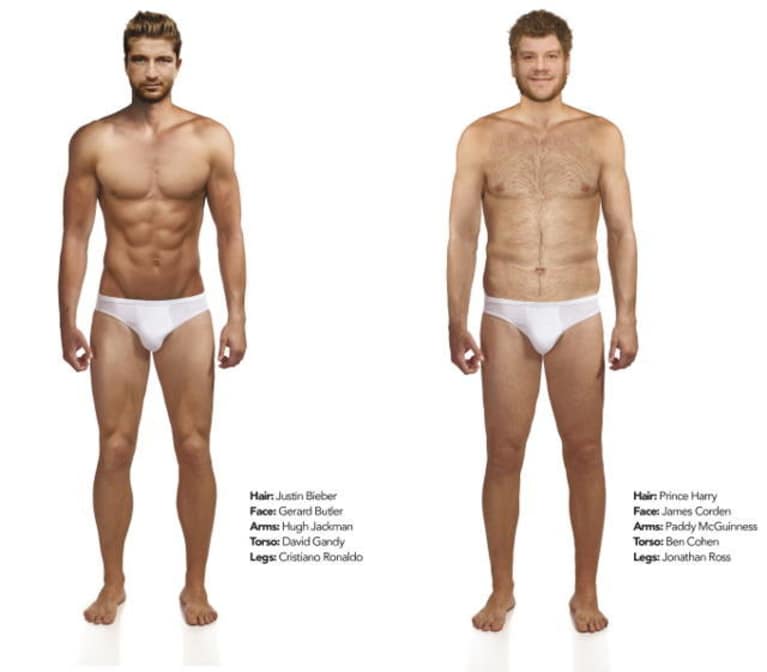 While this study is certainly not without its flaws — as it is based solely on the responses of heterosexual people in the U.K. and the outcome still involves some idealized version of a person — its findings are compelling nonetheless.
It could potentially be a comfort to men that, contrary to popular belief, the look women desire most isn't necessarily the Greek statue chiseled from marble. It's a little more attainable than that. "A little excess flab" isn't only OK — it's apparently preferred.
This study suggests, above anything else, that our concept of what's attractive doesn't always match what's disseminated by the media. And that applies to both men and women.
(h/t A+)