Facebook Finally Removes "Feeling Fat" As A Status Option
Facebook no longer considers "fat" a feeling.
So if you feel your buttons about to pop because you helped yourself to a third helping of dinner, you can only inform your Facebook friends by selecting the "stuffed" option — which still includes the rosy-cheeked, double-chinned emoticon — or by creating a custom status.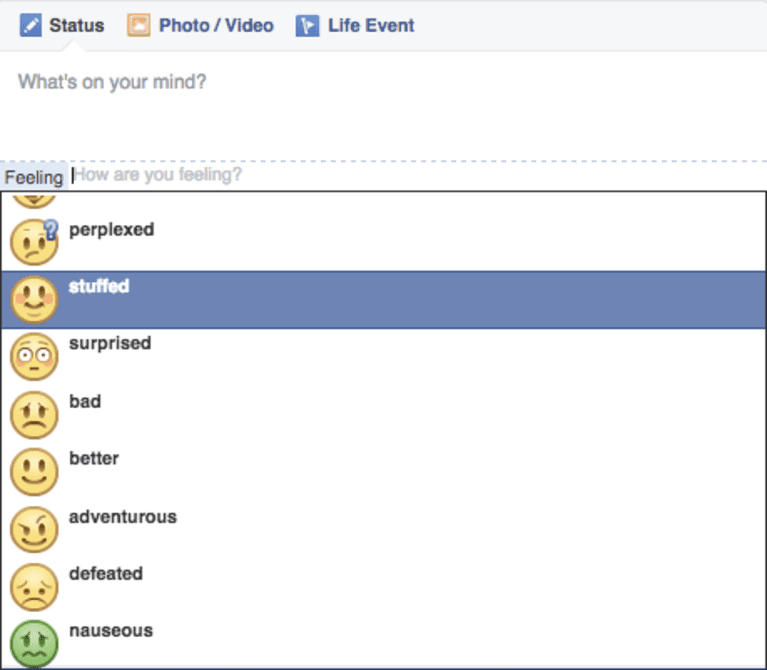 The social network did away with its controversial "feeling fat" status option Tuesday, after activists argued that it promoted body shaming.
While many Facebook users likely viewed the option as a joke, activists argued, it's a loaded idea for people with eating disorders or low self-esteem.
"It's a step forward for the body positive activists," Catherine Weingarten, the Endangered Bodies member who had launched the Change.org petition that got 16,700 signatures, told the Daily News. "I hope it shows young activists that speaking out can make a difference."
You can still, however, choose to feel "hopeless" or "depressed" — but that's a whole other can of worms.
(h/t NY Daily News)