A Detoxifying Breakfast Bowl
This breakfast bowl recipe is super delicious, easy to prepare and very satisfying. The ingredients in this dish are very nutritious and will provide you with the vitamins and minerals you need for the day. On top of that, beets and chia seeds will help detoxify your liver and colon. Here is a breakdown of the ingredients in this bowl and how they're great for your health:
Beets help you detox as it contains important bioactive agents (betaine and polyphenols), which have a wide range of physiologic effects, including liver protection by increasing enzymatic antioxidants. Beets are also high in zinc and copper which help protect hepatocytes (liver cells) against oxidative stress.
Chia seeds contain water soluble fiber, which gives them a gel-like consistency once the seeds are soaked. This gel absorbs the toxins in your digestive tract, helping your body cleanse itself. Chia seeds are also very rich in calcium and iron, as well as antioxidants which are vital for cell protection and toxin elimination.
Bananas are rich in potassium, magnesium, manganese, dietary fiber and vitamin B6. They also add the creamy texture and sweetness (without adding refined sugar or sweeteners) to your morning bowl.
The generous amounts of vitamin C and vitamin A in mangos, plus different kinds of carotenoids keep your immune system healthy and strong.
Sunflower seeds are high in vitamin E, magnesium, manganese, selenium, copper and zinc. They're also a great source of plant-based protein.
If you haven't tried beets in your smoothie or a breakfast bowl, you might think that's a bit of an odd ingredient choice. But don't be fooled. The beet-banana-coconut combination is unexpectedly delicious!
Banana Beet Breakfast Bowl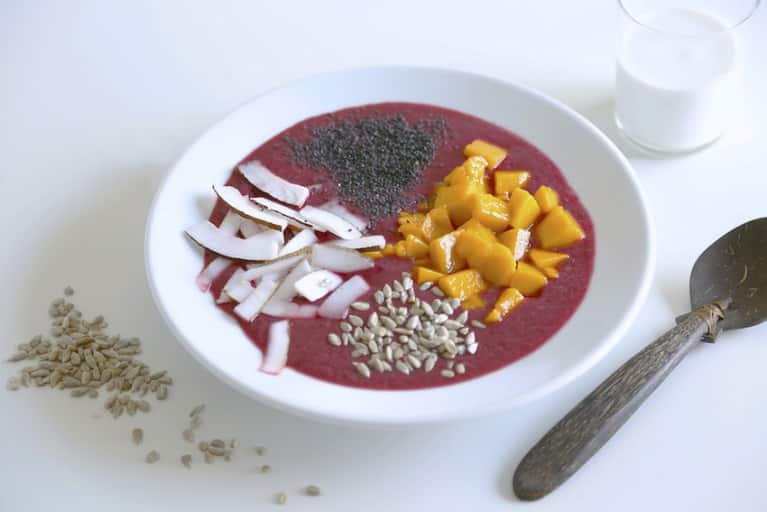 4 ripe bananas
1 small beet
½ cup coconut milk
1 ripe mango
¼ cup coconut flakes (or shredded coconut)
2 teaspoons chia seeds
2 teaspoons sunflower seeds
Blend bananas, beet and coconut milk in a blender until smooth.
Pour into bowls.
Cut up mango and throw in a bowl together with coconut flakes and seeds. Serve and enjoy!
Photo courtesy of the author