Q & A with Latham Thomas on Becoming a Healthier, Greener, More Relaxed Mama-to-Be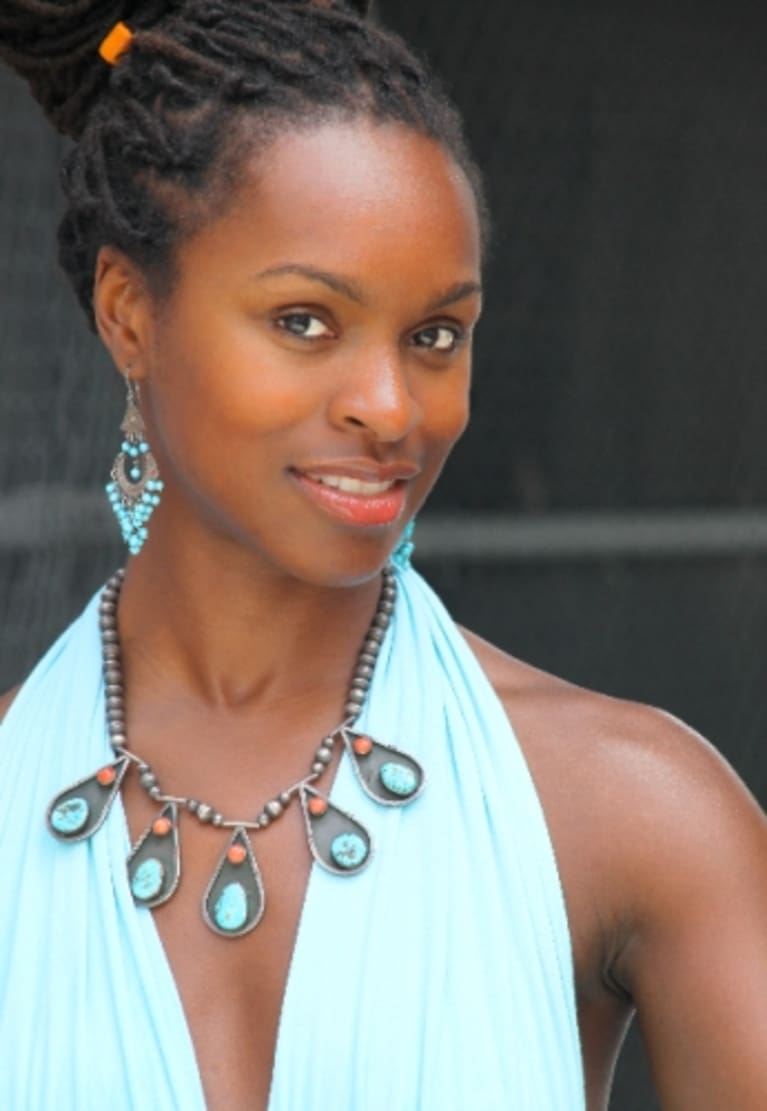 Want to create a more blissful pregnancy, prepare your body and mind for labor, and cultivate a healthier lifestyle (to enjoy even after the bun is out of the oven)? Latham Thomas, founder of Tender Shoots Wellness, a New York boutique holistic wellness practice, can help.
Latham shows mamas-to-be how to relax their minds and nurture their bodies during their childbearing years. A Columbia University grad, who has conducted her prenatal training with yoga master Shiva Rea and has studied at New York's Institute for Integrative Nutrition, Latham is the go-to guru for New York's healthy and green bellies.
When I met Latham for the first time, I instantly connected with her. She greeted me with same warmth you would share with a dear friend. Latham also exudes calmness and embodies strength, which are perfect qualities to emulate when preparing for birth and motherhood.
Latham enlightens us with some pregnancy pointers including how to adjust your yoga practice during pregnancy, minimize stretch marks (yes, please!) and manage morning sickness naturally.
MBG: How and when did you decide to create tender shoots wellness?
LT: Tender Shoots Wellness was inspired by the birth of my son (who is now an amazing 7 year old). I was looking for holistic options in pregnancy care and just couldn't find anything. So I created it! This was back in 2006. I wanted to create a practice where women could be educated, informed, and inspired to make changes that would improve their quality of life and the well being of their new baby. I recognized budding shoots as a very important phase in new life, my company allows women to turn over a new leaf towards optimal wellness.
How can a regular yoga practice help women have a healthy and fulfilling pregnancy?
There are so many physiological and emotional changes during pregnancy and prenatal yoga helps women to become in touch with the subtle changes in their bodies and tunes them into the spiritual aspect of the experience. Yoga helps women to understand the mechanics of the body and how to access certain muscle groups that they will use during labor and delivery. It helps increase circulation, manage stress or anxiety, builds strength and flexibility, as well as inner calm. Prenatal yoga empowers moms-to-be to access the inner wisdom and trust their bodies.
What adjustments to a practice should a woman make as she transitions to a prenatal yoga practice?
The first adjustment is mental -- to embrace the pregnancy and slow down. Surrender to the changes and offer the body an opportunity to become more supple. A woman should follow the 5 no-go's: 1) No lying on the belly, 2) no deep forward bends, 3) no deep twists, 4) no abdominal work, 5) no inversions. The prana is flowing and pregnancy is a time to work with the profound mystic connection, not to prove how far you can push the limits with your body. I teach an intense prenatal class, so I'm not by any means suggesting to just take a nap for 9 months. I'm encouraging mothers to tune into the cosmic dance within. It's about embodying the Shakti and flowing with the changes happening through you.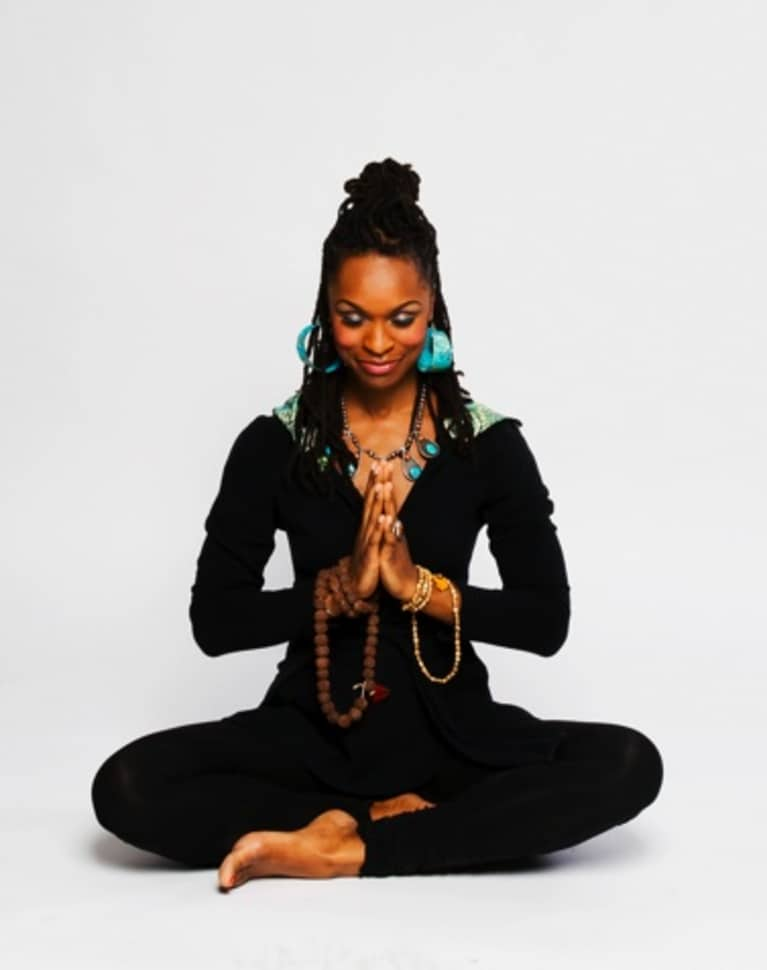 One of Tender Shoots' holistic services is a pre-conceptual detoxification for the woman or the couple. How can this help prepare the body for conception?
Even if we are eating the "right" foods our bodies are constantly inundated with toxins from the environment, our own thoughts, stress, etc., so we have to clear out those things in our lives. Stress and toxic load are huge contributors to infertility and these are lifestyle factors that can be eradicated. I take a close look at what factors need to be removed from the couple's environment while they are trying to conceive -- this means eliminating certain foods to skin and hair care products, and even home cleaning solutions. Giving a green overhaul to your life. It also means addressing your lifestyle, what types of toxic energy are you perpetuating, that you could completely change. What do you need to clear out so you can make space for the family you want to create. The mental and physical detox helps alkalize the body -- drawing toxins out of the tissues making the body more receptive to conception.
If a woman is already eating an organic, local, plant-based diet, are there any adjustments she should make when she becomes pregnant?
Getting the diet on track is one of the most important investments you can make in yourself and your unborn child's health. Finding a prenatal vitamin that provides adequate folic acid, the range of B vitamins, iron, etc., is also very important. Rainbow Light makes a great prenatal vitamin -- I still take it now and I haven't been pregnant for 7 years! She should learn to say no -- don't take on more than is necessary, as it's time to lighten the load. Take warm baths and go to bed early. Relaxation is key during pregnancy, and make sure to stay properly hydrated.
Stretch marks and diet - how can women minimize stretch marks through good fats and diet?
Women can do so much to mitigate the appearance of stretch marks. A lot of the quality of our skin depends upon genetics, but diet and lifestyle play such a key factor in whether or not stretch marks appear. A healthy intake of fats like avocado, olives, pumpkin seeds, flax seed oil, for instance is a great way to get essential fatty acids. Try extra virgin olive oil as a finishing oil. Essential fatty acids can not be produced by the body and as a result must be obtained from the diet. Not only are Omega 3s beneficial for healthy elastic and forgiving skin, but for cardiovascular heath and neurological development, so get down with good fats. You can find them in flax seed oil, borage oil, evening primrose oil, walnuts, chia seeds, and acai palmberry. Added bonus -- increasing your intake of Omega 3s will help you burn fat and lower your cholesterol. Also applying oils to your body, the same ones that you can eat -- avocado oil , almond oil, apricot kernel oil, coconut oil -- will help to prevent and reduce appearance of stretch marks.
Any natural solutions to morning sickness?
How to manage morning sickness naturally:
Drink ginger tea - Take grated ginger and boil and simmer, drink the tea to help quell your queasy stomach.
Eat at regular intervals - Always have small bites throughout the day so you never grow hungry, when you are hungry nausea can settle in.
Avoid triggers - Stuffy or humid rooms, crowded spaces, perfume, incense, etc.
Eat high protein snack before bed - it helps balance the blood sugar so when you wake up you are less likely to experience morning sickness.
Sip on water - Sips of ice cold water can help relieve the nausea.
Deep belly breathing - Taking slow long deep breaths can help to bring oxygen into the body, reverse the stress response and ease the body. If you are on edge about possibly vomiting, breathing may help you return to balance and can even help the symptoms melt away.
Try my lavender ginger-ale recipe which is at the end of the interview.
And watch my video on morning sickness on Parent Earth.
What are your favorite places to be healthy and green in New York?
I love the Highline for an inner-city getaway, and Central Park for wild adventure. I like to go upstate to relax and commune with nature. It's important for me to get my feet dirty in some soil and feet the grass beneath me. I feel the tether to the earth so strongly then. I'm a farmer's market girl -- I love getting my vegetables and seasonal fruits fresh and especially my GREENS from the Union Square greenmarket and interacting with the farmers! I go with my son all the time. We did a video with Parent Earth on the farmer's market.
What's next for you?
I have an 11 part prenatal wellness series launching in January on SureBaby.com which highlights nutrition, fitness and lifestyle for prenatal women. I am writing my book on pregnancy and wellness which should be out in the next year. And several more top secret projects including video are underway as well.
Homemade Lavender-Ginger Ale Recipe
INGREDIENTS (makes four servings)
Lavender-Ginger water
1 cup peeled, finely chopped ginger
1/2 cup lavender flowers
3 cups water
1/4 cup agave nectar or honey
1 cup water
Club soda
Lime juice
Lime wedges
Bring 3 cups of water to a boil in a saucepan. Add ginger and lavender. Reduce heat to medium low and let ginger mixture sit in the simmering water for 5 minutes. Remove from heat and let sit for 20 minutes. Strain liquid through a fine mesh strainer. Discard ginger pieces and flowers.
In a separate saucepan, make the Simple Syrup by mixing 3/4 cup agave nectar or honey into 1 cup of boiling water. Set aside.
Make individual (tall) glasses of ginger ale by mixing 1/2 cup of lavender-ginger water with 1/3 cup of Syrup and 1/2 cup of club soda. Add a few drops of fresh lime juice and a lime wedge to each glass. Or mix lavender-ginger water with syrup and 2 cups club soda.
Store in fridge and sip when feeling nausea.
The lavender is used here for much more than its wonderful fragrance. Lavender has been used to treat all sorts of stomach and digestive disorders. It soothes the lining of the digestive tract and promotes the secretion of bile, which helps the body digest fats. In addition to this, lavender can also relieve gas pressure and constipation. For pregnancy, lavender can help soothe and relieve flatulence and indigestion. It can relieve cramps, edema, exhaustion, infection, breast abscesses, and post-natal depression.
For more on Latham:
Fox News Live segment on pregnancy