This Is What Climate Change Looks Like (It Isn't Pretty)
The recklessness with which we've treated our only home since the Industrial Revolution is coming back to haunt us. Wasteful consumerism, overpopulation and resource extraction are contributing to a warmer atmosphere and diminishing natural landscapes.
A new book, Overdevelopment, Overpopulation, Overshoot, hopes to document some of the damage and shed light on both the personal and large-scale impact human action has had on the environment.
The results are a powerful photo collection that may not always be uplifting, but will hopefully contribute to a growing understanding that collective action is necessary if we hope to slow or stop these effects.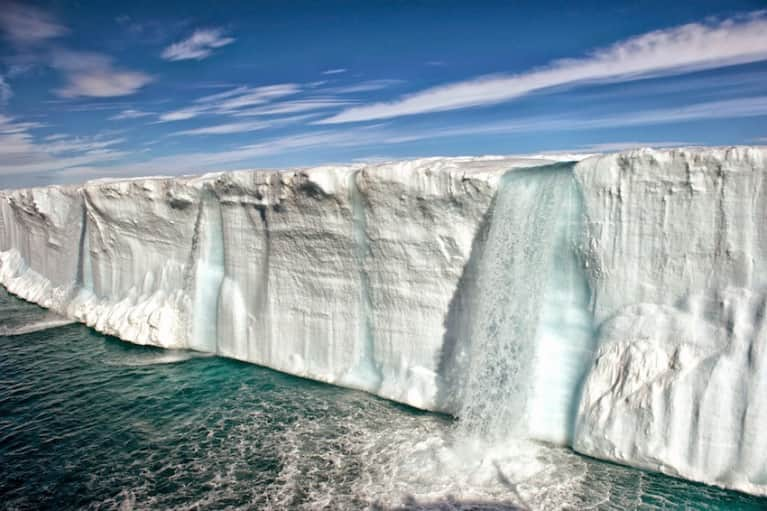 In both the Arctic and Antarctic regions, ice is retreating. Melting water on icecap, North East Land, Svalbard, Norway.

Photo © Cotton Coulson/Keenpress.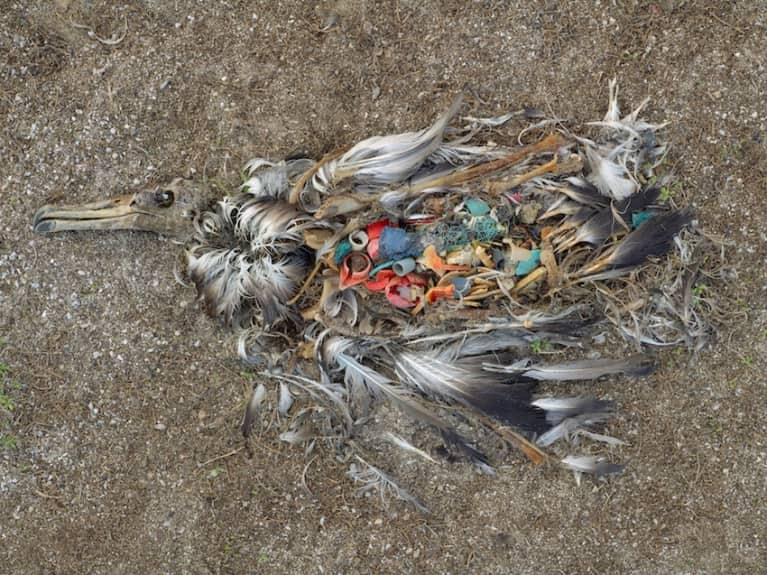 On Midway Island, far from the centers of world commerce, an albatross, dead from ingesting too much plastic, decays on the beach; it is a common sight on the remote island.
Photo © Chris Jordan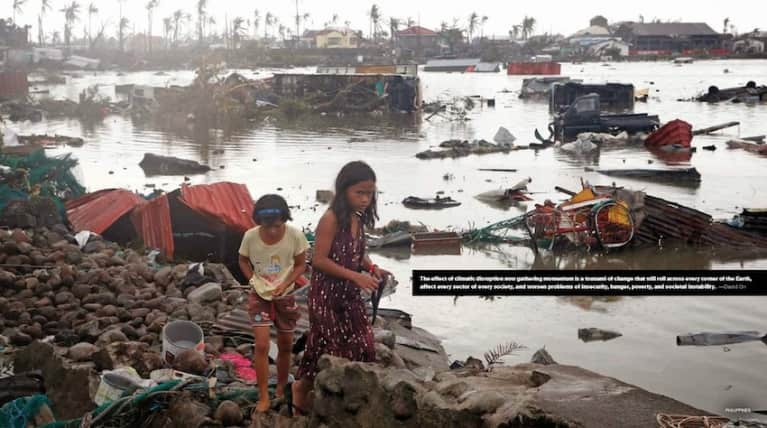 Survivors walk near vehicles and floating debris after supertyphoon Haiyan devastated Tacloban City in central Philippines November 10, 2013.
Photo © Erik de Castro/Reuters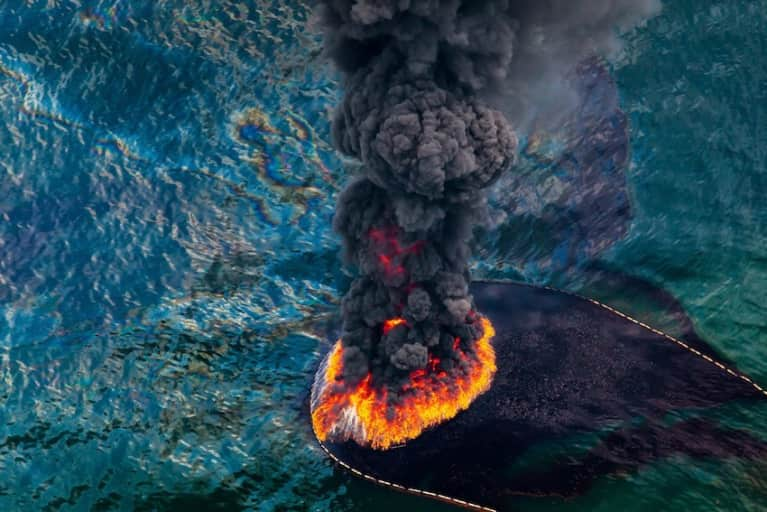 Aerial view of an oil fire following the 2010 Deepwater Horizon oil disaster, Gulf of Mexico.
Photo © Daniel Beltra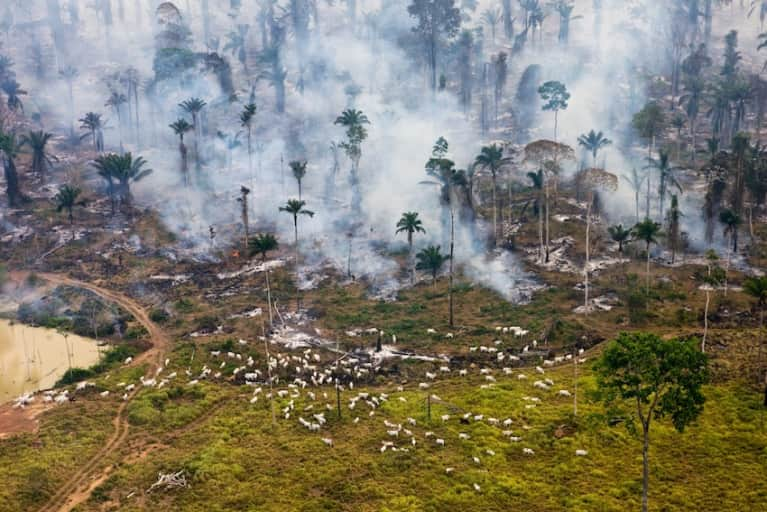 Ground zero in the war on nature—cattle graze amongst burning Amazon jungle, Brazil.
Photo © Daniel Beltra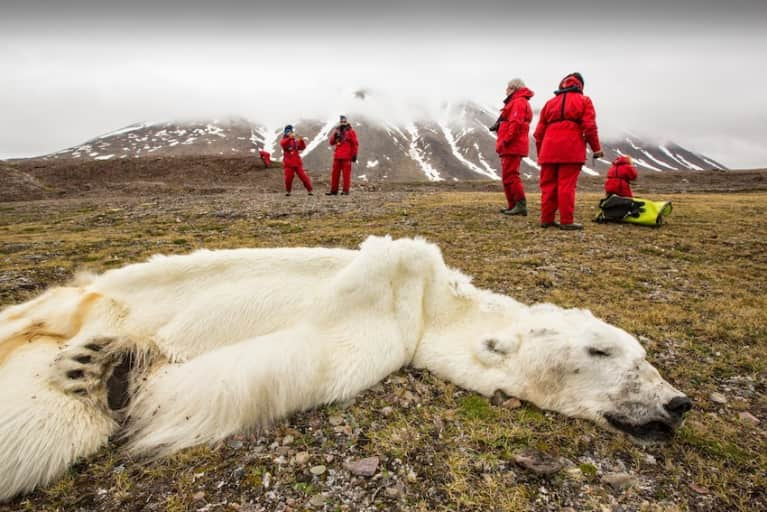 The western fjords on Svalbard, Norway, that normally freeze in winter, remained ice-free all season. This bear headed north, looking for suitable sea ice to hunt on. Finding none, it eventually collapsed and died.

Photo © Ashley Cooper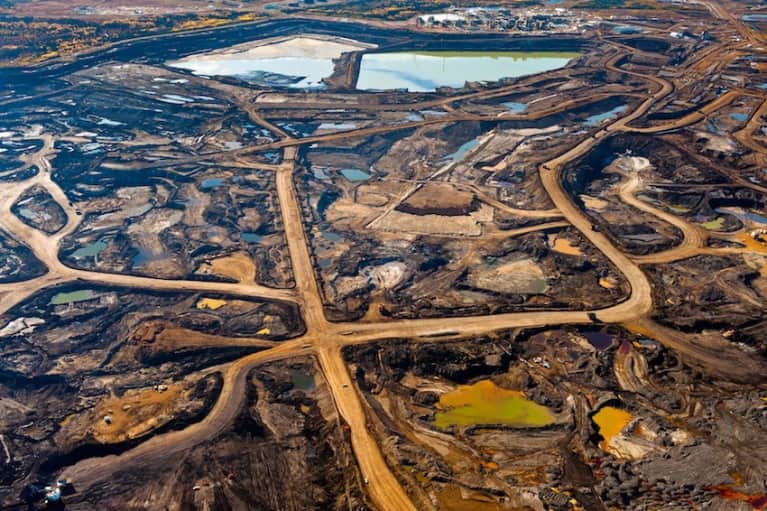 Aerial view of the tar sands region, where mining operations and tailings ponds are so vast they can be seen from outer space; Alberta, Canada.
Photo © Garth Lentz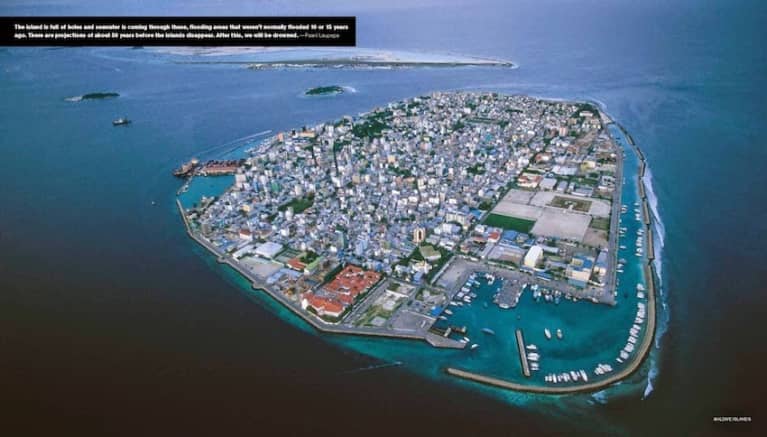 One of Earth's most vulnerable nations to climate change, the Maldive Islands are severely threatened by rising sea levels.
Photo © Peter Essick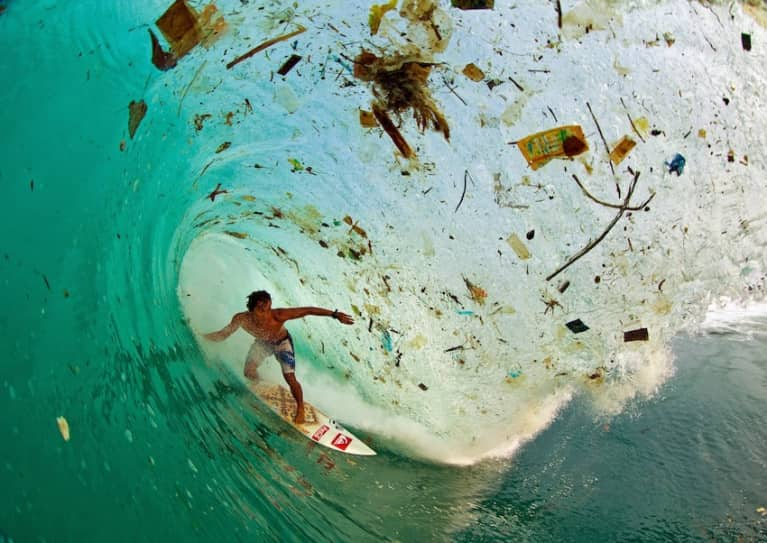 Indonesian surfer Dede Surinaya catches a wave in a remote but garbage-covered bay on Java, Indonesia, the world's most populated island.
Photo © Zak Noyle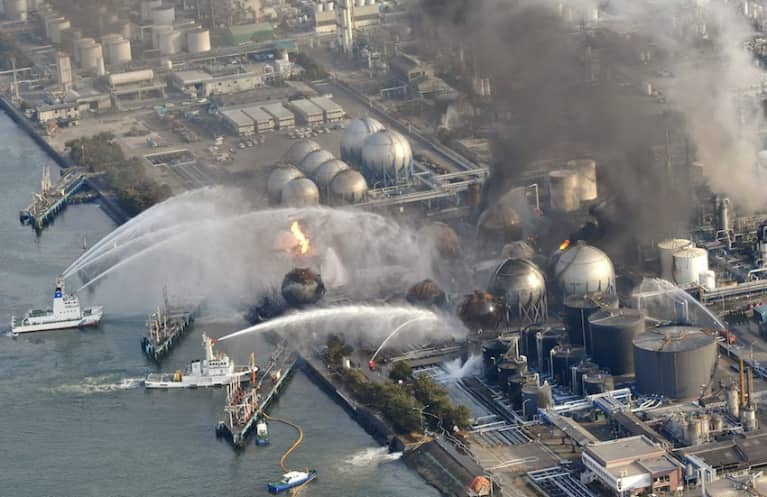 The 2011 accident at the Fukushima Daiichi Nuclear Station in Japan galvanized the world's attention and again highlighted the risks of nuclear power. As of 2013 it was reported that the damaged plant was still leaking radioactive water into the Pacific Ocean.
Photo via Mainichi Newspapers/AFLO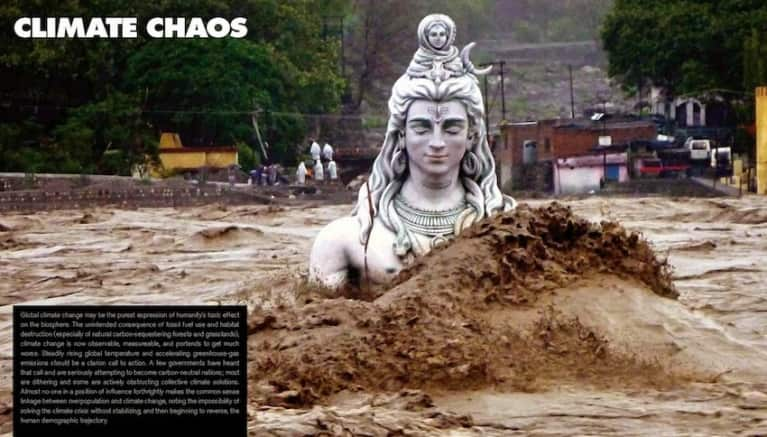 A submerged idol of Hindu Lord Shiva stands in the flooded River Ganges in Rishikesh, Uttarakhand, India.
Photo courtesy AP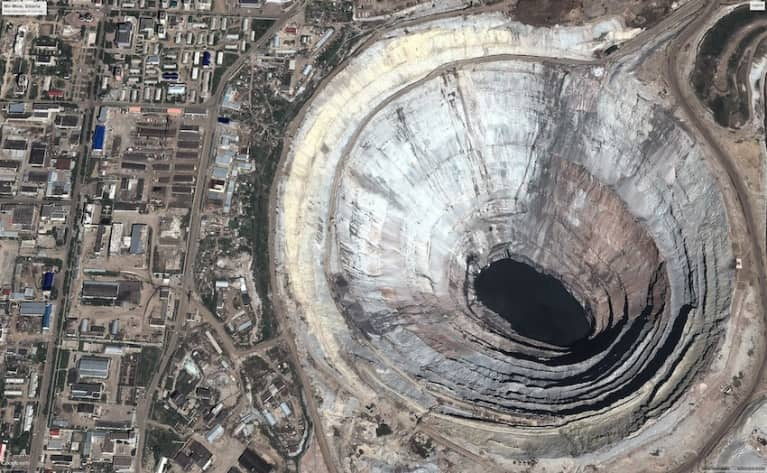 The Mir Mine in Russia is the world's largest diamond mine
Photo via Google Earth/ 2014 Digital Globe
British Columbia Clear-Cut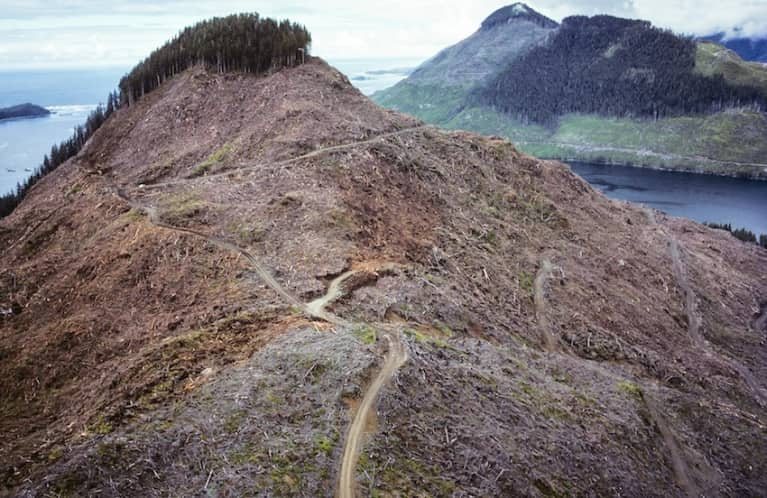 Sometimes called the Brazil of the North, Canada has not been kind to its native forests. Image of clear-cut logging on Vancouver Island.
Photo © Garth Lentz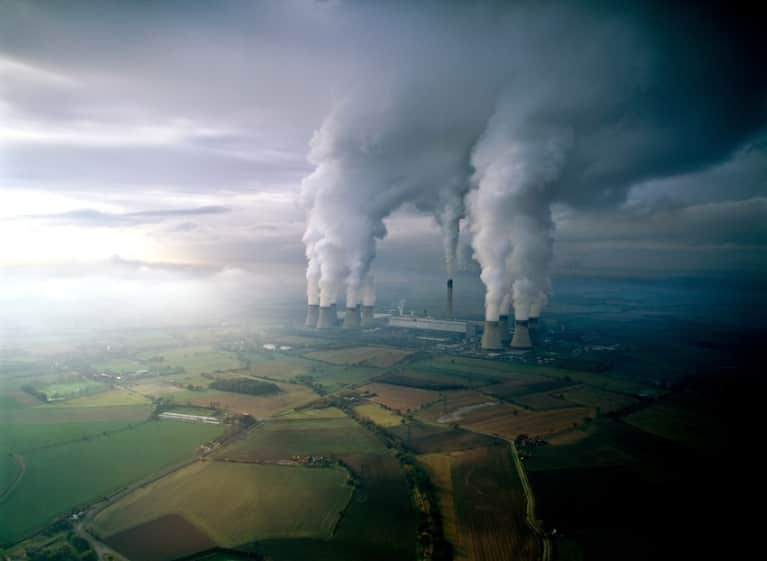 Coal-burning power plant, United Kingdom.
Photo © Jason Hawkes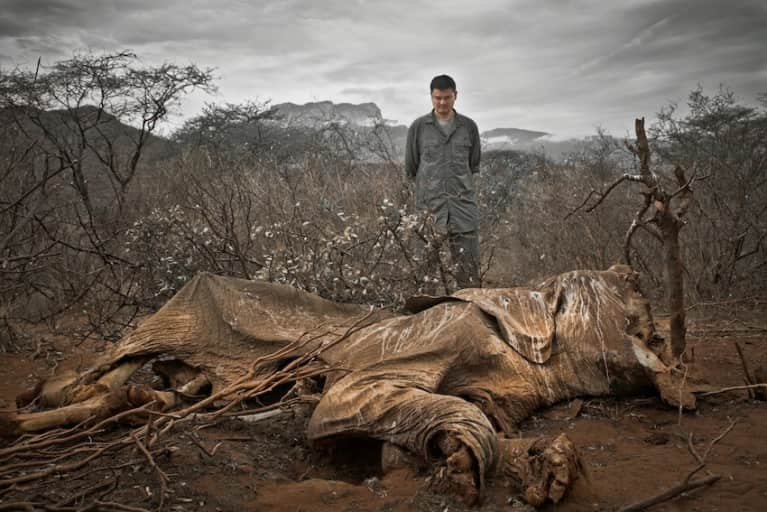 Basketball star Yao Ming comes face-to-face with a poached elephant in Northern Kenya.
Photo © Kristian Schmidt/Wild Aid