Roasted Bone Broth: A Chef's Take
mbg Food Contributor
By Seamus Mullen
mbg Food Contributor
Seamus Mullen is an award-winning chef, restaurateur, health and wellness expert, and author behind the cookbooks Real Food Heals snd Hero Food. He has been featured in The New York Times, Bon Appetit, Men's Journal, and more.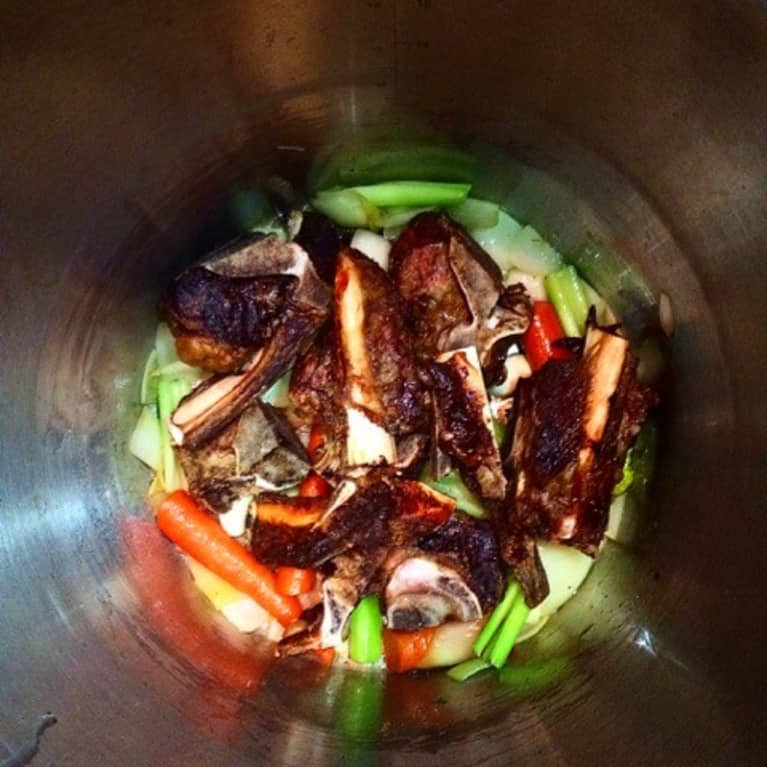 There has been a ton of chatter about the healing and restorative powers of bone broth in the wellness community lately and it's not without reason. Broths made with bones, roasted or otherwise, have been an integral part of medicine for many, many cultures for thousands of years.
As chefs, making broths (or stocks as we call them) from bones is a fundamental part of our cooking process and it's so great to see many home cooks taking up the task and making their own broths at home. My good friend, Chef Marco Canora, has seen such a positive impact broth has had on his health, that he has launched a little shop dedicated exclusively to making and selling delicious broths. I've been making broths for years and I wanted to share a simple one that I make at home, that's delicious for sipping or for using as a base for cooking vegetables and meats.
Seamus Mullen's Bone Broth
Ingredients
6 pounds grassfed beef bones (I like to get a mix of shin, oxtail and any other bones my butcher can supply)
1 pound carrots, cut into very large chunks
4 stalks celery, cut into very large chunks
2 onions, quartered
4 cloves garlic, whole
1 cup dried shitake mushrooms
¼ cup apple cider vinegar
1 tablespoon juniper berries
1 tablespoon black pepper corns
8 pieces star anise
4 pieces cinnamon stick
2" knob ginger, unpeeled, lightly crushed
4 tablespoons finely grated ginger
14 quarts of water
Preparation
1. Pre-heat the oven to 400ºF.
2. Place the bones on a large sheet tray, ideally fitted with a rack so that the rendered fat can drip down. Roast the bones for 45 minutes to an hour, turning periodically, until evenly golden brown. Remove from the rendered fat.
3. Use 2 tablespoons of the rendered fat and add to a large stock pot over medium-high heat. Add the carrots, celery, onion, shitake mushrooms, knob of ginger and garlic and lightly sautee in the beef fat for 5 minutes.
4. Add the vinegar and bones and cover with 14 quarts of cold water. Increase heat to high and bring to a boil. Once the broth comes to a boil, reduce to a simmer and add the all the spices EXCEPT the finely grated ginger.
5. Using a ladle, carefully skim any foam that appears at the top of the broth as it's simmering and discard. I like to skim the foam and fat that rises to the surface, every 30 minutes or so.
6. For a nice, light broth, simmer for 4-6 hours. For a deeper, richer broth I like to go 8-12 hours, making sure to skim the whole time.
7. Once you reach the depth of flavor you like, remove from the heat and strain, discarding the bones and vegetables. I then return the broth to the pot, season with salt to my liking and add in the grated ginger. Chill in glass jars.
*A trick Marco Canora taught me is to freeze it in glass jars WITHOUT the lids (so the glass doesn't break) and then put the lids on once the broth is frozen.
Photo courtesy of the author