Facebook (Finally) Allows You To Personalize Your Own Gender
February 26, 2015 — 10:12 AM
About a year ago, Facebook did away with its extremely restrictive gender options ("male," "female," or nothing). But it would still only let you choose from 58 options (including, for example, "cis male" and "transfeminine"). Now, after receiving much criticism, the social network has finally decided to provide, along with the existing options, a blank field for users to fill in however they see fit.
As for pronouns, though, you can only choose between "him," "her," or "them."
This is what it looks like, though for unknown reasons, it's only available to a small number of users right now: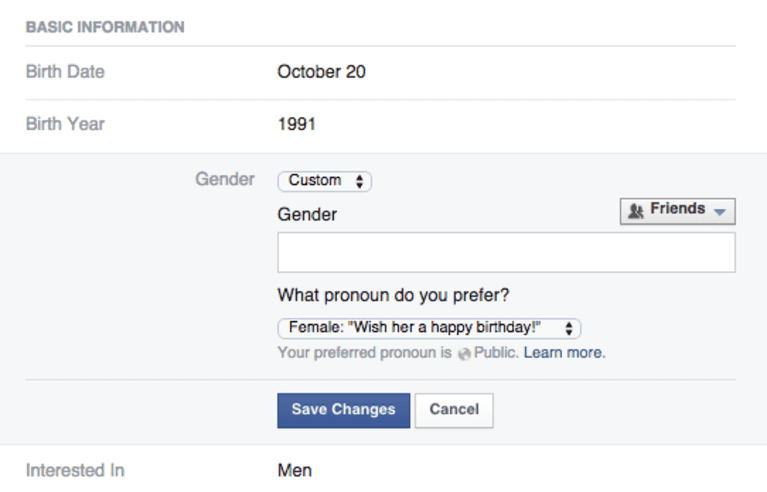 Last year's additions went over well with LGBT users, Facebook engineer Ari Chivukula told Fuse, but many people still felt constrained by the options.
This custom option probably should have been created with the platform itself 11 years ago, but hey, better late than never, right?
The changes demonstrate this generation's progressing views on gender identity. In fact, last month, Fusion asked 1,000 people between the ages of 18 and 34 whether gender was binary (i.e. male/female) or more like a spectrum — and half said it was more like a spectrum.
And if you have trouble figuring out the proper pronouns to use when someone prefers an alternative to he/she, him/her, his/her, his/hers, himself/herself, we recommend checking out the pocket-size card created by the L.G.B.T. Resource Center at the University of Wisconsin, Milwaukee here.
Next up on Facebook's to-do list: Perhaps a custom option for the "Interested In" section?
(h/t AP)