Book Review: A Philosopher's Notes
Our editors have independently chosen the products listed on this page. If you purchase something mentioned in this article, we may
earn a small commission
.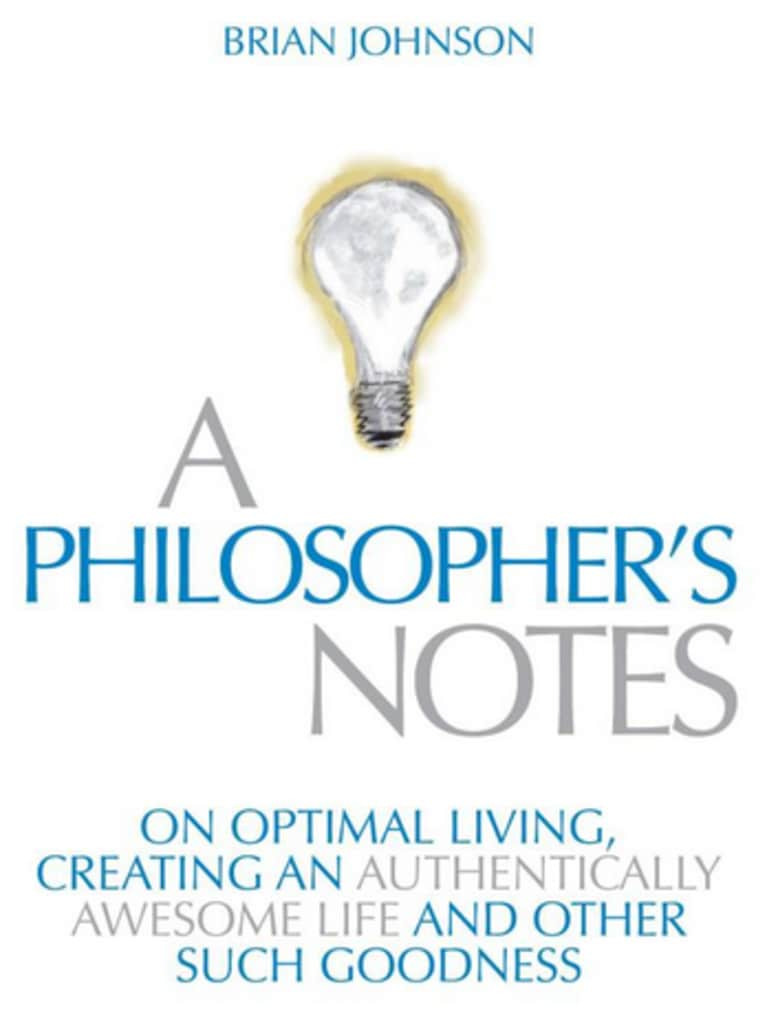 How do you create an extraordinary life? It's a pretty important question, but probably wasn't covered in your college curriculum. Enter the wise, witty wordsmith, Brian Johnson, and his debut book, A Philosopher's Notes.
A lover of wisdom, Brian Johnson created a self-directed PhD in Optimal Living when none of the available programs met his needs. Brian crafted a diverse and eclectic syllabus, which includes Rumi, Paulo Coelho, John Wooden, Martin Seligman, Russell Simmons, Eckhart Tolle, Ayn Rand, Don Miguel Ruiz, and many more inspiring minds. Intrigued? Now, that's one course where I would have achieved flawless attendance! The culmination of Brian's independent study is his thesis, A Philosopher's Notes, which shares the fundamentals of Optimal Living.
Brian's key to high frequency living is straightforward: practice a life of virtue and integrity. At times, we are inundated with a plethora of bumper sticker-like platitudes and sound bites on happiness. Want to create a better life? The secret is to envision your bling and the Louboutin heels or McMansion you desire will manifest itself. Want to profess an attitude of gratitude? Then "Count Your Blessings" and "Savor Every Moment." Didn't work for you? Brian refreshingly doesn't offer a quick fix. It's only through a life-long, consistent commitment to integrity that we can elevate from a moderately happy life to a bliss-filled experience.
New to wellness? A Philosopher's Notes will deliver the perfect primer in healthy living, with a wit that will resonate. Brian explains the Buddhist focus on our wandering thoughts in "Crazy Little Drunk Monkeys and ANTs." Our quest for hedonic fulfillment, or "keeping up with the Joneses," is explained in the "Bling Treadmill" (what a perfect analogy!). Not connecting with some of the mantras your yoga teacher chants at the start of class? Brian offers some "thought tool" suggestions to help you tame the hyper-active mind.
Bummed about the lingering recession or the shape of your body? Check out Brian's chapter on the "Optimism Gym," where there's no membership fee. It's just as important to flex and lengthen our mental and spiritual muscles, but we don't make the same commitment that we do with our physical self. You'll be ready to eject the limitation and self-doubt soundtracks and to reset your potential.
If the merry mayhem of the holiday season has veered you off your path to bliss, Brian's chapter on action is a powerful tool to conduct a self inventory and re-commit. Brian explains how the fusion of bliss and discipline creates "blissipline," a "sexcellent" world. Brian shares the staples of his own daily routine (meditation, movement, reflection, appreciation and joy), as well as killer vignettes such as "Blisters & Bliss" (why John Wooden showed his National Championship athletes how to put on their socks on the first day of practice) and "99% is a Bitch.100% is a Breeze" (Jack Canfield of Chicken Soup for the Soul's awesome line on commitment). Whether it's turning off the alarm before a morning workout, taking for granted the acts of service of a loved one, or skipping a daily meditation during a busy day, we are skilled at justifying behavior that takes us farther from our goals. Remaining resilient to self-doubt and refusing to allow ourselves to check out is the only way we will achieve meaningful shifts in our lives.
Want to live with more purpose and self-awareness? Brian has a chapter that's a gem. While I usually cringe at the notion of journaling for fear of a cheesy or corny activity, there are some great suggestions that even a skeptic will enjoy. One such exercise is inspired by Tal Ben-Shahar, a Harvard positive psychology professor: "If your 110-year-old self has 30 minutes to chat with your current you, what do you tell yourself? What are the most important truths/lessons/big ideas you want to share in that 30 minutes?" Some of us have been hard-= wired since birth with our knowledge of our innate gifts and passions. For others, it's a longer journey, which more closely reassembles a game of Marco Polo. Getting a little closer. Oops, made a wrong turn. Hot again. Living each day with a little more bliss, leveraging our innate talents and strengths a little more, and enjoying the moments and conversations that shape our lives with more presence, will help us step a little closer to an extraordinary life.
In A Philosopher's Notes, Brian provides the tool kit – inspiring words and a killer reading list – so that you cultivate your unique syllabus to explore and sustain your bliss.