Mushroom Lentil Herb Burgers + Clean Slaw
Love burgers but want to skip the bun? Enter the cabbage leaf. This is an incredibly healthy and delicious alternative. The crisp texture of the leaf works perfectly with the soft and flavorful mushroom, lentil and herb burger.
Mushroom Lentil Herb Burgers + Crisp Slaw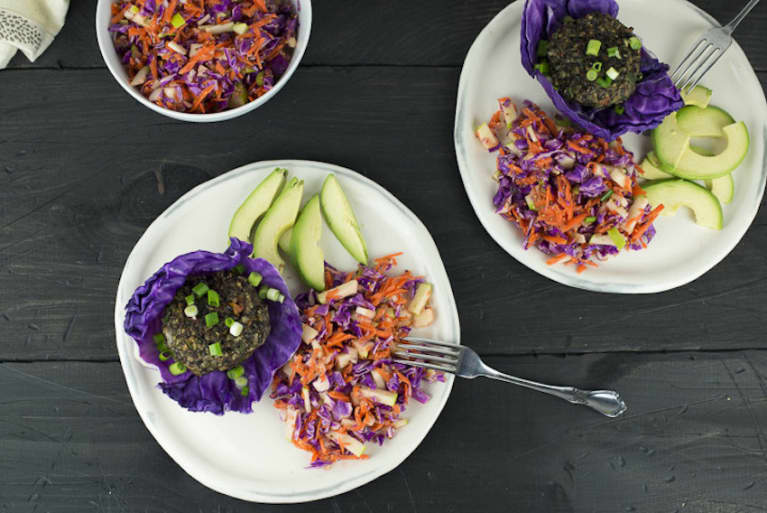 1.5 cups beluga lentils
1 large red onion
3 cups chopped wild mushrooms of choice (I used shiitake and maitake)
3 garlic cloves, minced
3 teaspoons coconut oil, divided
2-3 sprigs rosemary
3-4 sprigs thyme
8-10 sage leaves
¼ cup sundried tomatoes (soaked for a few minutes if too dry)
⅓ cup walnuts
2 tablespoons tamari
1 tablespoon olive oil
salt + pepper
scallion for garnish (optional)
1 small red cabbage or ½ of large cabbage
2 carrots
1 green apple
1 tablespoon whole grain mustard
1 tablespoon apple cider vinegar
juice of half lime
1 teaspoon maple syrup
salt
Preparation
1. Boil lentils in 2.5 cups water until they are soft but not mushy.
2. While lentils are boiling, prepare the caramelized onion. Heat the olive oil on med-low heat, chop onion and sautee with a pinch of sale for approx 15-20 min until onion is brown and beginning to crisp a little.
3. In a seperate pan, heat 1 teaspoon of coconut oil and add mushrooms. Sautee for approx 5 minutes or until they lose some of their water.
4. Add the garlic, chopped herbs, sundried tomatoes, tamari, salt and pepper, and sautee for another 5-7 min. Remove from heat and let cool for a few min.
5. In a food processor, blend the walnuts seeds until you have a fine flour. Add the lentils, mushroom and veggie mixture, and blend until most lentils are broken down and mixture is sticky. Take out from processor and add the caramelized onions, mix well.
6. To form the patties, form the mixture into a ball approx the size of your cupped palm. Press until burger is 1.5-2 inches thick.
7. Heat the remaining coconut oil on med heat and add 3-4 burgers at a time (depending how big your pan is, make sure you leave enough room to flip them). Flip the burgers after 3-4 min on each side and serve warm! Add chopped scallions on top of burgers if you wish.
8. For the slaw, grate or shred the cabbage, carrots, and finely slice the apples. Mix all ingredients for the dressing until emulsified, then add to slaw and mix well.
Photo courtesy of the author