Tired Of Almond Milk? Try This Instead
Homemade cashew milk is not only a breeze to whip up, but it's a creamy and sweet alternative to dairy milk that works well in so many recipes. I love using this spiced cashew milk in smoothies, coffee and tea, with homemade granola and muesli, in oatmeal and even in savory dishes.
Homemade Spiced Cashew Milk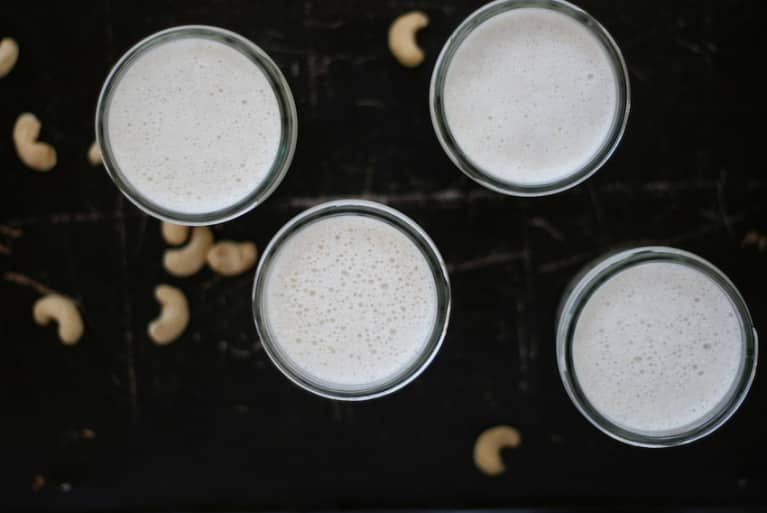 Makes a little over a liter of milk
Ingredients
1 cup raw cashews, soaked overnight
3½ cups filtered water
2 mejdool dates, pits removed*
¼ teaspoon cinnamon
1 vanilla bean pod, seeds scraped
dash of cardamom
dash of sea salt
Preparation
1. Soak raw cashews overnight in water and strain in the morning. Give cashews a good rinse, until water runs clear.
2. In the base of a high-speed blender add soaked cashews, filtered water, dates, spices, vanilla bean seeds, and sea salt. Blend on high for 30-60 seconds until the mixture is completely creamy and frothy.
3. If you'd like you can strain cashew milk through a nut-milk bag or fine mesh sieve. I find that the milk is so creamy already that it does not have to be strained.
4. Pour cashew milk into an airtight container and store in the refrigerator where it will keep for 3-4 days. Give milk a good shake before using and enjoy!
*For unsweetened milk, omit dates. Moreover, if you don't have dates you can alternatively use a tablespoon of maple syrup or raw honey.
Photo courtesy of the author