5-Minute Homemade Energy Bars
While there are lots of natural ways to boost your energy, like increasing your protein intake, getting enough sleep, and reducing stress, something that is less talked about is supporting the adrenal glands.
The adrenal glands, which are two endocrine glands located on top of your kidneys, are responsible for helping your body deal with stress. Put very simply, after a prolonged period of stress, they can become fatigued and less able to properly produce enough of the right hormones to keep your body's energy in balance.
Managing your diet is often not enough to repair your adrenals, which is where adaptogenic herbs come in. An adaptogenic herb is something that helps your body naturally adapt to physical stressors. One such herb is maca root, native to the Andean mountains in Peru, that has been shown to increase energy, not to mention boost libido.
Maca is powerful enough that you only need 1/2-1 teaspoons a day, and you can add it to baking, smoothies or this 5-minute homemade energy bar recipe. Given that maca has energy boosting qualities, I don't recommend eating these bars after dinner or before bed.
Homemade Energy Bar Recipe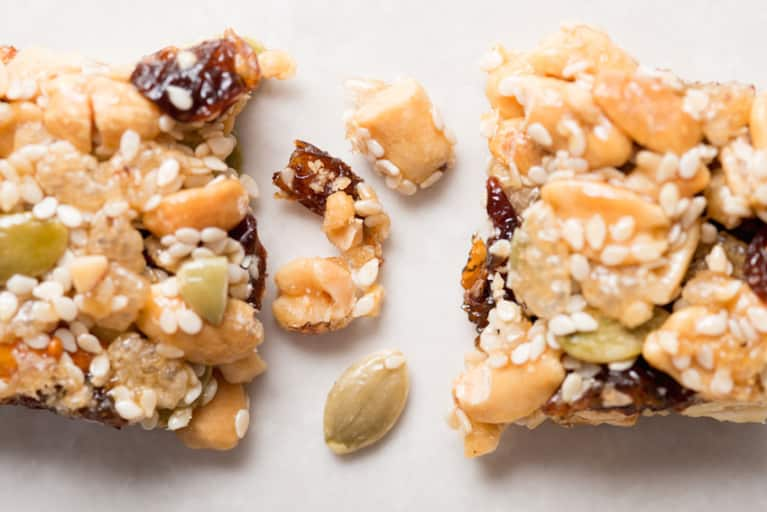 3/4 cup quick rolled oats, gluten free if need be
1/4 cup crunchy almond butter, smooth works too
1/4 cup chia seeds
1 tablespoon maple syrup
1 scoop vanilla protein powder
1 teaspoon cinnamon
1 teaspoon pure vanilla extract
1 tablespoon maca powder
1/4 cup water
Preparation
1. Place all ingredients in food processor, and pulse until well blended. The batter should be sticky and easy to press together and form into individual bars.
2. Form into bars and place in fridge for 30 minutes to set. If planning to keep for longer than 4 days, store in freezer.
Recipe Note:The type of protein powder you use will affect how the recipe turns out. I find the fewer ingredients the better, and taste wise, a powder that doesn't have added veggies in the powder works better. If you don't add protein powder, you may need a little less water.