Sauteed Chickpea Fries With Sriracha
After thoroughly enjoying chickpea fries while dining out over the last few years, I decided it was time to give my own spicy recipe a try. These chickpea fries are crispy on the outside and creamy on the inside.
The addition of Sriracha is optional but if you are a spicy lover like me, you won't want to skip it!
Chickpea Fries With Sriracha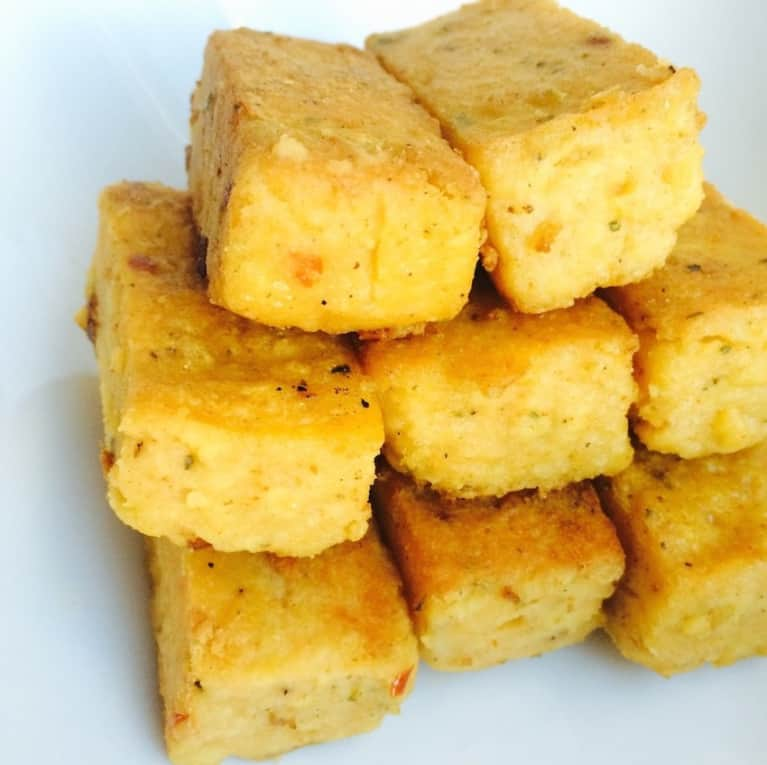 2 cups water
1 cup chickpea flour
2 tablespoons olive oil
1 teaspoon Sriracha
coconut oil to grease pan
1/2 teaspoon garlic powder
1/2 teaspoon chili flakes
1/2 teaspoon smoked paprika
1/2 teaspoon oregano
1/2 teaspoon sea salt
1/2 teaspoon black pepper
Preparation
1. Grease a small rectangular baking pan with coconut oil and set aside. Then in a medium bowl, combine chickpea flour and spice blend and set that aside as well.
2. Next, boil water in medium sauce pan. Once boiling, slowly add chickpea flour mixture, stirring to combine. Mixture may have some lumps which is fine. Next, stir in olive oil and Sriracha and then remove pan from the heat. Pour mixture into greased pan and refrigerate for 1 hour.
3. Remove from fridge and gentley loosen the edges with a knife. Then flip mixture onto a cutting board and cut into Jenga size block sticks. Heat additional oil in medium size skillet and sauté chickpea fries until crisp, about 2 minutes each side. Serve and enjoy!
Photo courtesy of the author