Child's Pose Is No Child's Play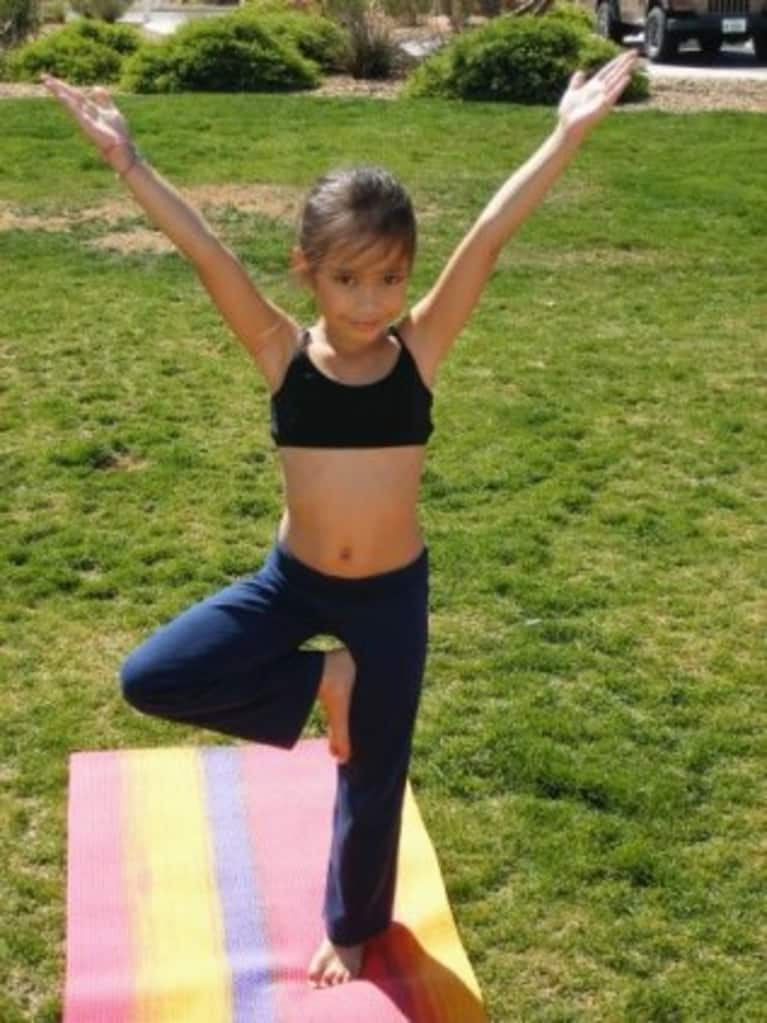 It isn't easy being a kid -- especially in today's culture. With an increased emphasis on standardized test scores, kids around the nation are seeing a dramatic reduction and sometimes complete eradication of valuable recess and Physical Education time. As a result, kids are becoming more stressed, more overweight, less patient, more violent, and overall, less happy. Not good. Fact: 19.6% of children between the ages of 5 and 11 are considered obese. According to the Center for Disease Control, that is 3x the amount of children than in 1980! Test scores won't matter when little Joey is going in for his second quadruple bypass. The further irony is that numerous studies show that movement and recess time can actually improve test scores.
Unfortunately, obesity isn't the only problem kids are facing today. With the improvement of technology, children are spending less time outdoors being active and more times sedentary behind screens. Content is increasingly fast-paced and violence ridden, resulting in under-stimulated and impatient kids in the classroom. It is probably not unrelated that diagnoses of Attention-Deficit Hyperactivity Disorder (ADHD) are on the rise. Lastly, there has been an increase of violence and bullying among school children. In short, life is not easy for kids these days.
Yet, before we panic and yank the kids out of school and move them to Amish country, there is a solution -- one that has been around for 5,000 years: yoga. Yoga can address all of these issues, as well as many others. To begin, yoga is an incredible and cost-effective way to get fit. You don't need a gym or field or fancy equipment, just your body and your breath. Yoga helps to build both strength and flexibility equally. It can teach children coordination and balance, which growing bodies may have a hard time with.
As many studies show, physical movement of any kind throughout the day helps to improve children's focus, motivation, and performance, but Yoga goes further than that, specifically teaching a child how to focus and be aware. Because maintaining the breath and many of the poses require concentration, children learn to stay present and mindful. They learn to self-regulate. Research is beginning to show Yoga as successful in lessening many of the symptoms of ADHD in children, such as inattention, hyper-activity, and distractibility. Equally exciting, new research is beginning to show yoga as a successful form of treatment for children with Autism. Yoga is a non-competitive sport, which teaches children how to work together as a community. The first precept of yoga is ahimsa, to cause no harm to oneself or others. Happy, self-regulated children are less likely to bully one another.
Overall, the benefits of teaching yoga to children are numerous and not to be ignored. We can help our children be happier through the practice of yoga. As a result, on December 9th, 2010, the National Yoga Project will be putting on a citywide yoga class at five Southern California schools. On this day, the 5th grade classes from these schools will all be practicing. That means that over 250 children will be doing yoga on the same day! The schools participating are Brawerman Elementary, Brentwood School, El Rincon Elementary, Fairburn Elementary, and Canyon Charter School. The teachers include myself Sarah Ezrin, Sarah Girard, Dori Berman Greif, Lindsay Henry, Jocelyn Kay Lee, Elli Novaes, and Szymon Wojick.
National Yoga Month's Yoga-Recess is generously donating kid's yoga DVD's so that the schools can continue to practice after the event. We can make the world better through the practice of yoga and it starts with our children.