Peanut Butter Chocolate Chip Granola
Spoiler alert: most store bought granolas are sugar bombs that do little nutritional good for our bodies. Making your own is not only cheaper, but you get to control exactly what goes into it to make your breakfast the best.
Not only is this granola made up of the best flavor combination since, ever, it's filled with digestive friendly fiber and heart healthy fats to get your morning going. This recipe makes a big batch, so you can have a great breakfast all week long. Serving it with cold almond milk, slices of banana, and a handful of ripe blueberries just may take you over the edge. Here's to getting your homemade (peanut butter!) granola on.
Peanut Butter Chocolate Chip Granola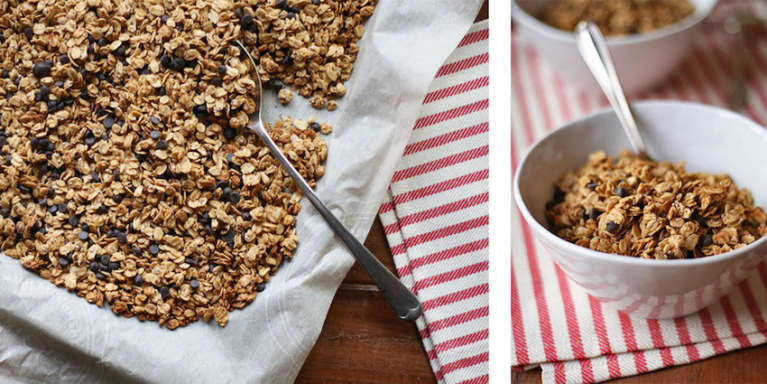 Makes about 3.5 cups of granola
Ingredients
3 cups rolled oats
2 tablespoons ground flax seeds
2 tablespoons chia seeds
1 teaspoon vanilla extract
¼ cup creamy peanut butter
¼ cup maple syrup
¼ cup coconut oil
3-4 tablespoons mini dark chocolate chips (the darker the chocolate, the better!)
Preparation
1. Preheat oven to 325°F and line a baking tray with parchment paper.
2. In a big bowl, mix together the dry ingredients – rolled oats, flax seeds and chia seeds — and set aside.
3. Warm peanut butter, maple syrup, coconut oil and vanilla extract in a small saucepan on the stove until smooth and creamy. Pour warmed peanut butter goodness over dry ingredients and mix to thoroughly combine. Spread oats evenly on a large baking tray and bake for 15 minutes. Remove granola from oven, give everything a good stir, and bake for another 15 minutes more.
4. Remove granola from oven (do not stir!) and let cool at least 30 minutes. (The longer you can go without eating it, the crispier it will become!) When completely cooled, toss in chocolate chips and store in an airtight container. Granola will keep fresh for about 2 weeks.
Photos courtesy of the author