Bison Chili In An Acorn Squash Bowl
I have always loved the lean, clean taste of bison, but I didn't eat much winter squash until I started my paleo journey after being diagnosed with an autoimmune disorder last January.
Now I'm a squash fanatic. Acorn squash, for example, has 1/3 the amount of carbs as a sweet potato and almost 1/4 the amount of a normal white potato. This makes them both easier to digest and filling in a substantive, but not bloating, way.
Bison is superior to beef in all ways. It has more protein and less calories per serving. And most bison, unlike beef, is humanely sourced. Everyone I've attempted to convert from beef has been all about bison after the first bite!
The recipe fits beautifully into any low-carb, no sugar, Whole 30, autoimmune Paleo, SCD, or performance paleo plan.
Bison & Squash Chili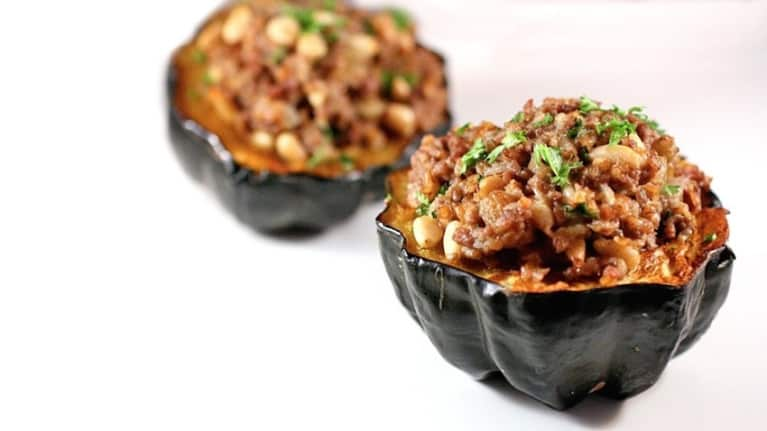 2 pounds ground bison meat
2 acorn squash (baked and cubed)
3 cups of homemade stock (any kind! I use chicken)
1 8 oz can of organic tomato paste
1 bunch celery
1 large yellow onion
2 cloves minced garlic
2 dried ancho chilis
1 tablespoon cumin
1 tablespoon chili powder
salt and pepper to taste
1 tablespoon ghee or clarified, grass-fed butter
Preparation
1. Pre-heat your oven to 375ºF and put your acorn squash (whole) onto a baking pan on the middle rack. Set a 45 minute timer.
2. Then, dice up your aromatics (celery, onion, and garlic) and heat them in a large skillet on medium-low in the ghee.
3. While those are becoming translucent, soft, and fragrant, begin to brown your bison in your 3 cups of stock and your tomato paste in either a large chili pot or your slow cooker.
4. Check on your squash. After you can easily insert a fork and divide each squash in half, it is ready to be cubed by slicing the flesh in a criss-cross pattern, while preserving the outer squash half (I like to use them as bowls for the first round of chili).
5. Add your pan of aromatic veg and your cubed squash to your bison/stock mixture.
6. Season the chili with remaining ingredients (spices), including your ancho chilis. Cover the pot and let simmer for 45 minutes until all flavors are absorbed!
7. Ladle chili into your Acorn squash half for a perfect portion and ENJOY with an optional cilantro or an avocado slice or two for garnish
This dish also freezes beautifully, which is why I make so much of it. In the end, this saves time.
Photo courtesy of the author