3 Super Bowl Food Favorites Made Healthy
Instead of the usual salsa, burgers and pizza, here are three recipes incorporating seasonal veggies that will still have you cheering.
INSTEAD OF THE SALSA: Roasted Carrot Rosemary Hummus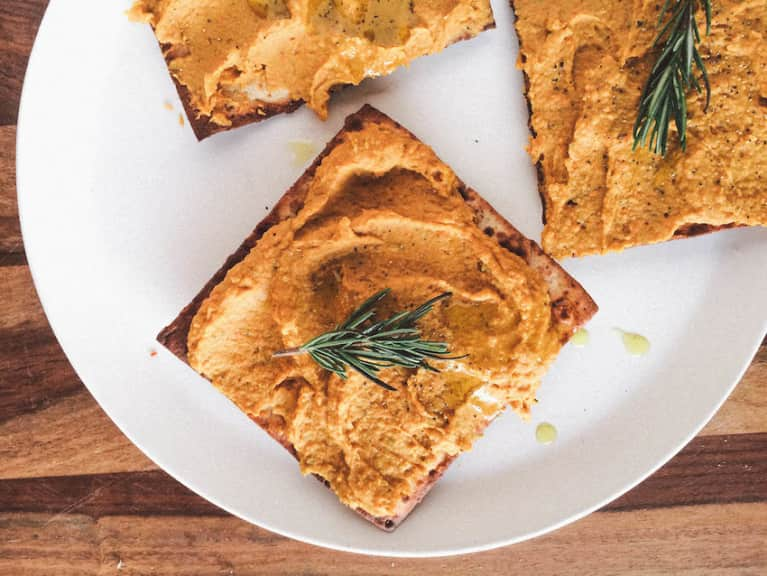 Earthy, sweet, herbal and smoky all at the same time, this will become your new favorite hummus, perfect for fall and winter.
Serves 6
Ingredients
8 medium carrots, scrubbed
2 heads garlic
1 large yellow onion
2 cans cannellini beans, drained and rinsed (or 3 1/4 cups homemade)
1/3 cup extra virgin olive oil, plus extra for oil roasting (or bean cooking water)
1 1/2 tablespoon fresh rosemary, or to taste
1 1/2 teaspoons sea salt
1/2 teaspoon black pepper, freshly ground
Preparation
1. Preheat oven to 375°F. Cut garlic heads in half, drizzle with oil and wrap in foil. Chop carrots into 1" pieces and quarter the onion, then lightly coat with oil. Roast everything on a sheet pan for 45-50 minutes until carrots and onions are tender and browned and the garlic cloves are soft and can be easily squeezed out.
2. In a food processor, puree roasted veggies with the beans, slowly pouring in the oil or bean cooking water to reach desired consistency. It may take about 5-10 minutes to get a smooth hummus.
3. Add rosemary, salt and pepper. Give the mixture another whir for a minute or so. It's delicious eaten immediately so it's slightly warm, but keeps for a few days in the fridge too. It makes an awesome lunch the next day. Serve with bread of choice and sliced radishes or a simple salad if you'd like.
INSTEAD OF THE BURGER: Pulled BBQ Chicken Sliders With Celeriac Slaw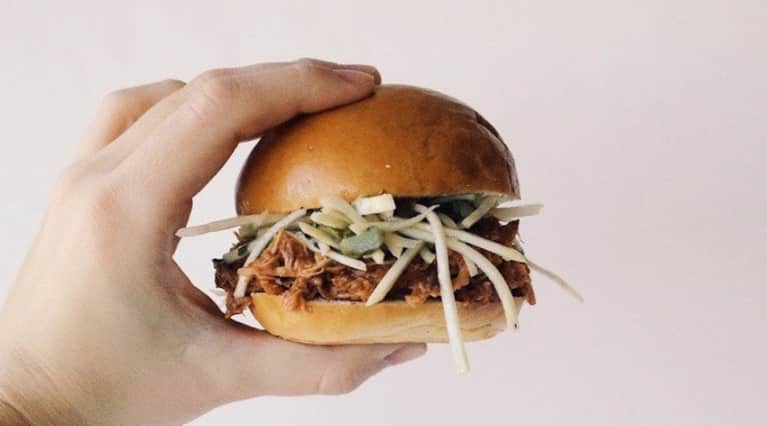 This is one of our favorite simple recipes to feed a crowd or bring to friends when they need a comforting home-cooked meal. It's particularly amazing with our Celeriac Slaw (recipe below).
Serves 8
3 pounds boneless skinless chicken thighs
sea salt
black pepper, freshly ground
olive oil, for pan
18 oz barbecue sauce (homemade or store-bought)
8 brioche buns
NOTE: The amount of barbecue sauce is flexible here — you just want enough to cover or almost cover the chicken. The fat will release from the chicken to contribute to the braising liquid too.
Preparation
1. Dust off your slow cooker (or a dutch oven and preheat your oven to 325°F).
2. Heat a glug of oil in a heavy-bottomed pan over medium-high heat. Generously salt and pepper chicken thighs.
3. In batches, sear chicken for a minute or two on both sides so they brown up a bit.
4. Nestle chicken thighs as closely as possible in the slow cooker and pour BBQ sauce over them (see note).
5. Cook on low slow cooker setting for 4 - 4 ½ hours (or about 1 ½ hours in the oven) until chicken pulls apart very easily with two forks. Then pull all of it apart in a serving dish and spoon over some BBQ sauce to taste.
6. Serve with buns and slaw.
Celeriac Slaw With Parsley, Chives & Capers
Our favorite autumn and winter slaw. Double the recipe for a crowd.
Serves 4
Ingredients
1 large celeriac (also known as celery root), peeled
juice of 1/2 a lemon
1 tablespoon pickle brine (plus more to taste)
2 tablespoons dijon mustard
2 tablespoons extra virgin olive oil
1/4 cup pickles, minced
2 tablespoon capers
1/4 cup fresh Italian parsley, chopped
1/4 cup fresh chives, chopped
sea salt, to taste
black pepper, freshly ground, to taste
NOTE: A mandoline slicer makes prep super fast, but with some time and patience, a knife does the job too.
Preparation
1. Slice the peeled celery root into thin noodle-like strips using a mandoline. Place into a medium bowl, squeeze in lemon juice, sprinkle with a pinch of salt, and toss to prevent oxidation while you prepare the dressing.
2. In a small bowl or measuring cup, whisk together pickle brine, mustard, oil, a few healthy pinches of salt and freshly-ground pepper. Set aside.
3. Toss celery root with pickles, capers and dressing. Gently mix in the chives and parsley. Taste for acidity and seasoning. Add more pickle brine, salt, or pepper if needed.
INSTEAD OF THE PIZZA: Hubbard Squash, Kale & Ricotta Flatbread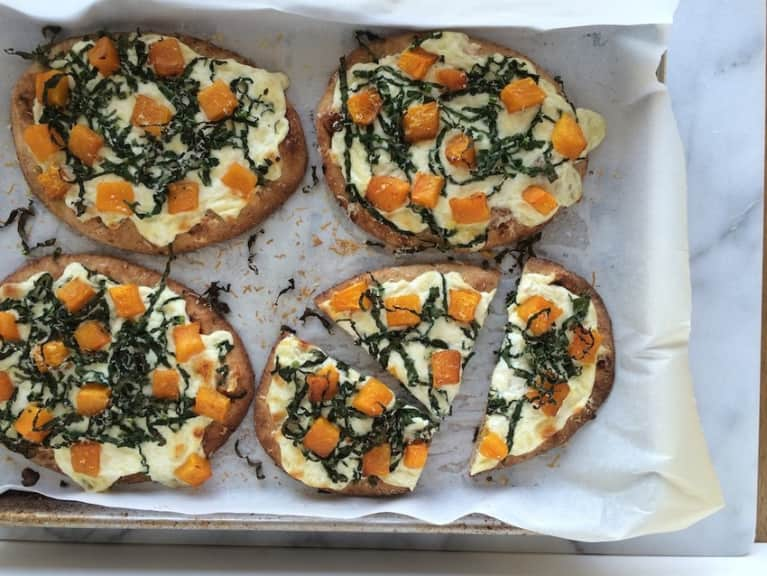 This flatbread is such a delicious way to eat more kale and use up all the squash you've been getting in your CSA box. Plus it's a crowd favorite just in time for the Super Bowl! The recipe can be easily doubled.
Serves 4
Ingredients
1/2 hubbard squash, peeled, seeds scooped out and diced in 1/2 inch pieces
olive oil
8 ounces ricotta cheese
6 ounces mozzarella cheese, shredded
4 cloves garlic, minced
1 teaspoon sea salt
1/2 teaspoon black pepper, freshly ground
2 cups lacinato kale, chiffonade (thinly sliced)
4 whole wheat naans
Preparation
1. Preheat oven to 400°F.
2. Toss squash with olive oil, salt, and pepper on a sheet pan. Roast in the oven for 35-40 minutes, or until tender.
3. Meanwhile, mix the ricotta, mozzarella, salt, pepper and garlic in a bowl. On another sheet pan lined with parchment paper, put the 4 naans and spread each with the ricotta mixture.
4. Add half the kale on the naans, next add the squash, and then follow with another layer of the kale. Sprinkle with parmesan cheese. Put in the oven for 15 minutes. Cut into wedges and serve.
Photos courtesy of the author