A Yogi's Secret To Thriving During Motherhood
As a mother of twin 4-year-old boys, I have been through my fair share of challenges. I credit my sanity solely to my yoga practice.
Here are four lessons yoga has helped me embrace my challenges as a mother:
Lesson 1: Start with the foundation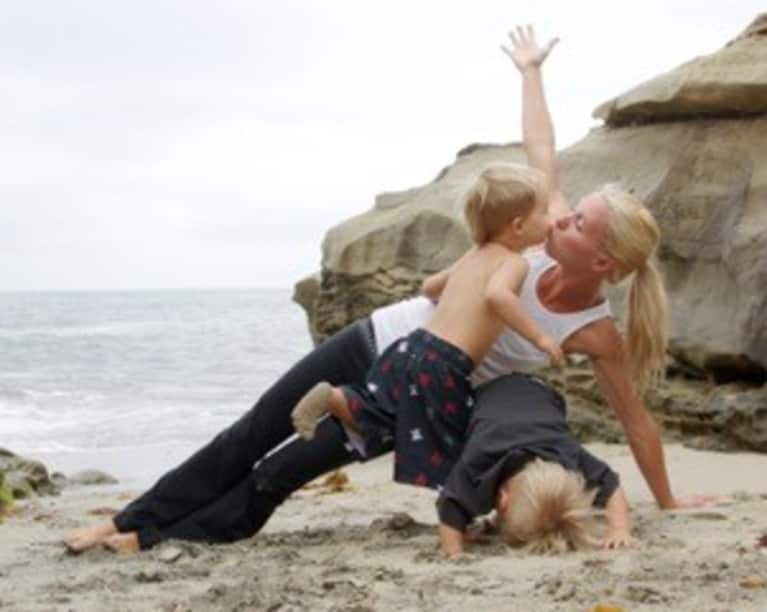 A yoga pose is adjusted from the ground up. We always want to start with the foundation! If the feet aren't aligned where they should be, the benefits of the pose are compromised.
The same sentiment speaks true as a mother. We want to start with the foundation —the basics — sleep and diet. A solid sleep schedule is what keeps your child happy and you partially sane. Try adjusting the schedule so everybody in the house can benefit from a happy, rested child.
What if your child doesn't like bed time? Think about how you are approaching it. I didn't like Warrior I for a while, and I would approach this "basic" posture with immediate resistance.
How am I supposed to anchor my tailbone, square my hips and get that inward rotation of the back leg? But with consistency and a change in my attitude, my despise for Warrior I resided. With consistency and a softened, calm approach to bedtime, your child will eventually come around.
As for diet, we've all witnessed the Jekyll and Hyde affect sugar and processed food has on children. Find healthy alternatives and make the children think they are getting a special treat. Better yet, have them help you make it! The process of making the treat themselves, creates a whole new level of appreciation. Scan through Pinterest and let them pick their special treat for the week. Maybe it's anything from chocolate date balls to homemade peanut butter or granola. They will be sure to love it!
Lesson 2: Pranayama
Breathing plays an integral part in anyone's yoga practice. I can increase energy and clear the funk with Pranayama, aka "guidance of breath."Pranayama is a yoga term meaning "control of the breath." Prana represents life force and energy, while yama represents the ability to control and lengthen that breath and/or energy. Though it's often associated with rapid breathing, Pranayama is all about control of the breath.
And with Ujjayi breathing — a well-known practice of Pranayama in yoga — we burn toxins, create heat and draw our focus to the present. Take these tools off the mat, and next time your child is crying hysterically, guide them to slow down their inhales and exhales. Then you are able to reason with them. If you're patience is running thin, the same lesson applies. Put your child and yourself in a time out, and focus on lengthening your inhalations and exhalations.
Lesson 3: Embrace modifications
Our bodies are different every day, which means that there are some days when we won't look, feel or perform at our best. Remember the modifications given to you in your yoga class? Whether it's lowering to your knees in Chaturanaga, using the block in Triangle, or resting in Child's Pose — you are guided to listen to your body and modify to create the best outcome.
If I overextend myself in a yoga class, I leave feeling depleted rather than refreshed. Same goes for motherhood! Discipline yourself and modify or even back off when you need to. What works today may not work next week. Every child is different and they are ever-changing. The discipline needs to change with the child. In terms of schedule, don't be afraid to deviate when necessary. Know that it is OK to budge every now and then for a special event.
Lesson 4: Accepting the process
"Practice and all is coming." -Pattabhi Jois
The beauty about yoga is that there is alway room for improvement. Never get discouraged in yourself — know that it is a process, and allow that process to unfold on its own time. A mother has to be "on" ALL of the time, so don't beat yourself up if you lose your cool every now and then. You are human! Know that every day is an opportunity to go one step beyond the past. Look at those obstacles as opportunities to grow.