Fennel Snapper With Beet Puree
Perfect as a mid-week meal or special enough to serve to guests, this restaurant-quality dish is packed full of protein, omega-3 fatty acids and antioxidants.
Fennel Salted Snapper With Beet Puree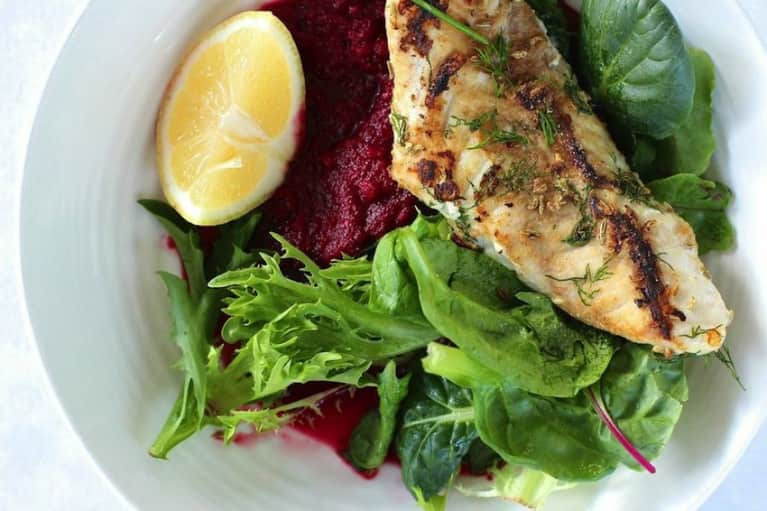 2 fresh snapper fillets (about 1/4 pound each)
1 teaspoon fennel seeds
1 teaspoon lemon zest
1 teaspoon himalayan sea salt flakes
1 teaspoon extra virgin coconut oil or extra virgin olive oil
¼ cup fresh dill
juice ½ lemon
2 wedges lemon
1 cup mixes leaves
2 medium beets, cooked
1 tablespoon apple cider vinegar
1 tablespoon extra virgin olive oil
2 teaspoon wasabi powder (optional)
1 garlic glove, crushed
himalayan sea salt + black pepper
Preparation
1. Blend all the beetroot puree ingredients together and season to taste.
2. Heat coconut oil in a non-stick frying pan. Squeeze lemon juice over snapper fillets, the rub with salt, lemon zest, fennel seeds and half the dill. Add fish to the pan, cooking for 4 mins on each side.*
3. Serve puree between two plates, along with 1/2 cup salad and a lemon wedge. Top with snapper and garnish with remaining dill.
Tips: *Remember fish will continue to cook out of the pan. Cook to 90%, then remove to a plate to ensure fish is not overcooked. Test with a fork – ensuring the middle of the fish flakes easily. Tis recipe would also be delicious with tuna, salmon or basa fillets. Just be sure to opt for sustainably caught fish.
Photo courtesy of the author