Spicy Zucchini Quinoa Fritters
These spicy zucchini and quinoa fritters are nourishing, filling and absolutely delicious. Serve them with salad for a complete meal.
Spicy Zucchini + Quinoa Fritters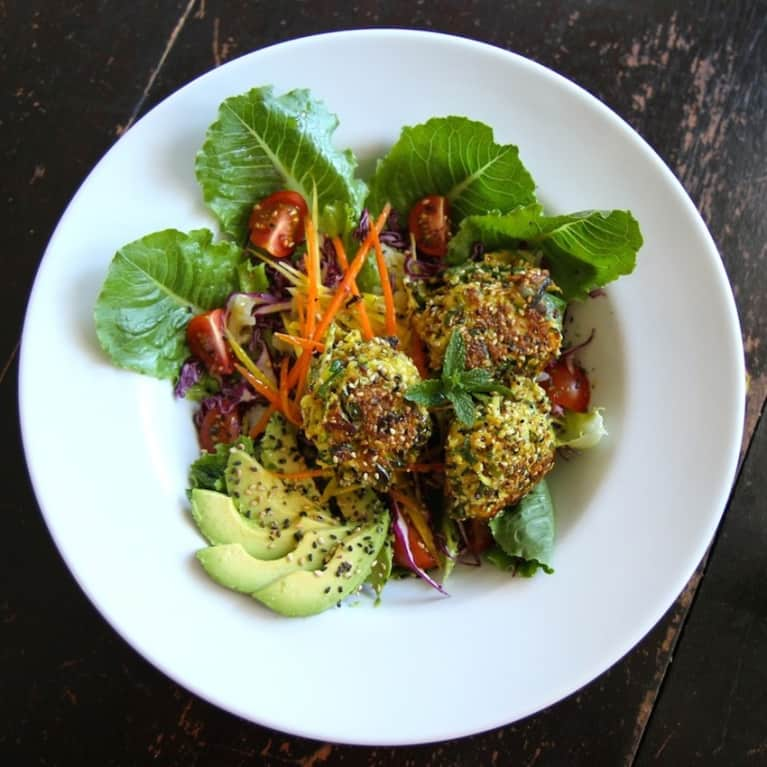 Makes 8-10 fritters for 2-4 salads
For the fritters
1 zucchini grated (about one and a half cups)
1 cup of cooked quinoa (make sure you rinse your quinoa thoroughly before cooking)
2 heaping tablespoons of almond meal
1 egg
2 spring onions finely chopped
1 clove of garlic cored and crushed
1 tablespoon of chia seeds soaked
1 teaspoon curry powder
1 teaspoon cayenne pepper
1/2 teaspoon of paprika
1/2 teaspoon of cumin
1/2 teaspoon turmeric
1 teaspoon of sea salt and a good twist of pepper
sesame seeds
dulse flakes
For the dressing (per salad)
1 tablespoon of fresh lemon juice
2 tablespoons of extra virgin olive oil
1/2 clove of cored and crushed garlic
sea salt and pepper to taste
black sesame seeds and dulse flakes to garnish
Preparation
1. Mix all the ingredients apart from the almond meal, sesame and dulse flakes thoroughly in a bowl. Slowly mix in the almond meal until the texture becomes bit sticky and not too wet. Roll spoonfuls in your hand and then across a plate of sesame seeds and dulse flakes.
2. You can either bake them on a lined baking tray at 375°F for 20 minutes until brown or pan fry in a non stick pan with a good quality stable fat (about 3 minutes on each side on medium-high heat). I used coconut oil and ghee.
3. Once the fritters are ready, add them to a colourful salad of lettuce, mint, shredded cabbage, grated carrot, cherry tomatoes, avocado and a tablespoon of sauerkraut for tang and a probiotic hit. Dress with a generous amount of salad dressing and garnish with black sesame and dulse flakes.
Photo courtesy of the author