A 3-Day Soup Cleanse For A Warming Detox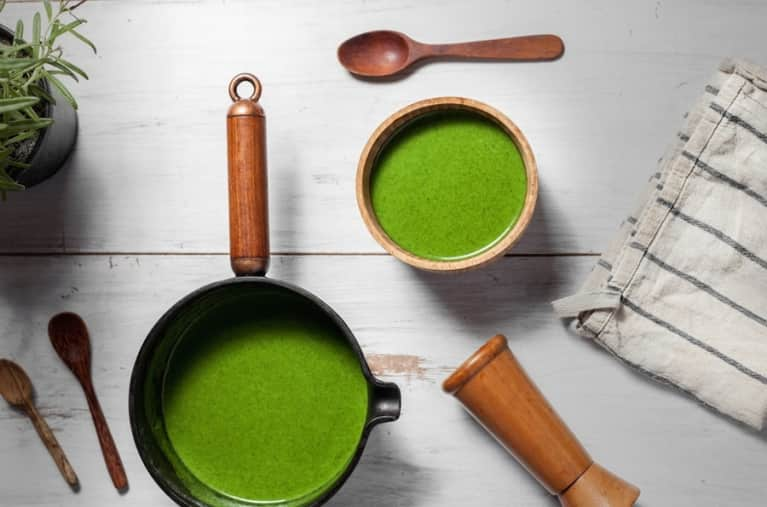 Detox is as much about nourishing your body as it is releasing toxins from it. In addition to juicing, there's another, warmer way to detox and replenish: the soup cleanse.
When you think of detox, think of easy-to-digest, nutrient-rich foods. The soups and the teas in this plan are loaded with the nutrients and minerals you need for cell regeneration. You will drink soup six times a day during this plan, which I recommend doing for three days.
Being a health coach and detox specialist, I always tell my clients to listen to their bodies. If you need to add clean sources of protein (either plant-based or not) to your soup, please do. Detox is not about deprivation or calorie counting, but rather about nourishing your body with the nutrients it needs to rebuild and recharge.
How To Soup Cleanse
1. Make the broths in advance so you have enough for six servings per day for the next three days. (See recipes below).
2. Use one of the two broth options below (or a mix of both) as your base and add suggested vegetables to vary your options over the next three days. Vegetables that are wonderful for nourishing in the winter are: onions, beets, carrots, cauliflower, spinach, any dark leafy greens and root vegetables.
How: Use the bone or miso broth as your base. Chop desired vegetables and add them to your broth in a saucepan. Bring to a boil, turn down heat and let simmer until vegetables are tender. Then, using an immersion blender, high-powered blender or Vitamix, puree until soup is smooth and creamy. Pureed Soups are easier to digest, hence making your detox highly effective.
3. Consume one serving of soup six times per day. If you feel you need to eat more, add another serving or two to your days until you feel satisfied.
4. If you feel dehydrated during your soup cleanse, consume 20 ounces of water with 1/8 teaspoon sea salt, the juice of ½ a lemon, and a teaspoon of honey or 4 ounces of coconut water to replenish minerals.
5. During your soup detox, I also suggest incorporating Turmeric Tea (recipe below). You can drink this tea upon rising, and it a great substitute your typical morning cup of coffee. This tea is anti-inflammatory, strengthens digestion and boosts the immune system.
For The Omnivore: Chicken Bone Broth
Broth made from the bones of animals is extremely rich in antioxidants, vitamins, minerals and gelatin.
Ingredients
1 whole chicken (free range, organic if possible)
12 cups cold, filtered water
2 tablespoons apple cider vinegar
1 large onion, roughly chopped
2 carrots, peeled and roughly chopped
3 celery sticks with leaves, roughly chopped
5 cloves garlic, roughly chopped
1 bunch parsley
Preparation
1. Cut the chicken into several pieces, leaving all bone and skin.
2. Place chicken pieces in a large stainless steel stockpot. Cover with the cold water, add vinegar and vegetables (except parsley) and let stand for 30 minutes.
3. Bring to a boil, remove scum that rises to the top, reduce heat and simmer for 6 to 24 hours. (If you are short on time, at least simmer for 3 hours.) The longer you cook the stock, the richer and more flavorful it will be. About 10 minutes before you're ready to turn it off, add the parsley. (This adds more minerals to the broth.)
4. Remove chicken pieces with a slotted spoon and refrigerate. Strain the broth into a large bowl and place in the refrigerator until the fat rises to the top and can be skimmed off.
For The Vegetarian Or Vegan: Miso Broth
Miso has nutrients and minerals your body needs such as B vitamins, Vitamin K, E, calcium, iron and even potassium.
Ingredients
1 package of dried seaweed (wakame or arame is great for soups)
12 cups cold, filtered water
3 heaping tablespoons white miso
3 large carrots, roughly chopped
½ cup leek, roughly chopped
1 onion, roughly chopped
1 tablespoon sea salt, to taste
1-inch piece of ginger
Preparation
1. Soak the seaweed in water for two hours or until soft. Drain and rinse well, as dried seaweed can come with a lot of dirt.
2. Place all ingredients except for the miso into a large pot and bring to a boil. Reduce heat and simmer for 30 minutes. Add the miso and stir to combine. Let simmer for another couple of minutes, then strain the broth.
Turmeric Tea
During your soup detox, I suggest this Turmeric Tea. You can drink it upon rising and as a great substitute your typical morning cup of coffee. This tea is anti-inflammatory, strengthens digestion and boosts the immune system.
Ingredients
1 teaspoon cinnamon
1 teaspoon fresh ginger
1 teaspoon turmeric
dash of black pepper (you need this to activate the turmeric)
1-2 cups of water
raw honey or stevia to sweeten
Preparation
1. Boil water, then slowly add the herbs and simmer for 10 minutes. Strain if desired then add honey or sweeter. You can add any dairy free milk such as coconut milk or hemp milk for a creamy drink. Simply mix 1/2 cup of dairy free milk and blend or whisk with s spoon.
Other Detox Teas
Other great teas for a simple detox are ginger tea, peppermint tea and chamomile tea because they are all soothing for digestion and the intestinal lining. Add the juice of 1/2 a lemon to your tea to alkalize and cleanse your liver and lymphatic system.