5 Simple Stretches For Achy, Overworked Wrists
Traveling around the world doing inversion workshops, has always required me to have an arsenal of good wrist stretches.
But then, when I broke five bones in my wrist and needed surgery, these moves became my own personal physical therapy regimen. And even for the non-yogis, these stretches come in super handy for anyone who types too much at the computer!
Try them all and find the one you love, or better yet, just do them all! Anyone can benefit from these simple yoga-inspired moves. Your wrists will definitely thank you.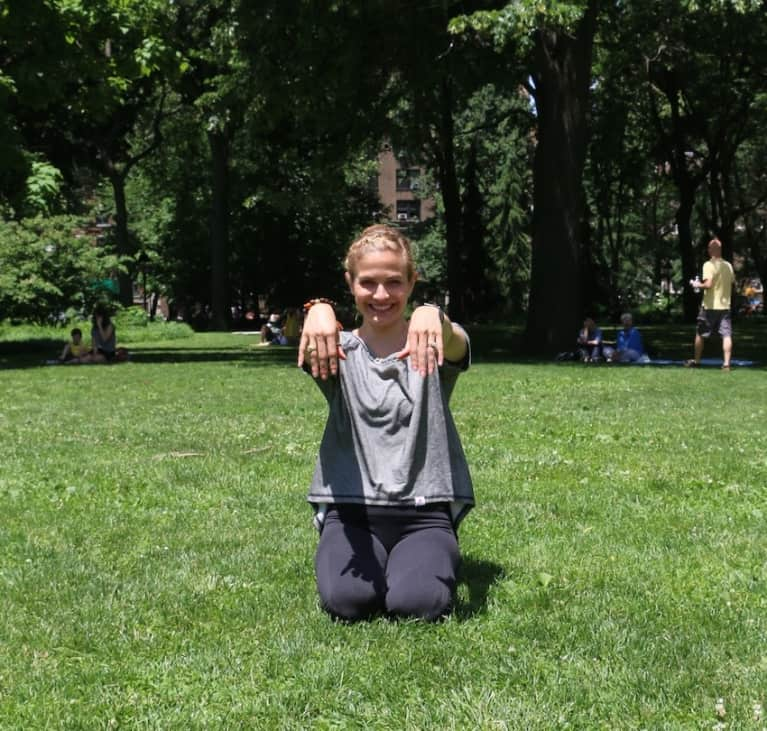 Start seated. Reach your arms straight out in front of you, parallel to the ground and
drop your fingers toward the ground like you are dripping water off your fingertips. Keeping your hands in this position, raise your arms above your head.
Once at the top of that motion, flex your palms into a "stop" gesture, so that your palms are facing away from you and your fingertips are pointing straight up.
Keeping your hands in the "stop" position, press your hands down as you lower your arms to chest height. When at the bottom of that motion, start over by dropping your fingers down and coming back up.
Repeat this motion fluidly for about a minute.
Begin seated and reach your arms straight out in front of you.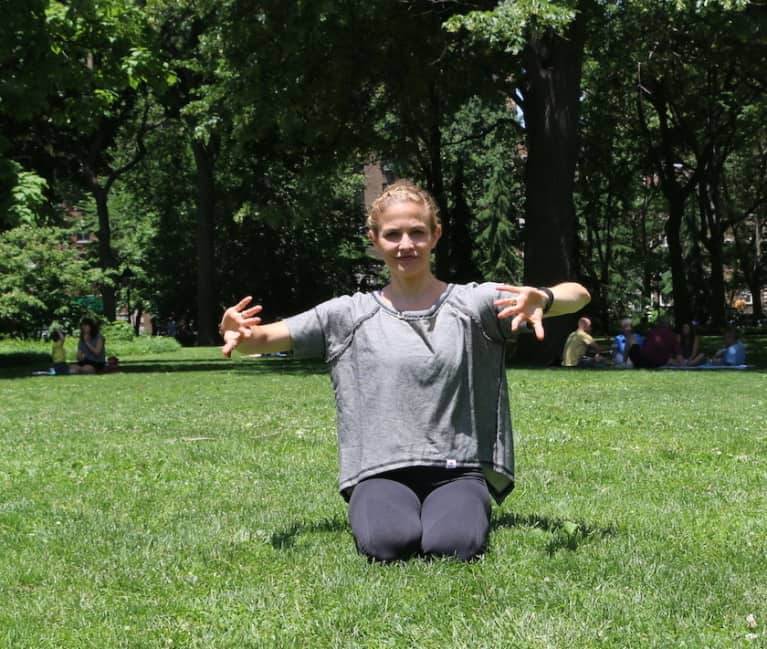 Open your palms to the ceiling and then begin making figure eight motions with your wrists and hands with your palms facing down as you take the tops of your hands slightly toward one another and down. Then bring your palms face
up as you take your hands in a figure eight motion, slightly up and away from
one another.
Try doing this in this direction for about thirty seconds, and then reversing the figure eights for another thirty seconds in the opposite direction.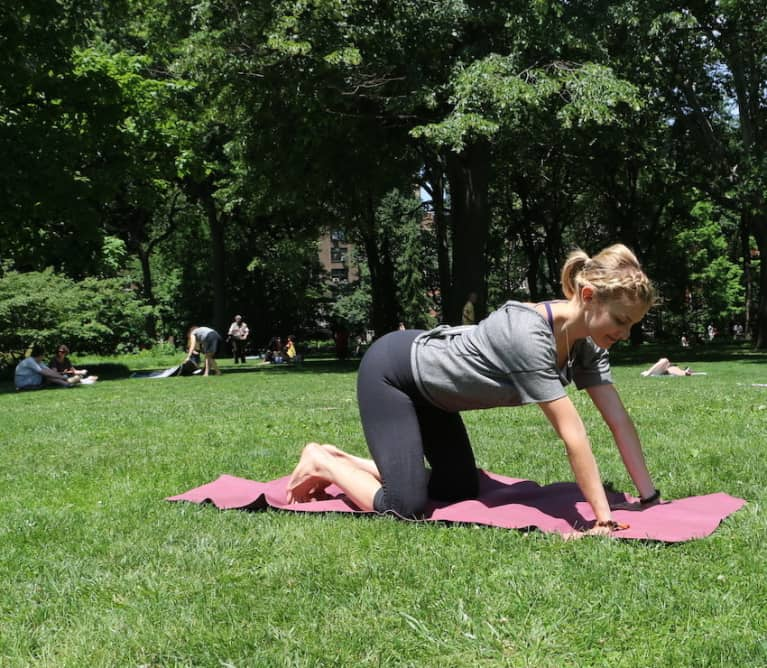 Begin on all fours on your hands and knees. Then, flip your hands so that the palms are still on the ground, but your fingertips face your knees and the inside of
your elbows face away from you.
Slowly start to lean your bum back towards your heels, as much or as little as feels
OK on your wrists.
Take at least 10 deep breaths here, and then slowly come out.
Begin by kneeling. Make fists with your hands, and lean forward to place the back of your hands on the ground, keeping your elbows very bent.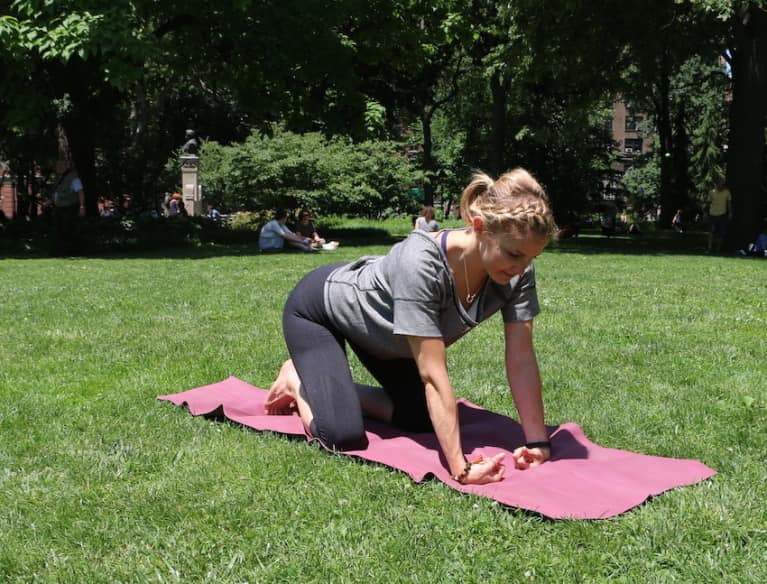 Then slowly, keeping a tight fist and the backs of your hands on the ground, start to straighten your arms a little or a lot, depending on how it feels on your wrists.
Then, go back to bent elbows and repeat this cycle for about a minute.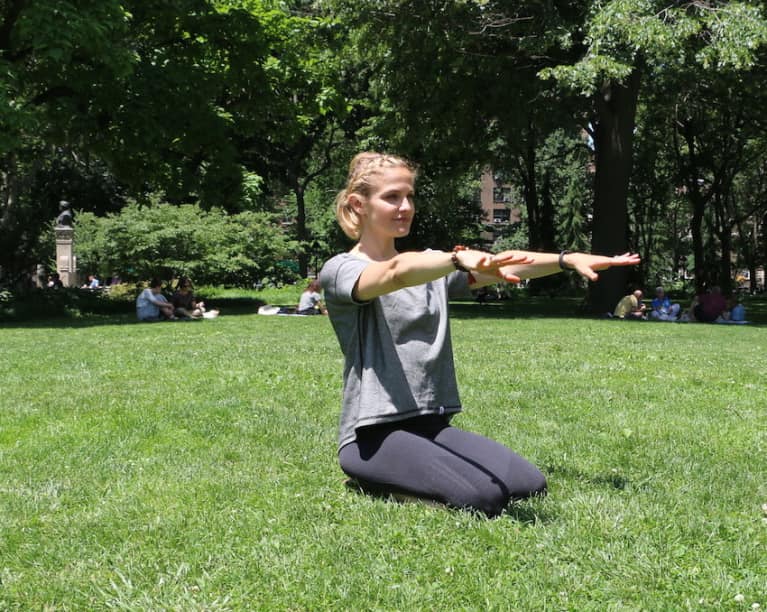 Begin seated and then reach your arms straight out in front of you, with your palms facing the ground.
Spread your fingers as wide as you can, and then make a tight fist. Repeat this motions for about a minute.