Fast Food Favorites Made Macrobiotic
M Café's Big Macro Burger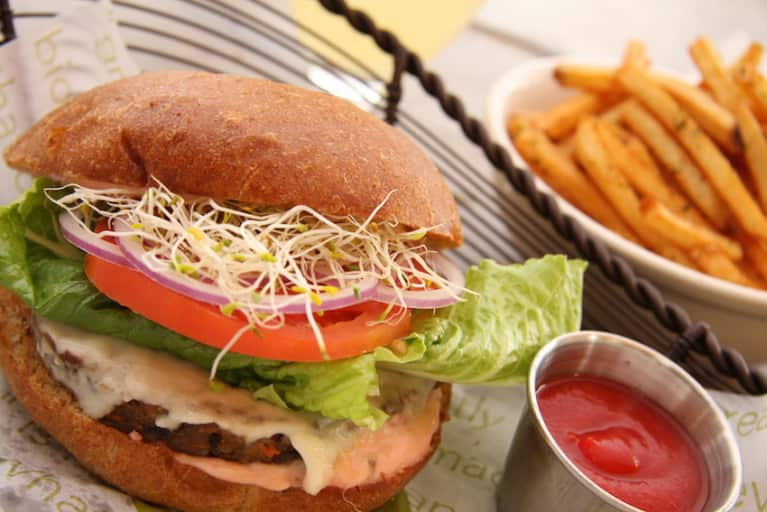 1 whole-grain burger bun
1 Big Macro Patty (recipe below)
1 slice soy cheese
1 leaf romaine or green leaf lettuce, washed and dried
2 slices ripe tomato
2 tablespoons alfalfa sprouts
1 thin slice red onion
3-4 dill pickle slices
2 tablespoons Big Macro Special Sauce (recipe below)
melted soy butter (like Earth Balance brand) for cooking
Preparation
1. Heat a small amount of soy butter in a pan and cook Big Macro Patty for 1-2 minutes per side, or until heated through. Alternatively you could reheat patties in a grill pan or barbeque. Place slice of cheese on hot patty to melt slightly.
2. Meanwhile, slice burger bun in half lengthwise, brush with soy butter and cook, cut-side down, in hot pan until golden brown.
3. To build burger, place toasted bun cut-side up on a cutting board. Spread one tablespoon of Big Macro Special Sauce on each half of bun. Place pickle slices on bottom half of bun. Place burger patty and cheese next, and top with lettuce, tomato, onion and sprouts. Replace top half of bun to finish the sandwich. Cut in half, if desired, and serve immediately.
Big Macro Patty
Makes 3– 4, 4oz patties
Ingredients
¼ cup yellow onion, minced
1 teaspoon garlic
1 large dry shiitake mushroom cap, reconstituted
1/4 cup minced fresh shiitake mushroom caps (3 – 4 ea)
1 teaspoon minced fresh oregano (or ¼ tsp dry)
1 teaspoon minced fresh thyme (or ¼ tsp dry)
1 tablespoon olive oil
2oz superfirm tofu (aprox ¼ cup), or the same quantity of extra firm tofu pressed for 20 minutes to remove excess moisture
1 tablespoon tahini
1 tablespoon tamari soy sauce
1 tablespoon olive oil
¼ cup carrots, shredded
¼ cup zucchini, shredded
2 tablespoons reconstituted arame, chopped (aprox 1 Tbl dry)
½ cup cooked brown rice
3 tablespoons quick-cooking rolled oats
3 tablespoons vital wheat gluten flour
1/2 teaspoon sea salt (or to taste)
¼ teaspoon black pepper (or to taste)
Preparation
1. Saute the onion, garlic, shiitake and arame in the first quantity of olive oil. And herbs and remove from heat. Let cool.
2. Combine the tofu, tahini, shoyu, liquid smoke and second quantity of olive oil in bowl or blender and mash or blend until well mixed. Reserve.
3. In a mixing bowl combine the carrot, zucchini, rice, oats, salt and pepper. Add the onion mixture and the tofu mixture. Mix well to combine.
4. Add the gluten flour and mix well. Knead the mixture for a few minutes until the mixture comes together completely. Add a bit more gluten flour if necessary.
5. Form the mixture into 4oz. patties and place on oiled sheet pan. Bake for 40- 50 minutes at 350 degrees or until just golden brown. Flip burgers once after 15 or 20 minutes if necessary for even browning.
6. Cool patties and reserve. Patties will keep in refrigerator for up to one week, or can be individually wrapped and frozen for up to a month.
Big Macro Special Sauce
Makes approximately 1 cup
Ingredients
2/3 cup Veganaise (or your favorite mayonnaise alternative)
¼ cup sugar-free or agave-sweetened ketchup (at M Café we make our own ketchup from root vegetables – no tomatoes! – and natural sweeteners)
1 teaspoon prepared horseradish
1 teaspoon Dijon mustard
2 tablespoon dill pickles, minced
1 tablespoon red onion, minced
2 teaspoon agave syrup
½ teaspoon sea salt (or to taste)
¼ teaspoon white pepper (or to taste)
Preparation
1. Measure all ingredients into a small bowl and mix well to combine. Sauce will keep in refrigerator for up to one week.
M Café's Sloppy Seitan Sandwich (a.k.a. The "Macrotized" Philly Cheesesteak)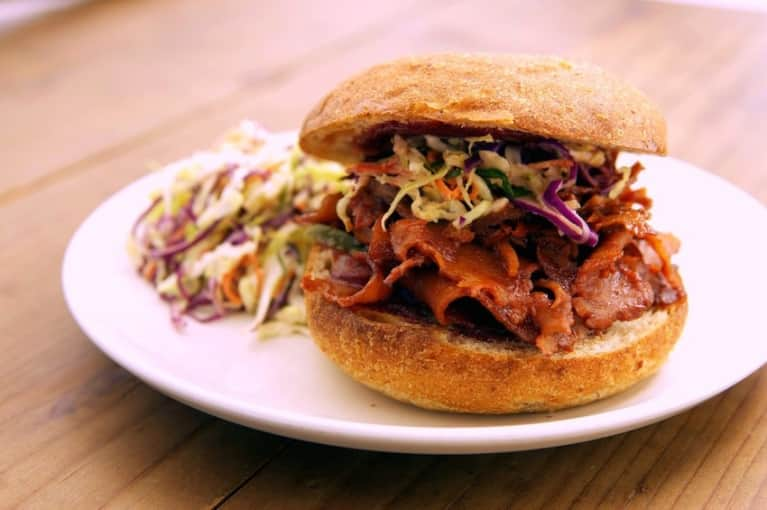 "Macrotizing" a fast-food sandwich like the Philadelphia Cheesesteak was quite a challenge! But a quick sauté of onion, peppers and shiitake mushrooms brings flavor, texture and some nutritional balance to the traditional combination of sliced "meat" and gooey melted "cheese". Sliced seitan and a rich, homemade vegan cheese-like sauce replace those ingredients quite nicely.
Serves 2
Ingredients
2 high quality French-style sandwich rolls
1, 8oz pack seitan, drained, sliced very thin
1 tablespoon olive oil
1 small onion, sliced
1 small red bell pepper, sliced
1 small green bell pepper, sliced
1 cup shiitake mushrooms, sliced
1 teaspoon dried Italian seasoning
sea salt and black pepper to taste
Cheese Sauce (recipe below)
Preparation
1. Heat olive oil in large skillet over medium-high heat. Add onion, mushrooms and bell peppers and sauté for 5 minutes, or until vegetables are cooked but still slightly crunchy. Season with Italian seasonings and salt and pepper, to taste. Reserve.
2. In same skillet add sliced seitan and cook for a few minutes until hot. Reserve.
3. Split French rolls lengthwise and stuff with seitan and sauteed vegetables. Top with a generous amount of cheese sauce and enjoy.
Cheese Sauce
Makes 2 cups
Ingredients
½ cup soy margarine
½ cup onion, minced
¼ cup all-purpose flour
1 Tablespoon nutritional yeast
¼ teaspoon dried thyme
¼ teaspoon dried oregano
1 teaspoon sea salt
¼ teaspoon white pepper
¼ teaspoon mustard powder
1 ½ cups vegetable stock
¾ cup unsweetened soymilk
1 cup vegan cheddar-style cheese, shredded
Preparation
1. Heat soy margarine in saucepan over medium heat and add minced onion. Cook, stirring, until onion is soft and translucent, about 5 - 6 minutes.
2. Turn heat to low and sprinkle in flour, nutritional yeast, dried spices, salt, pepper and mustard powder, and stir well. Mixture should be somewhat dry and crumbly. Continue to cook, stirring, for another 5 minutes. Reserve.
3. Meanwhile, combine vegetable stock and soymilk in a separate saucepan and heat to simmer.
4. Return onion, flour and seasoning mixture to medium heat, and add one ladle of hot stock/ soymilk mixture to pan, stirring constantly with wooden spoon. Liquid should be immediately absorbed by mixture. Add another ladle of hot liquid and repeat, this time using a whisk. Repeat until all liquid has been added, whisking well after each addition.
5. Bring mixture to a boil. Turn heat to low and simmer for 10 minutes, stirring occasionally, until mixture has thickened.
6. Turn heat to medium-high to return mixture to a boil. Sprinkle in shredded cheese, whisking constantly until cheese is melted and sauce is completely smooth. Remove from heat and reserve.
Photo courtesy of the author