Seared Halibut Tacos With Grapefruit-Avocado Salsa
Seared Halibut Tacos With Grapefruit-Avocado Salsa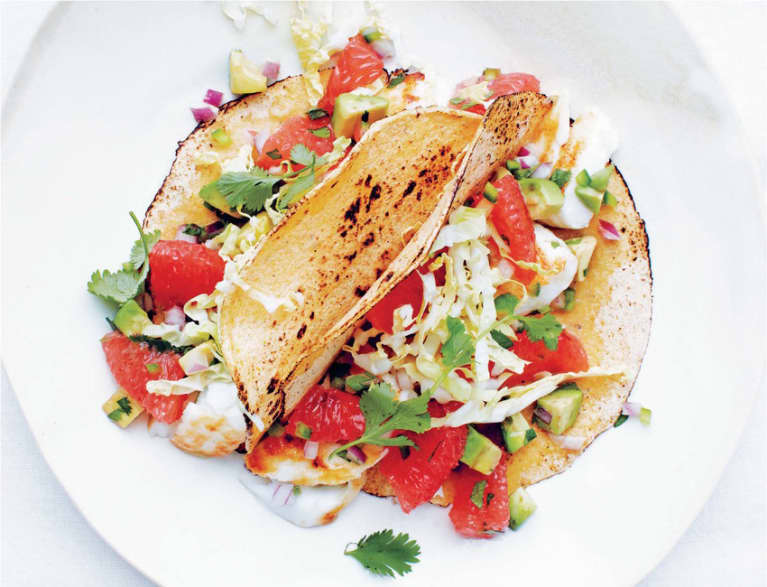 The ever-popular fish taco need not rely on deep-fried strips to be delicious. Our tacos feature seared halibut and are served with a citrus salsa that would also make a great dip for slices of jicama. When searing the fillets, let them cook undisturbed until golden on the bottom before flipping, to get the crispest crust.
Serves 4
Ingredients
1 Ruby Red grapefruit, segmented and cut into 1-inch pieces
1 avocado, halved, pitted, peeled and sliced
2 tablespoons red onion, diced
2 tablespoons fresh cilantro leaves, chopped, plus sprigs for garnish
1/2 jalapeño chile, finely chopped (ribs and seeds removed for less heat, if desired)
1 tablespoon fresh lime juice
1 tablespoon extra-virgin olive oil
4 skinless halibut fillets (about 4 ounces each)
8 6-inch corn tortillas
1 cup shredded napa cabbage
salt + pepper
Preparation
1. Combine grapefruit, avocado, red onion, cilantro, jalapeño, and lime juice in a bowl. Season with salt.
2. Heat oil in a large skillet over medium-high. Season halibut generously with salt and pepper. Cook until golden brown, 2 to 3 minutes. Flip and continue to cook until golden and flaky, 2 to 3 minutes more. Remove and let cool slightly, then flake with a fork.
3. Toast tortillas over the flame of a gas burner, turning, until lightly charred, about 1 minute. Top with fish, salsa, and cabbage, dividing evenly. Garnish with cilantro sprigs and serve immediately.
Excerpted from Clean Slate: A Cookbook and Guide by Martha Stewart Living. Published by Random House in 2015. Photo courtesy of the author.